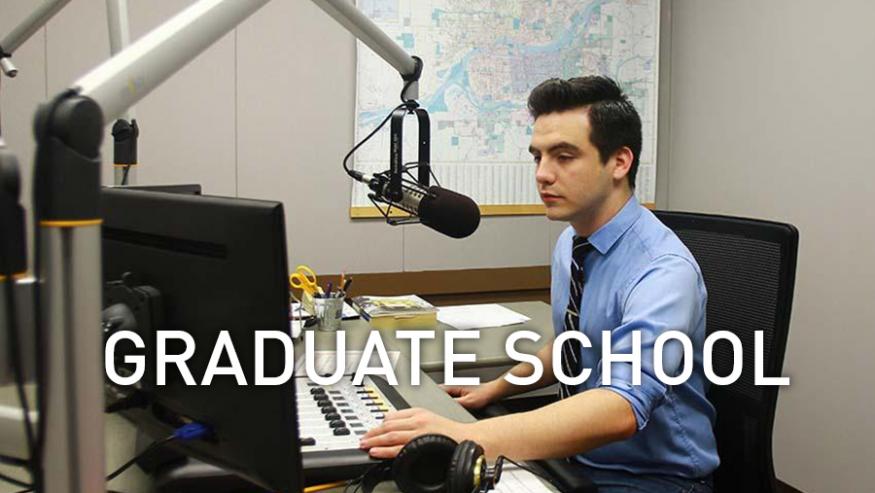 News
Beating the pros
When an Augustana student wins an award, it's impressive. When a student wins at the professional level, it's an amazing achievement that shows how Augustana graduates stand out in their field—sometimes even before graduation.
Sam Dunklau '17, majoring in multimedia journalism and mass communication, has earned the award for overall excellence in professional radio from the Iowa Broadcast News Association (IBNA).
IBNA is a nonprofit corporation of radio and television news professionals from Iowa and surrounding states, working to improve news media for the public. Each year, IBNA gives awards in student and professional divisions for best newscast, best sportscast, and overall excellence in radio and television. Dunklau bypassed the student category and went for the professional.
When IBNA held its award ceremony in late April, he received an email saying he'd won. He had been selected over all the professionals who submitted their work samples in the state of Iowa.
"I was overjoyed and excited," he said. "I couldn't believe I'd won in the professional category. I felt an unexpected sense of validation."
Dunklau interned as a news reporter at WVIK 90.3 FM, Quad Cities NPR, based on Augustana's campus. News director Herb Trix entered about 13 samples of his work for the award.
"We're very proud Sam won… going up against professional and experienced reporters from across the state," Trix said. "Sam worked hard for us from day one, and covered a wide variety of stories."
For WVIK, Dunklau covered topics ranging from local government to national elections, education, arts and culture. In January, he traveled to Washington, D.C., to report on Augustana students at the Women's March on Washington.
"Sam is an outstanding person," according to Dr. Carolyn Yaschur, an assistant professor of communication studies at Augustana. "He is intelligent, polite and always willing to put forth the effort necessary to produce high-quality work. I have full confidence in his making a profound impact on the world."
A 'gearhead' drawn by storytelling
Dunklau was drawn to broadcasting through his love for writing and storytelling. Along with his journalism major, he has a minor in creative writing.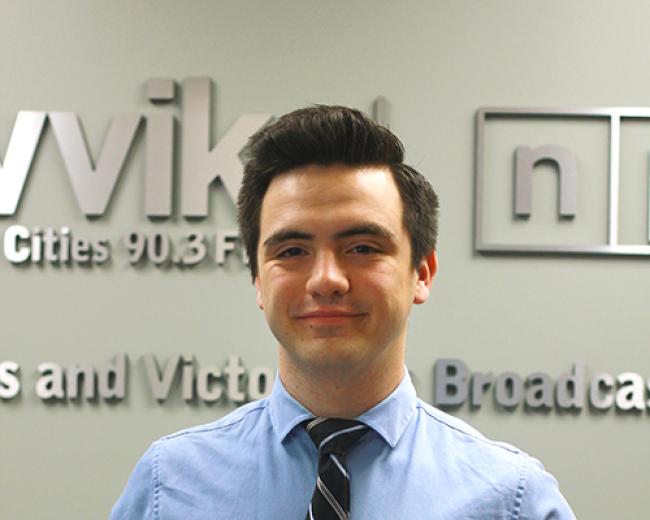 "I was trying to find something cross-disciplinary. I love to write, learn new things, meet new people… and when I came across journalism, it covered those things," he said. 
"I also have a love of broadcast media and media production. I'm a gearhead when it comes to audio equipment."
His post-graduate plans are to study public affairs reporting at the University of Illinois, Springfield. The master's program combines traditional learning with an internship as a Statehouse reporter.
"My experiences at Augustana pushed me over the edge to be accepted into the program," Dunklau said. "It's an unparalleled program, a unique opportunity that only a few get. I attribute that to an Augustana education."
His advice to other Augustana students? Get out of your norm.
"Augustana is a really incredible school with unique opportunities, even in the area and state," he said. "Use those opportunities to get out of the classroom, out of your norm, whether studying journalism or not."
At Augustana, Dunklau was involved in Phi Mu Alpha Sinfonia, Campus Ministries Leadership Team, Augustana Choir, Chamber Singers, Ascension Ringers Handbell Ensemble, Opera@Augustana, Omicron Delta Kappa, and Mortar Board. He also served as the general manager for WAUG Radio, the student-run station.