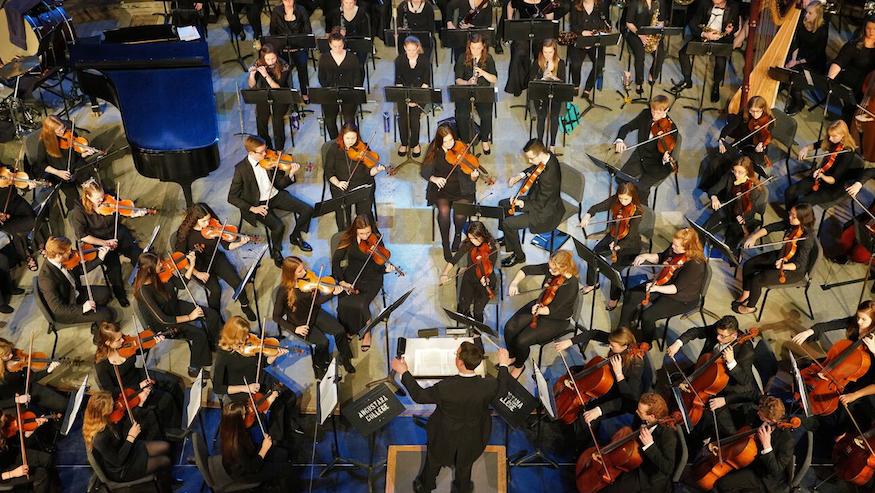 News
Made in America, touring the Midwest
The Augustana Symphony Orchestra will embark on its second annual tour, performing concerts in Illinois and Wisconsin on Oct. 13 and Nov. 2, 3 and 4. 
"A music ensemble tour is very much a part of the Augustana experience and one of the best examples of extending our students' learning off campus," said Dr. Daniel Chetel, assistant professor of music and Augustana's director of orchestral activities. 
The tour begins with a Friday morning stop at Hampshire High School, where Augustana students will play side-by-side with Hampshire's orchestra students during a clinic led by Dr. Chetel. 
"We really work hard to include these interactions because it offers students perspective on performing for different audiences in new locations," he said.
Following Hampshire, the orchestra will make its way to Madison, Wisconsin, to perform an evening concert at Good Shepherd Lutheran Church. The orchestra wanted to venture farther than the Chicago suburbs this time, and in the years to come Dr. Chetel looks forward to touring internationally.
Saturday will take the orchestra to Waukesha, Wisconsin, where he will lead an afternoon clinic with Waukesha West High School's Chamber Orchestra before an evening joint-concert with the Augustana Symphony Orchestra at St. Luke's Lutheran Church. The tour will conclude on Sunday back in Illinois, with an afternoon concert at St. Mark's Lutheran Church in Aurora. 
The final performance also will be a joint concert, this time featuring the Elk Grove High School Orchestra. Dr. Chetel and the orchestra are looking forward to reconnecting with the Elk Grove orchestra, which they hosted at Augustana in September. 
'Made in America'
The tour's theme explores "what it might mean for music and culture to be the product of a place and a society, for both the obvious and less obvious reasons," according to Dr. Chetel. "This complex and ongoing discussion could never be fully explored within the context of a single orchestra concert, but we try to contribute to these conversations through our capacity as musicians to play repertoire and highlight composers that offer diverse perspectives."
The orchestra addresses these questions through three voices: 
Made in America (2004), Joan Tower – Tower's contemporary musical language is often placed in conversation with the "American" sound of Aaron Copland's ballet scores from the 1940s. Her Made in America, structured around the tune "American the Beautiful," offers a modern take on her relationship to the American experience after living abroad as a child. 
Symphonic Variations on an African Air (1905), Samuel Coleridge-Taylor – a composer of British and African descent, Coleridge-Taylor visited the U.S. multiple times and explored the music of the African-American experience. he developed relationships with African-American writers and activists such as Paul Laurence Dunbar and W.E.B. DuBois. With these connections in mind, his Symphonic Variations on an African Air explores the spiritual tune "I'm Troubled in Mind."
Symphonic Picture from Porgy and Bess (1935), George Gershwin – Gershwin's groundbreaking opera also incorporates the style of spirituals—blended with gospel, Broadway show tunes and classical music—into a work that aimed in part to create performance opportunities for actors and actresses of color, with whom the Gershwin brothers and DuBose and Dorothy Heyward worked in the New York theatre scene. Robert Russell Bennett's Symphonic Picture weaves together some of the most notable melodies from this depiction of life in 1930s Charleston, South Carolina into a work for the concert hall stage. 
As a theme, "Made in America" is not an easy one to address, musically or otherwise. According to Dr. Chetel, "We do it because it is complicated. One of the ways that we celebrate the liberal arts values of an institution like Augustana is to create programs that can intersect between the world of music and discussions of race, gender and the historical context that can enrich understanding of our own identity and the identities of those with whom we share our lives."
2018 Tour Performance Schedule
Saturday, October 13
7 p.m., Centennial Hall Home Concert
3703 7 Avenue, Rock Island, Illinois  61201
Friday, November 2 
7 p.m., Good Shepherd Lutheran Church
5701 Raymond Rd, Madison, Wisconsin  53711
Saturday, November 3 
7:30 p.m., St. Luke's Lutheran Church
300 Carroll St, Waukesha, WI  53186
Sunday, November 4 
3 p.m., St. Mark's Lutheran Church
27 S Edgelawn Drive, Aurora, Illinois  60506