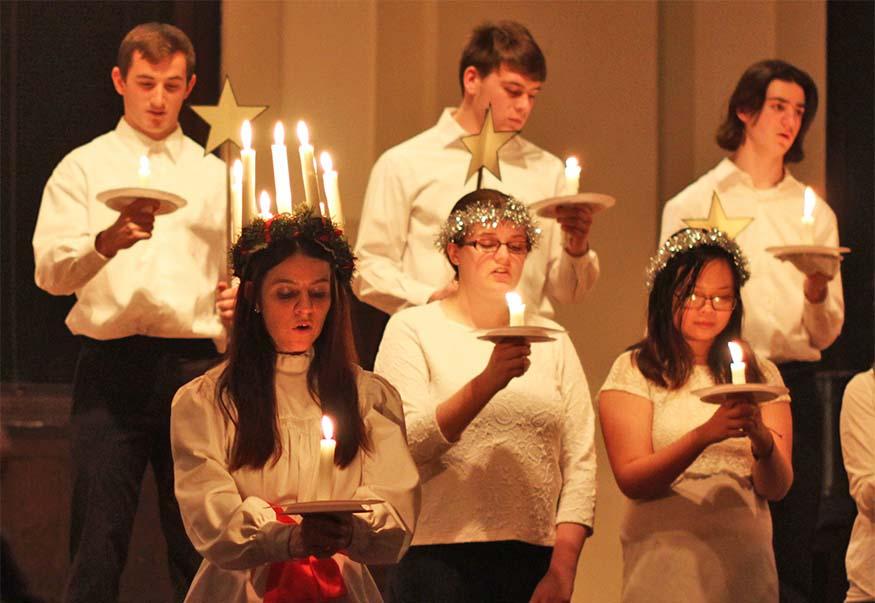 News
Swedish art, food and holiday music Dec. 11
The campus and community are invited to an evening of Swedish art, food and holiday music Dec. 11, organized by the Swenson Swedish Immigration Research Center at Augustana College.
The Augustana Teaching Museum of Art in Centennial Hall will be open from 3:30-6:30 p.m., with its current exhibit of Swedish-American art, "Världen är Liten: the World is Small. Modern Swedish and Swedish American Works." Admission is free.
The Swenson Swedish Immigration Research Center will serve its second annual Julbord Dinner from 5–6:30 p.m. in the Wilson Center.
A traditional Swedish-American Christmas smörgåsbord will be served, including salads, relishes, fruit, herring, bread, cheese, potatoes, salmon, potato sausage, meatballs, ham, rice pudding and Christmas goodies.
Reservations are required as seating is limited. The cost is $24 for ages 13 and over; $12 for ages 4-12; or free for up to age 3. Payment must be received by noon Dec. 7. Pay online, call 309-794-7204 weekdays with a credit card, or mail checks payable to "Swenson Center" to the Swenson Center, Augustana College, 639 38th St, Rock Island, Ill., 61201.
After dinner, the annual Sankta Lucia Festival will take place at 7 p.m. in Wallenberg Hall in the Denkmann Memorial Building, 3520 7th Ave.
Swedish-language students will perform traditional Swedish songs and readings. Cookies and beverages will be served after the program. The program is free and open to the public.
Parking for the museum, dinner and Lucia event is available in the Centennial Hall lot at the corner of 7th Ave. and 38th St.