HR update June 2, 2020
To keep communication as clear as possible, and archive it for later use, the Office of Human Resources will send updates using this format.
If you have information that you would like to disseminate to all employees, please send that to Brittni DeGreve and we will coordinate adding the information to a future HR update.
For now, we would ask that you limit any mass communications to avoid confusion.
President Bahls' contract extension
Before this information is shared with news sources, we wanted our campus community to be the first to know. Please see below for what will shortly be shared with the media about the extension of the contract of President Bahls.
The Augustana College Board of Trustees and President Steve Bahls have agreed to a contract renewal that continues his presidency through May 2022.
Colleges and universities across the country are navigating uncertain times. The Board of Trustees and President Bahls agreed to a contract renewal through the 2021-2022 academic year to provide continued leadership and strength to Augustana. 
"During times of great challenge, there is zero substitute for experienced, wise and calm leadership," said John Murabito, chair of the Board of Trustees. "Augustana has seen many crises over its history. And due to strong leaders who have worked closely in support of our mission with faculty, administration, staff and the community, our college has not simply survived those crises, but thrived. Under Steve's extremely able leadership, I have no doubt that will be the case once again. This extension ensures a consistent approach and strategy during and through the challenging times we now face."
Augustana recently launched the week-long Augie Strong campaign to help meet the college's financial hardships created by COVID-19, including $4 million in room and board refunds; loss of revenue from Summer Academy and campus summer event rentals; and extra spending to help equip students for distance learning last spring and a return to campus this fall. 
"It is an honor to have the opportunity to work with the wonderful team at Augustana to continue to keep Augustana strong during these important times," said President Bahls. "This world needs, now more than ever, college graduates focused on creative problem-solving and building better and more inclusive communities. I am fortunate that my calling in life has been to serve in higher education."
President Bahls is Augustana's eighth president and has been with the college since 2003. President Bahls is the fifth-longest serving president since President Gustav Andreen, who served for 35 years from 1901-1935. Augustana is affiliated with the Evangelical Lutheran Church in America (ELCA). President Bahls has served the third longest among presidents of the 26 ELCA colleges.
The tenure of college presidents is getting shorter. According to a 2017 survey conducted every five years by the American Council on Education, the average tenure for college leaders was 6.5 years in 2016, down from 8.5 years a decade before.
 President Bahls received an undergraduate degree from University of Iowa and graduated with a Juris Doctor degree from Northwestern University School of Law. Prior to being appointed president at Augustana, he served as a dean at Capital University Law School in Columbus, Ohio. 
Courageously Stand Against Injustice
Dear Augustana College community,
 
The reprehensible events involving George Floyd, Ahmaud Arbery, Breonna Taylor and many more have deeply troubled me and members of the Augustana community.
 
Jane and I have committed our careers to make opportunities for all, but this past week we have felt hopeless as we witnessed the level of despair so many are experiencing. But we agreed that we must not be hopeless. As a college president and as a lawyer I have the responsibility of doubling down with my colleagues at Augustana to promote racial justice. I will do so.
 
I want to thank members of the Augustana community, particularly African-American students, staff and alumni, who have shared their own sense of betrayal by some in law enforcement, justice systems and other institutions of our society. I am grateful for those brave voices. 
 
I ask that we, as the Augustana Community, consider the following values in the weeks ahead:
1. Augustana firmly believes human life is a valuable gift from God, and that means Black Lives Matter. This core understanding is central to Augustana's Five Faith Commitments, which state: "Augustana commits to making our campus and the wider world a more livable place for all persons by loving and serving the neighbor and by acting against injustice and intolerance." May we courageously, and peacefully, stand up against injustice.
 
2. Augustana, as a liberal arts college, is committed to provide its students with the skill of critical thinking. Critical thinking takes place only after we understand the viewpoints of others, particularly those who have different backgrounds. Understanding the viewpoints of others entails deep listening. May we listen to the experiences of others, to better identify the deep, and sometimes subtle, biases in our society and those within ourselves.
 
3. Augustana, as a leader in the community, should be a leader in promoting racial justice. To support our leadership role, Jane and I have established a Presidential Equity and Justice Fund to provide grants to students for campus or community projects to raise awareness about the need for social change in the areas of racial justice, equity and inclusion.
Martin Luther King Jr's words of nearly 60 years ago are as relevant today:
 
"In these days of worldwide confusion, there is a dire need for men and women who will courageously do battle for truth... We must make a choice. Will we continue to march to the drumbeat of conformity and respectability, or will we, listening to the beat of a more distant drum, move to its echoing sounds... More than ever before, we are today challenged by the words of yesterday, 'Be not conformed to this world: but be ye transformed by the renewing of your mind.'"
 
Students, I know times like this are not easy for you. I care deeply, and I want to remind all of you that you can contact TAO Connect, a service that provides mental health resources and education. Also, be aware of the mental health hotlines that are available. 
 
My thoughts and prayers are with each of you and your families. I pray for your safety, and I pray for those suffering the overwhelming fatigue and deep pain of injustice.
 
Respectfully,
 
Steve Bahls, President
 
Campus Guidelines - Working On-Campus
The college has created plans to allow for a staggered return to on-campus work following guidelines of the CDC and led by the Augie Strong task force.  Those employees who are currently working remotely should continue to do so until contacted by the college or your supervisor with instructions to return.  
 
The custodial staff will begin deep cleaning campus offices beginning June 1st and continuing until all areas are completed.  Pepsico Recreation Center, Carver Physical Education Center, Gerber Dining Center, and the Thomas Tredway Library will remain closed until August 1st.  These buildings will not be cleaned and should not be used.
 
Beginning Monday, June 1st all visitors and employees who will work on campus are required to participate in a screening each day.  This is required even if you have been working on campus, or only plan to be on campus for a limited period of time.  In short, if you are reading this email, it applies to you.  A screening is also required for any student employees engaged in on-campus work.
 
Option 1:  In person screening by Public Safety.  For those employees with jobs that involve working in multiple campus locations, a screening by public safety before beginning work is required each day  Currently, this will only be available in the lower level of Sorensen.
 
Option 2:  For employees who work in a fixed location, have computer access, and have a personal thermometer, a self-screening can be used.  This self screening must be completed each day when you will be working on-campus, even for a limited time.  Here you can access the self-screening tool.
Employees or student employees who do not have a personal thermometer should visit public safety for an in-person screening.  These daily screening requirements will continue until further notice.
 
In the near future, all employees will be asked to complete OSHA required training on preventing the spread of COVID and new workplace practices.  Please watch for, and complete this training, in the coming days.
 
As a reminder, masks are required in common areas of campus.
 
If you have any questions about this new guidance, please feel free to contact any member of the Human Resources Team.  We appreciate your continued support as we do all we can to maintain the health and safety of our campus community.
Mailing Center hours
During the month of June, employees may pick up mail and packages in Receiving Monday-Friday 9:00 am to 3:00 pm
If you have any questions or concerns please contact Carol Ehlert, Mailing, Print & Receiving Manager at 309-794-7332
Retirement celebrations
The Illinois Stay at Home Order made our traditional campus wide celebration not possible.  Instead, we will be sharing video tributes for our retirees in the coming HR Updates.  
Today, please join us in celebrating Diane Hamann (business office), Grey Giovanine (head basketball coach) and Pastor Priggie (Campus Chaplain). 
Baby news
The Political Science department is thrilled to share the news of one of their own. Xiaowen Zhang and family welcomed her beautiful baby boy Benjamin Samuel into the world on May 27. 
The photo here of Benjamin shows him at just 4 days old. Awwww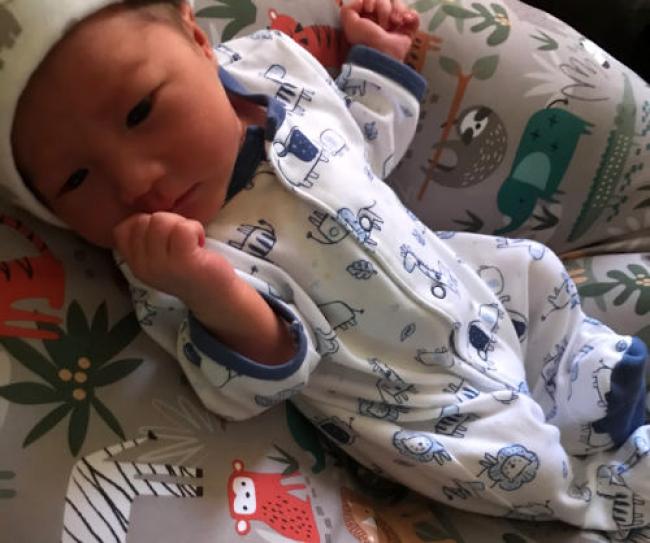 More Graduation celebrations
With graduation celebrations in full swing, please help us celebrate these milestones for several community members.  
We'd love to hear about more, so please send your pictures and information to brittnidegreve@augustana.edu so we can share the good news!