HR update June 24, 2020
To keep communication as clear as possible, and archive it for later use, the Office of Human Resources will be sending out updates using this format.
If you have information that you would like to disseminate to all employees, please send that to brittnidegreve@augustana.edu and we will coordinate adding the information to a future HR update.
For now, we would ask that you limit any mass communications to avoid confusion.
Congratulations to our Jaeke Award Winners
Becky Schumacher,  Groundskeeper, Facilities Service
Jill Nielson,  Brew Coordinator, Dining Services
Karen Sheradan,  Program Coordinator for Communication Science & Disorders, Office Personnel 
Lina Zhou,  Associate Professor of Business Administration, Faculty
Sam Schlouch,  Major Gift Officer, Administration
During this unusual year, we had a surprise zoom meeting to share the news that they had received this award. Check out the video below to join in the fun. Again, congratulations to these colleagues on their award.
Position posting
The college has recently posted an opening for an Access Control Specialist within the department of Public Safety.  Please share the Access Control Specialist posting with anyone in your network who might be interested. 
Hearing screenings in Communication Science & Disorders Department
Having difficulty hearing other people, especially now that we are all covering our mouths and faces?
If so, please don't hesitate to reach out to the Roseman Center for Speech, Language, and Hearing. We offer free hearing screenings to all people, including Augie employees, faculty, and administration. Please contact Dori Garro at 309-794-7358 or dorigarro@augustana.edu for more information.
Augie bookstore hours
Summer hours are Monday-Friday, 10 a.m.-3 p.m. Ten customers will be allowed at a time; employees/customers will wear masks and practice social distancing; and hand sanitizer will be available. Enter through the Brunner Theatre Center's northwest door.
Welcome new employee - Ryan Pryor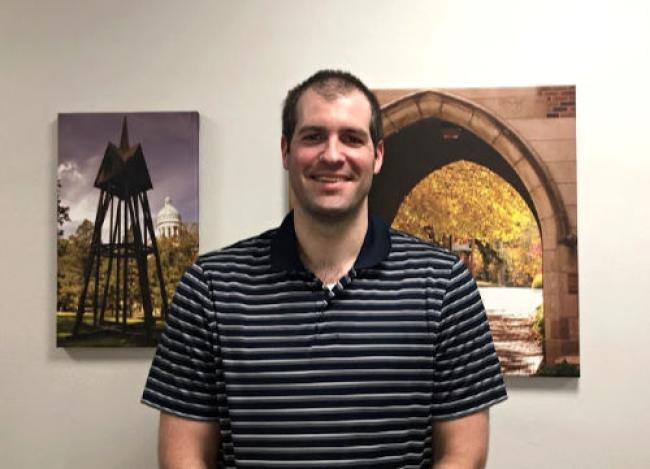 Ryan Pryor joined the college on June 30, 2020 as Head Mens and Womens Waterpolo coach.  Most recently Ryan coached water polo at Virginia Military Institute.  Ryan and his spouse Kellie, are in the process of relocating to the Quad Cities and looking forward to introducing the campus to water polo.