HR update July 8, 2020
To keep communication as clear as possible, and archive it for later use, the Office of Human Resources will be sending out updates using this format.
If you have information that you would like to disseminate to all employees, please send that to brittnidegreve@augustana.edu and we will coordinate adding the information to a future HR update.
For now, we would ask that you limit any mass communications to avoid confusion.
Summer On-Campus Work
Our guidelines for summer work continue:
The custodial team has completed deep cleaning of all work areas for those work areas where employees typically work during the summer and common areas to prepare for a safe return.  All work areas were cleaned with soap and water and then disinfected.   Carver PE Center, PepsiCo Recreation Center, Gerber Dining Center, and the Thomas Tredway Library will remain closed until August 3rd and deep cleaning will not occur in these areas. Similarly, faculty offices and student common areas will not be deep cleaned until regular usage is expected in August. 
We expect each office to create a staggered staffing plan using the following general guidelines:
July 15- August 1:  No more than 1/2 of the department working on-campus at one time
August 1-August 15:  No more than 3/4 of the department working on campus at one time
August 15:  Most employees working on campus
As employees return to on-campus work, the following new guidance has been established and will remain in place until further notice:
Daily screenings:

Level 1:  Those employees with frequent contact with visitors or campus community members and/or a position that has work locations across the campus should complete an in-person screening in Sorensen Hall at the Office of Public Safety.
Level 2:  Those employees with a fixed work location and a personal thermometer can complete an electronic self-screening.  This must be completed each day when working on campus using this self-screening tool.  Masks must be worn in all common areas and around others.  The mask must cover your nose and mouth.  

Maintain social distancing of 6 feet from others.
Meetings of no more than 10 employees can occur as long as the above precautions are observed. Virtual meetings should occur if possible.  All meetings should be reserved using the ASTRA system so that adequate sanitation before and after each meeting can be scheduled and performed.
Every employee must complete prevention training before returning to on-campus work.  The Augustana Return to Work Guide covers new policies and best practices put into place to ensure a safe working environment. The Understanding COVID-19 video covers all the basics about the virus and offers guidance from the CDC and WHO on how to best protect yourself and others. Please take a few moments to review both resources and then attest that you have completed the training. This will be required for all staff and admin employees, so for those not yet returning, feel free to complete this now rather than in August. Members of facility services who attended in-person training do not need to do this again. 
Individual work areas will have a checklist that contains the items that occurred during deep cleaning as well instructions and supplies for each employee to sanitize individual work areas daily.  The facilities team will also be providing more frequent cleaning in common areas and restrooms.
Higher Learning Commission review
Last week, Augustana's four-year assurance review was submitted to our accrediting body, the Higher Learning Commission. Unlike the 10-year review, there will not be a campus visit for the assurance review.  A team of HLC reviewers have begun reviewing the submitted assurance document (along with hundreds of supporting evidence files) and anticipate sharing a first draft of their report by the end of July, with a final report submitted to HLC shortly thereafter.
Academic Affairs would like to express its gratitude to employees all over campus who provided information for the 98-page document, which was filled with example after example of the ways Augustana continually works to fulfill its mission.  We'd especially like to lift up the efforts of Gillian Lederman and Jayne Rose, who shepherded this project through to completion despite many people's attention being diverted by our COVID-19 response efforts. Just as they led us through the semester transition, they've also led us through this important work.
Defamation Experience - Registration Reminder
Dear Augustana Community,
 
The recent national events have caused me to reflect more on our faith commitments, especially our commitment to Social Justice. Let us be reminded Augustana College:
commits to making our campus and the wider world a more livable place for all persons by acting against injustice and intolerance. 
seeks to embody the ideals of justice, peace, civility and love in our institutional practices and relationships.
I hope that you've enjoyed our campus conversation thus far. You won't want to miss our next event, The Defamation Experience - a courtroom drama that explores issues of race, class, religion, gender, and the law, but with a twist: you (the audience) are the jury. This is a two part event and registration is required. Let us know if you have any questions. 
*The Defamation Experience Film  July 9th  2:00 - 4:00 pm CT;  Registration is open now! 
  Post show discussion July 16th 2:00- 3:00pm CT.  
 
Onward together,
 
Dr. Monica Smith   
 
Meet our new Access Control Specialist
We are pleased to share the news that Allison Roos has accepted the position of Access Control Specialist.  
This newly configured role within public safety will focus on serving the needs of the campus community with keys, IDs and other access issues.  Allison is a familiar face to many on campus as she has served as a dispatcher within public safety since December 2018.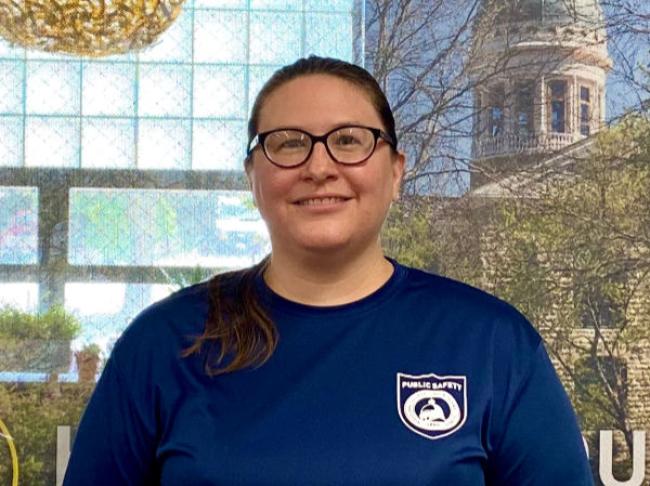 Another Augie Doggie
Laura Ford (human resources) and husband Chris Ford '86 took advantage of the long holiday weekend to welcome Jenkins to the family.  These first time pet parents welcome any and all puppy survival and training tips!