HR update March 30, 2020
To keep communication as clear as possible, and archive it for later use, the Office of Human Resources will be sending out periodic updates using this format.
If you have information that you would like to disseminate to all employees, please send that to brittnidegreve@augustana.edu and we will coordinate adding the information to a future HR update.
For now, we would ask that you limit any mass communications to avoid confusion.
HR update schedule change
As we all settle into our newest version of normal, HR Update will transition to a Monday, Wednesday, Friday publication schedule for the near future.  If there is news from your area, we are happy to share it.  Please send it to brittnidegreve@augustana.edu
Mailing Center will remain closed
The Mailing Center will remain closed until further notice.
The Receiving Dock will be open Tuesday, March 31st  9-Noon to allow one person per department to pick up essential mail/packages. Items will be placed in a mail tub, no need to enter the building. Mail that requires postage can be dropped off at this time.
Please direct any questions or concerns to the mailingcenter@augustana.edu.
TAO Connect
We are excited to announce a new employee benefit! TAO connect is now available to all employees and students at the college.  
TAO Connect provides mental health resources and education. Anyone with an Augustana email address can sign up and get free access to the mindfulness library, daily practice and journaling programs, and mental health education.
Choose "Sign-up in Self-Help with an Institution". It's anonymous and confidential.  This was researched and deployed from the Student Counseling center.  They would welcome your feedback and especially are interested if there is a person or two who might be interested in blogging about their experience.
 If you are interested please email williamiavarone@augustana.edu
Temporary Work Assignments
As many positions change due to the move to distance learning, we've been connecting employees with temporary work assignments.  We'll share updates on a periodic basis.  One of the first teams formed is the student calling team.  Led by Densie Yoder (head athletic trainer) and Wendy Kelly (associate director of Admissions) they have taken up the challenge of calling every Augustana student 4 times in the next 8 weeks.  
If you have information that you'd like them to deliver to students, please contact Denise or Wendy for inclusion in an upcoming call.  Here's who is serving on this team as of now:
Kelly Atkins, Biology
Bettinna Bolger, Diversity Equity & Inclusion
Beth Ducey, Advising/Math & CS
Deb Finkle, Facilities
Kris Gende, Dining Services
Lisa Hoffman, Dining
Becca Kitterman, Athletics
Becky Lapp, Bookstore
Kris Ruggles, Dining Services
Emma Stader, Music Department
Kathi Thompson, Facilities
Today's Cutest Viking
Please join us in congratulating Dave Wrath (sports information director) on becoming a grandfather.  Anna Marie Joerling made her appearance about one month early on March 27th.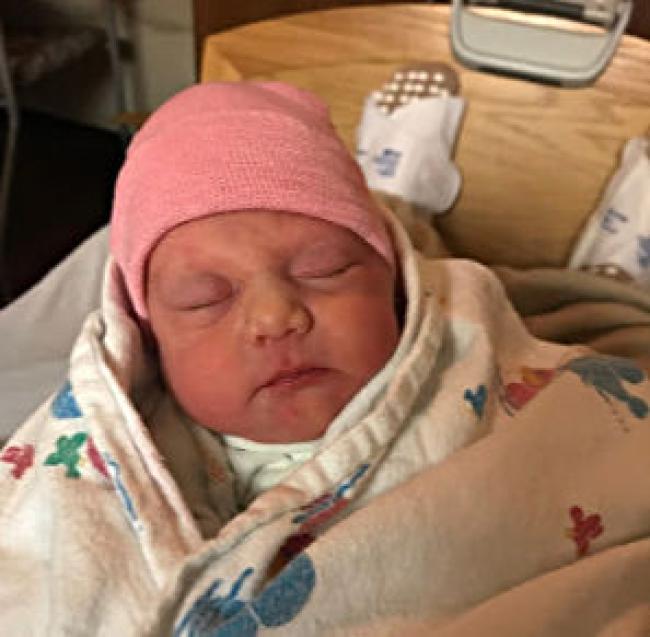 Virtual offices and co-workers
Thank you to everyone who has continued to share their new offices and co-workers with us. We love seeing the Augie pride sprinkled in your photos.