HR update April 1, 2020
To keep communication as clear as possible, and archive it for later use, the Office of Human Resources will be sending out updates using this format.
If you have information that you would like to disseminate to all employees, please send that to brittnidegreve@augustana.edu and we will coordinate adding the information to a future HR update.
For now, we would ask that you limit any mass communications to avoid confusion.
Illinois Stay at Home Order Extended - NOT AN APRIL FOOLS PRANK
As you are likely aware, the state of Illinois has extended the stay at home order through the end of April  We will be working with individual leaders and supervisors to understand what work can be done off campus during the month of April.  For those of you currently working remotely, that will continue as we examine options.  Employees should stay in contact with supervisors, managers or department chairs before planning any on-campus work.  
Chapel Service on You Tube
Our campus ministry team is pleased to offer a chapel service on YouTube. Watch for more details that will be shared throughout the day.
We encourage you to tune in starting any time after 8 p.m. today, and send feedback to Pastor Richard Priggie as the team evaluates future offerings.
Benefit changes - HSA, Flex, MD live, Wellness clinic
MD Live & Wellness Clinic:  As part of the CARES Act, those employees who are part of the college's high deductible health plan can now access MD Live and the Augustana Wellness Clinic with no copay required.  This is a temporary legislative change that will sunset on December 31, 2020.  
HSA & Medical Flex Accounts:  Employees who have an HSA (health savings account) or FSA (flexible spending account) can use these funds to pay for some over the counter medical products as well as menstrual care products such as tampons and pads.   
Dependent Care Flex Accounts:  Employees who have dependent care flex (DCAP) and are experiencing a change in projected childcare costs due to school and/or daycare closure, or no longer have a childcare need due to telecommuting, can decrease their annual dependent care flex election at this time. Please email Ashley Kilker (ashleykilker@augustana.edu) if you wish to make a change to your DCAP election amount.
Fitness Friday - Quick BTOUCH workout
Thanks to all of you who participated in last Friday's workout and a special shout out to Jeff Rose for leading this.  This Friday, Bettina Bolger will be leading a 30 minute BTOUCH workout at noon.  If you'd like to maximize the workout, bring along 5 pound or less hand weights along.  
Mark your calendars and plan to join the fun, BTOUCH workout 
Postcard project - Please help
Our Advancement team has prepared postcard greetings to send to 5000 friends and alumnae of the college. This project will spread Augustana joy around the country and the world.  We just need you to pick up a packet of 100 postcards, add a sentence or two, and sign your name.  These postcard packets (including instructions) will be available for quick and safe pick up at Public Safety and can be returned there, hopefully no later than Wednesday, April 8th.  Advancement will then coordinate mailing those out.
 
If you have time available, please consider spending a few hours on this project.  If you'd like to call ahead (794-7711) the public safety staff can even deliver a packet to your car.
 
Admissions calling team
As many positions change due to the move to distance learning, we've been connecting employees with temporary work assignments. Today's featured team is the Admissions calling team.  Three employees are working with the admissions team to reach out to prospective students about virtual admissions events, finishing their applications, and answering questions about the admissions process and resources available.  Serving on this dynamic team are:
Sarah Carter, dining
Brandie Kain, dining
Schary Santamour, student life and leadership
 
JP Morgan/Chase Fraud Alert
The following information has been shared by our P Card Vendor JP Morgan/Chase.

The COVID-19 pandemic has created a desperate need for medical equipment. Cybercriminals are using this global health emergency to defraud Commercial Banking (CB) government and healthcare clients by tricking them into paying for urgent medical supplies that will never be delivered. The Federal Bureau of Investigation (FBI) has also issued a warning to the healthcare industry of an increased potential in fraudulent activity involving new vendors and the purchase of COVID-19 medical equipment.
Criminals are initiating this fraud scheme by emailing CB clients, often pretending to be a new vendor that can obtain a large amount of critical medical supplies for sale. Once contact has been established, the criminals offer to quickly ship the necessary supplies after requesting that the victim send a substantial down payment to a bank account. Once the payment is received, the criminals disappear and the supplies are never sent.
Organizations should be extra cautious when purchasing medical supplies during this health emergency. The possibility of this fraud attempt can be mitigated by taking these immediate steps:
Remain vigilant with any new vendor validation and follow your organization's established due diligence procedures
Research names, addresses, ownership structure, tax information, articles of incorporation, business licenses, and other available information for potential new business partners
Continue to scrutinize any email from existing vendors who request changes to payment or bank account information
Perform callbacks to phone numbers using a system of record to validate any request
Report any suspicious activity involving a new vendor to the FBI
Augustana Dining services - nailed it or failed it?
Danielle Roman and her mini baker, Paul, took on the chocolate chip cookie challenge and totally nailed it! They adapted the recipe to make them wheat and egg free. They were a huge hit in the Roman household!
Do you have a Gerber Center Dining favorite you miss? Reach out to brittnidegreve@augustana.edu and we'll add it to our next issue!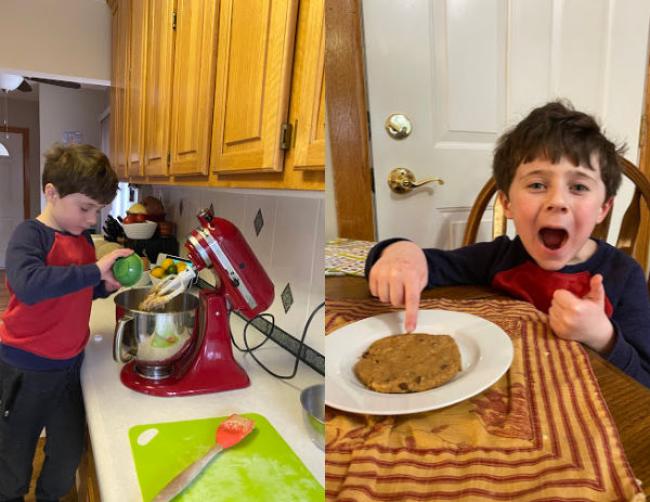 Virtual offices and co-workers
I see these co-workers are happy with their new office mate. 
Please continue to share your virtual offices and furry new co-workers! It is great to see everyone around campus doing well.  Please send your photos to Brittni DeGreve, brittnidegreve@augustana.edu.