HR update April 3, 2020
To keep communication as clear as possible, and archive it for later use, the Office of Human Resources will be sending out periodic updates using this format.
If you have information that you would like to disseminate to all employees, please send that to brittnidegreve@augustana.edu and we will coordinate adding the information to a future HR update.
For now, we would ask that you limit any mass communications to avoid confusion.
Work Hours for next week - Please read
As we enter the month of April, the extension of the Illinois Stay at Home order, combined with a move to distance learning, has affected most every job on campus.   As the situation evolves, the college will continue to respond accordingly and is carefully monitoring  benefit information coming from both the state and federal government that may potentially be advantageous to employees and employers.  The college in accordance with the stay at home order, will only allow on-campus work for essential work functions.  This means we will have very minimal staffing in most areas and work can only be performed on campus for non-faculty employees with specific scheduling from a supervisor.   As the college works through longer term issues, please follow the guidelines below for the week of  Sunday April 5- Saturday April 11th.

Paid Time
For those positions where remote work is not possible, or for those who have less than the regular amount of work available, the college will substitute regular work hours with accrued paid leave in the following order:
Available COVID leave (provided on March 23rd)
Available sick leave
Available vacation leave
Borrowing of up to 2 weeks of vacation leave
Continued Remote Work
For those employees currently working remotely, we know that juggling home and work concerns is not an easy task.  The college has provided 80 hours of COVID time that should be used as needed as well as vacation time and sick time that is available.  Supervisors should continue to monitor work projects as the weeks progress.  Once work is not available, we encourage the use of time off.  We anticipate that COVID time will likely be eligible for government repayment and usage of vacation time is helpful to the overall vacation liability of the college.
 
Friday Work Hour Submission
Before you close out the work week, please be sure to report and/or approve work hours for this week. Not sure what's expected? Here's a quick reminder:
Staff members with a temporary assignment, you should be submitting work hours to Brittni DeGreve using this google form.
Staff members with a faculty supervisor, you should submit work hours to Brittni DeGreve using this google form.
Staff members working remotely, you should email work hours to your supervisor who will input those hours into TCP
Staff members working on-campus, you should be punching in and out as usual in TCP.
Salaried/Administrative staff, you should report any COVID, vacation or sick time to your supervisor to input into TCP.
Supervisors, you must input all hours into TCP using a timesheet entry and approve these hours, as well as any hours requested as vacation or sick time.
As you might imagine, closing payroll has become quite a bit more difficult during this pandemic.  Completing these tasks at the end of the day on Friday or before noon on Monday will be tremendously helpful.
Mailing Center Hours - through the end of April
The mailing center will be open on Tuesdays and Thursdays from 12:30 -4:00 pm.  Mail and packages can be dropped off and picked up at this time.  We ask that you, of course, observe social distancing as you visit the mailing center.
Friday Fitness - BTOUCH at noon today
Today is the day!   Bettina Bolger will be leading a 30 minute BTOUCH workout at noon.  If you'd like to maximize the workout, bring along a 5 pound or less hand weight.
Mark your calendars and plan to join the fun, Augie Works 
 
Postcard Project - Writers Needed
Thanks to those of you who have picked up postcards to send greetings to 5500 friends and alumnae of the college.  This project will spread Augustana joy around the country and the world.  If you haven't had a chance please consider making this part of your Friday or weekend plans.  
Postcard pick-up is available 24/7 at the Office of Public Safety.  You'll pick up a packet of 100 postcards, add a sentence or two, and sign your name.  You should return these by Wednesday, April 8th and Advancement will coordinate the mailing. These postcard packets (including instructions) are located on a table just inside the doors near the dock in Sorensen Hall.
TAO Connect - Calming Your Anxiety
It's hard to motivate yourself under the best of circumstances, and we can all agree that right now few of us are living under the best of circumstances. Tele-commuting is filled with distractions, family obligations, and lots of screens.
 
For this reason, student counseling services wants to suggest the Cognitive Behavioral Therapy (CBT)- Calming Your Anxiety (adult) from TAO Connect. The activity helps you control your worry and develop motivation. There are six 15-minute sessions that cover worry, goal-setting, motivation, and the causes of anxiety. If you find these sessions helpful, the next module is about relaxation and anxiety reduction.
More information on Over-the-Counter eligible products for HSAs and FSAs
Many of you have reached out for additional information about the changes to flex and HSA items.  Here's a bit of an update that may be helpful.

The CARES Act has reinstated the coverage for Over-the-Counter (OTC) medications and drugs for reimbursement from HSAs and FSAs.  These items can be purchased with funds from eligible accounts without needing a prescription. Additionally, the bill expands OTC items to include menstrual care products.

According to the law, this change is effective for items purchased on or after January 1, 2020. Merchants will need to update the list of eligible products and implement that list. This process will likely take place over the next four to six weeks.
 
Weekend Fun
Thanks to our wonderful colleagues in Communication and Marketing, please check out our new Family Fun Packets that can bring a little blue and gold love to your home. It's got Augie-themed puzzles, coloring pages, conversation starters, recipes and Augustana Hearts to print.  
Color one of the Augustana coloring sheets in all blues and golds, and send it to: Augustana College Attn: Little Coloring Club 639 38th Street, Rock Island, IL 61201. We'll work with Gus, our Viking mascot, to send back a little surprise to you!
Below you can see Juan Alejo's (ITS) son, Lance, showing off the Old Main photo that he colored from the family fun packet. Peep the heart hunters he drew in the windows. All his idea!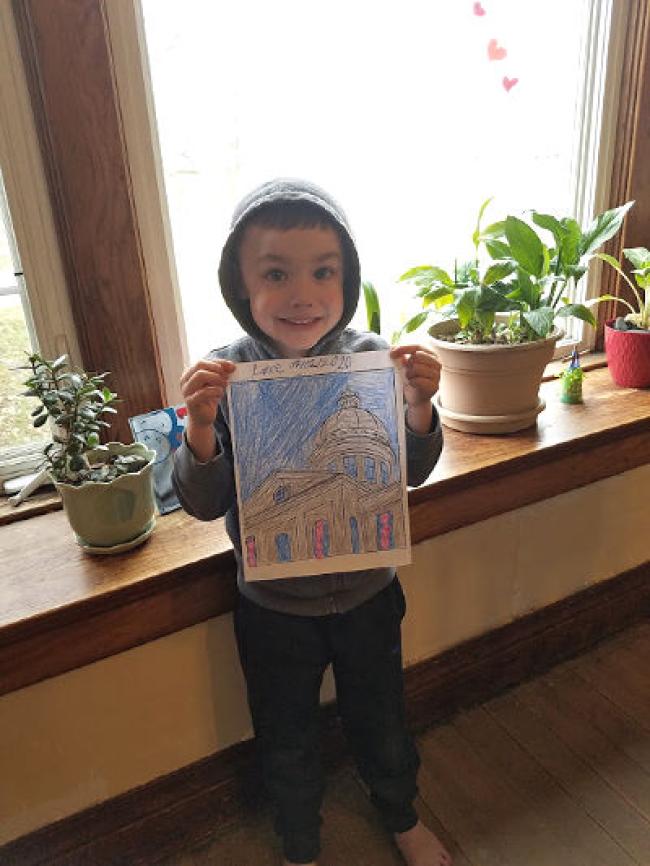 Augustana Dining recipe - chicken salad
By popular demand our colleagues in Augustana Dining are at it once again. 
With the warmer weather knocking on our doors we have a taste of summer right here, Augustana Dining Chicken Salad. 
So sharpen those knives and get to chopping! 
Team Pictures
Many of us are having to conduct virutal meetings with the new social distancing orders. At times these meetings need a little fun added to them. 
Have fun with it and send us your team photos!