HR update April 8, 2020
To keep communication as clear as possible, and archive it for later use, the Office of Human Resources will be sending out periodic updates using this format.
If you have information that you would like to disseminate to all employees, please send that to brittnidegreve@augustana.edu and we will coordinate adding the information to a future HR update.
For now, we would ask that you limit any mass communications to avoid confusion.
Work hours and COVID Furlough options
As announced by President Bahls this morning, given the CARES Act provisions, the option of a COVID Furlough is available to employees whose positions have little or no work available.   A detailed FAQ list about the COVID Furlough has been created to answer many questions.  
Employees who select a COVID Furlough:
Will continue to be eligible for any benefits selected during the open enrollment period and are responsible for the associated employee premium(s).
Will not be paid by Augustana, but instead will apply for unemployment compensation from the Illinois Department of Employment Security.    
Will have regular unemployment compensation supplemented by the federal "Plus Up" of $600 per week, up to a maximum of $1,071 per week. The federal Plus Up is scheduled to end on July 30,2020.
Will be asked to return to their regular positions once work is available.
Employees interested in the COVID Furlough must complete the COVID Furlough Request and be approved through the Office of Human Resources.
The Office of Human Resources encourages and welcomes individual conversations about the details of the COVID Furlough. Please contact the office by calling 794-7352 or emailing humanresources@augustana.edu to set up a time to discuss this option.
Update from Genesis EAP
With the current events around our country involving COVID-19, many people are experiencing changes in daily routine. Genesis EAP wants to assure you that we are also adjusting and responding accordingly to make sure that we are still available to the employees and companies we serve while also doing our part to cooperate with social distancing, sheltering in place, and any other measures our local and state governments would ask of us to help stop the spread of this virus.
For clients who are currently scheduled, as well as for any new calls we may receive for EAP assistance during this time, we are fully staffed and offering 30-minute phone, video conferencing, and limited face-to-face sessions. We recognize that some clients may choose to cancel their appointments for now. We will make sure to call them to reschedule when things return to normal and also remind them that they have access to video conferencing sessions should anything change.
In preparation for a dramatic increase in demand for services, we have partnered with private mental health providers in the area.  As always, we are staffing our after-hours emergency line in the usual fashion and our Administrative Professional will be in the office during usual business hours to answer calls in live time as they come in so that people can be connected to a counselor with ease.
Should anything change to these temporary operating procedures we will provide updates to all at that time. We will also notify you when EAP have resumed normal office hours and in-office counseling sessions. Please feel free to contact 563-386-4004 if you have any questions.
 
Good Friday Holiday
The college will be closed for Good Friday this week on Friday, April 10th.  There will be no HR update or Fitness Friday class. Employees will receive holiday pay for this day and pro-rated time for part-time employees.
If you have questions about how to enter this time, please contact the Office of Human Resources.  Any employees scheduled for on-campus work for Friday or Sunday will receive holiday pay in accordance with our regular holiday policies.
Reporting work hours
With the college closed on Friday, it's extremely important that all employees report work hours before ending work on Thursday for the week, and that supervisors add and approve time on Thursday by close of business.  
Staff members with a temporary assignment, you should be submitting work hours to Brittni DeGreve using this google form.
Staff members with a faculty supervisor, you should also submit work hours to Brittni DeGreve using this google form.
Staff members working remotely, you should email work hours to your supervisor who will input those hours into TCP
Staff members working on-campus, you should be punching in and out as usual in TCP.
Salaried/Administrative staff, you should report any COVID, vacation or sick time to your supervisor to input into TCP.
Supervisors, you must input all hours into TCP using a timesheet entry and approve these hours, as well as any hours requested as vacation or sick time.
 
Mailroom hours
The mailing center will be open on Tuesdays and Thursdays from 12:30 -4:00 pm.  Mail and packages can be dropped off and picked up at this time.  We ask that you, of course, observe social distancing as you visit the mailing center.
Password changes during WFH
In the next few upcoming weeks many of us are going to receive a message to update our password. 
In order to continue using Virtual Viking remotely, you must change your password on your campus computer. Lock the computer as you previously have and you will be able to sign back on virtually using your new password. 
Newest, cutest member of the Augustana community
Congratulations is in order for Malhar Saheed (Business Office) and Fatima Sattar (Anthropology and Sociology) welcoming the newest member, Hishaam Ahmed Saheed .
Hishaam arrived late in the evening on March 29 after threatening to overshadow his siblings birthday following the next day. What a rivalry that would have been! Fatima and the rest of the family are doing well. The siblings are just obsessed with their new brother.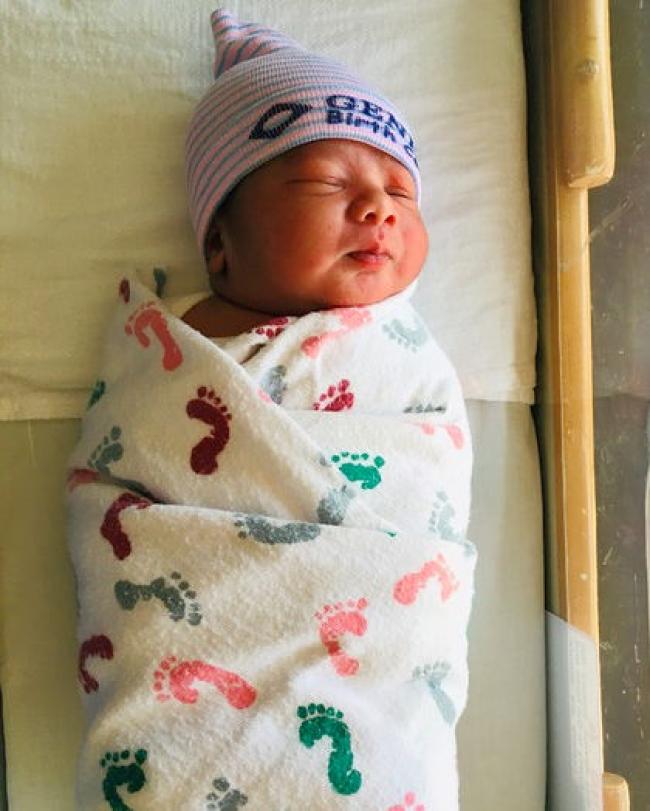 Augustana Dining recipe and more!
Many thanks to our Dining department for sharing their recipes to the rest of their Augustana friends! 
By popular request we have been asked for the Southwest Egg Roll dipping sauce recipe: 
Southwestern Egg Roll Sauce
1 cup mayonnaise 
1 tbl chipotle in Adobo. Chop to a paste
1 tsp lemon juice
Mix well!
Brandon Tidwell's children, Lily and Carter have gotten creative during gym class and home ec. Below you will see they decided to pull out the sumo suits and have a backyard wresting match.
During home ec class, Carter learned how to adjust the chocolate chip recipe to make them gluten free for everyone to enjoy!

Virtual offices and co-workers
A huge THANK YOU to our community for keeping this section going. We love that you want to share off your new office space and co-workers. 
Please send photos to brittnidegreve@augustana.edu.