HR update April 15, 2020
To keep communication as clear as possible, and archive it for later use, the Office of Human Resources will be sending out periodic updates using this format.
If you have information that you would like to disseminate to all employees, please send that to brittnidegreve@augustana.edu and we will coordinate adding the information to a future HR update.
For now, we would ask that you limit any mass communications to avoid confusion.
Message from the President
Dear Colleagues:
 
I'd like to address concerns about the longer-term impact of the COVID-19 crisis on Augustana College and the planning taking place to keep Augustana strong for our students.
 
I know many of us yearn for definite plans and even more definite answers. Those just don't exist. There will likely be continued shared sacrifice by students, faculty and staff alike in the coming months.
 
What does exist are hard-working, compassionate Augustana employees, and a mission to deliver a top-quality liberal arts education and residential experience to Augustana students.
 
In addition, the college's leadership team is driven to be as transparent as possible. That's why I'm writing to you today.
 
One of our first financial decisions was to refund room and board to students. Because of the refunds and other lost revenue this spring and summer, we estimate the cost to the college to be approximately $5 million.
 
To offset the costs:
 
1. We have been told to anticipate receiving $2.1 million as part of the CARES Act passed by the U.S. Congress. About half of these funds can be used to defray some of the expenses we are incurring, with the other half to help provide financial assistance to students, presumably in the fall term.
 
2. Trustee and alumnus Murry Gerber, along with his wife Cindy, is donating a $1 million challenge grant. This should help leverage another $1 million in contributions. I will participate in this challenge by donating 20% of my annual salary back to the college over the next three months, and the cabinet also unanimously has decided to make sacrificial contributions to the Gerber Challenge.
 
3. The college has business interruption insurance, which could help us defray some of the loss if we are able to collect on this policy.
 
4. Due to the stay-at-home order, we have been able to reduce some expenses such as food and employee travel.
 
Among our concerns:
 
We do have concerns, particularly about the next academic year. We are concerned about a lower number of new students, particularly international students. We are concerned about retention of students who did not have the benefit of an in-person spring term. And we are concerned about families who have been hit hard financially.
 
We also have been informed our reimbursement for the Monetary Assistance Program (MAP) grants from the State of Illinois will be delayed, and future payments may be reduced.
 
It is possible that our budget for next year could be down by 10% or significantly more. And while Augustana has cash reserves, those cash reserves must be stewarded well to keep the college strong for both an outstanding student experience next year and for our entire community in the long haul.
 
To remain strong for next year, we are taking several steps:
 
• We are more stringently limiting expenditures, to maintain our cash reserves.
 
• We have suspended the budget process we started earlier in the year and will restart the process, assuming various scenarios.
 
• We will consider reducing the set-aside for capital expenditures, cutting non-personnel expenses as much as possible and increasing endowment draw to the maximum prudent level.
 
• We have frozen virtually all employee hiring. 
 
• With 60% of our budget as payroll, it is unrealistic to think that this crisis will not have an impact on our team even with the reductions mentioned above. The impact will depend on the depth of our revenue losses, the extent of which is impossible to predict.
 
• We have canceled capital expenditures with the exception of the Peter J. Lindberg, M.D., Center for Health and Human Performance, for which we have restricted contributions for the majority of the project.
 
It is still my hope that revenue reductions next year will be less than 10%, particularly as we focus steadfastly on retaining students and enrolling new students.
 
Some wonder why we are announcing a few new programs, like women's wrestling and men's and women's water polo. Programs like these will serve to bring in students who may not otherwise enroll at Augustana. And we must continue to advance our strategic plan to provide programs that will keep enrollment robust.
 
I look forward to reopening our great college campus in the fall, and I fully expect we will open to live classes.
 
I appreciate the encouragement of Dr. Anthony Fauci, director of the National Institute of Allergy and Infectious Diseases, who told us the country should be "in good shape" for reopening schools then. Dr. Fauci cautioned that "It is going to be different" at schools next fall, so we will mobilize a task force to develop plans to welcome our students back and develop steps to help ensure campus is as healthy and safe as possible.
 
As I mentioned in the opening of this letter, certain and easy answers are not entirely possible. Without certainty we must rely on our faith in each other, and I remain optimistic because of you, our Augustana team. We need the passion and creativity of our entire community to best address challenges and stay strong. I welcome your ideas on how we best do that.
 
Our creativity and shared sacrifice for next year will mean Augustana stays strong in coming years.
 
In closing, let me convey my deepest gratitude to the many members of our community who have united for the good of Augustana students.
 
May we remain strong and healthy.
 
Steve
 
Stay at home reminder
As a reminder, the Illinois Stay at Home Order is still in place and work should be happening remotely. Regular on-campus work is limited to only those operations that are essential to college operations.
This has created limited custodial services, dining services and public safety staff.  With supervisory approval, short visits to campus to pick up supplies or work products on a limited basis is allowed.  If you have questions about this, please contact the Office of Human Resources at humanresources@augustana.edu.
Campus update - Kirk Anderson
Campus Community –

First of all - I hope you and your family are well and in good health!  Yesterday we received an update from the office of the president detailing many of the strategic steps the college will take over the next three to six months.
 As mentioned in the communication, the business office will be monitoring the cash impact related to these recent changes and will continue to do so through the end of summer.  In order to control expenses over this time period, we will be providing detailed guidance (when necessary) to ensure campus members have the information necessary to optimize our financial resources.  At this point, we are providing the following guidelines to help with this effort.  If you have any questions related to the guidelines, please feel free to contact Jacob Bobbitt (Controller) or me (Kirk Anderson – CFO) in the business office.
We thank you in advance for your continued support!
2019-20 Budget Restatement 
The business office is in the process of meeting with cabinet members to review the remaining budget dollars available for the final three months of the academic year.  Many accounts will be adjusted (travel, student labor, etc.) to reflect our new operational conditions.  Annual budgeting procedures would typically include a number of reviews with departments and supervisors, but due to the time constraints, we are implementing this brief approach so budget owners have a general direction for the final 2 ½ months of the year.  As a general rule, departments/faculty should NOT be looking to find ways to spend these available funds outside of the requirements related to delivering our on-line programing and fulfilling grant obligations.  Specific spending questions should be directed to the Controller (Jacob Bobbitt) in the business office.  We are planning to have these updates available in the system by the end of this week and will notify everyone when complete.     
Memberships & Subscriptions
As a means to control expenses over the remainder of the academic year, we are prohibiting the renewal of any memberships or subscriptions.  We realize that a select number of memberships and subscriptions are necessary to run critical functions of the college, so any renewals that must continue will require the approval of the CFO (Kirk Anderson) and Controller (Jacob Bobbitt).  This request will be in effect until further notice. 
Video Conferencing Subscriptions
We have received a number of expenses related to video conferencing services.  The college has decided to utilize Google Hangouts as the preferred method to conduct video conferences.   If a department requires specific functionality that Google Hangouts does not provide, any exception requests need to be approved through the CFO (Kirk Anderson) and Controller (Jacob Bobbitt). 
Out of State Student Payroll
A handful of departments are still utilizing student labor as students are able to complete office work remotely.  Labor laws require Augustana to adhere to state guidelines based on where the student is physically completing the work.  In addition to the potential of paying higher minimum wage rates, the process of filing administrative paperwork is overly detailed and burdensome.   With that being said (if student labor is a necessity), we are asking all departments to utilize student labor from Illinois, Wisconsin, Iowa or Kentucky as all these states have reciprocity. 
Contract Reviews
The administration is in the process of reviewing contracts to ensure the college is in the best position possible going into the summer months and into next fall.  This process includes identifying any opportunities to reduce services/fees and including additional COVID-19 language protection for contract renewals.  If involvement from staff, administration or faculty is necessary, the business office will be reaching out for assistance.
Employee/Vendor Labor Agreements
If any department has made labor/service guarantees to provide services this spring and summer (and those events have been canceled), please contact the business office as soon as possible.  Payments for labor/service agreements that have been canceled will not be paid unless approved by the CFO and general counsel.  

 Once again, we thank you for your continued support.

- Kirk
 
Information on vacation limits
As a reminder, employees who earn vacation are limited to rolling over 1.5x the annual maximum by June 30th each year.  Hours in excess of this limit are forfeited on that date.  In the coming days, those employees with large vacation balances will receive an email reminder.  
We encourage all to begin to think about taking time off to avoid forfeiture of earned hours.  Exceptions to this policy are not available.  You can view your vacation accruals at any time in TimeClock Plus.
Fitness Friday - Worship workout
This Friday, our Fitness Friday will be led by Ben Hermann.  He will combine spiritual development with an at-home workout at noon on Friday, April 17th.  Special thanks to Jenna Lawrence who has participated in this unique workout as an Augustana student.  
Kudos for Kylee's (K)reativity!
PUP-date
Jenna Lawrence '18 (campus visit coordinator) and fiancé , Alex Sierra '19, wanted to add some fun to their quiet quarantine life. 
Here is their new pup Winston, an adorable 8 week old Aussiedoodle. How can anyone get any work done with that cute little face. Awwww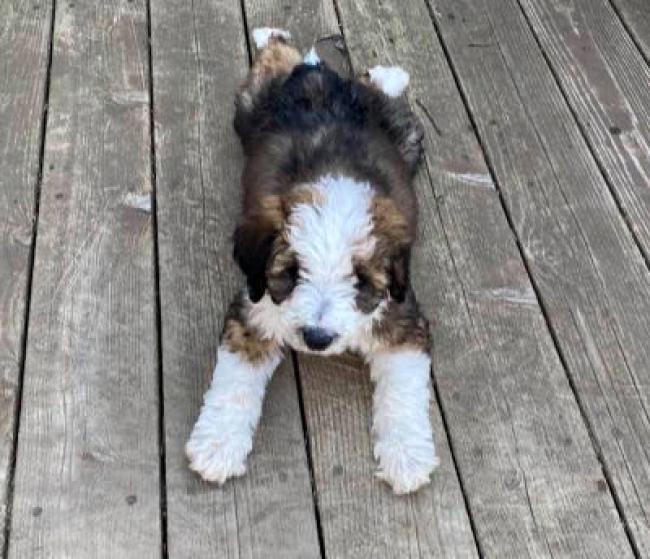 Campus beauty
SNOW! Although it is beautiful I think it is safe to say we are ready for the sunshine and flowers to bloom across our amazing campus. 
Last week on campus we had some fun visitors and was able to watch the star magnolias come to life just in time for spring!