HR update April 17, 2020
To keep communication as clear as possible, and archive it for later use, the Office of Human Resources will be sending out periodic updates using this format.
If you have information that you would like to disseminate to all employees, please send that to brittnidegreve@augustana.edu and we will coordinate adding the information to a future HR update.
For now, we would ask that you limit any mass communications to avoid confusion.
Celebrating Diversity
Friends,
 
April is Celebrate Diversity Month. There were a number of student facing events planned. In lieu of being able to create events for students the DEI unit put together this video to encourage everyone to embrace their identities and involve themselves in learning about others. 
 
Suggestions include:
1. making or sampling ethnic foods
2. planning a virtual event that brings together different ethnic, religious, and cultural groups to celebrate one another
3. explore different cultures through art, poetry, music
4. explore or learn a new language, talk to friends who speak a different language
5. watch movies related to diverse topics - Netflix has a plethora of them!
6. read about a religion you have not learned about
 
Best,
 
Monica M Smith, DSW (she, her, hers)
Vice President, Diversity, Equity, and Inclusion
 
Yard signs
Heading out to get your groceries or take a ride in the car? Take a quick drive to campus this weekend.
 
On Saturday, starting at about 10 a.m., employees can stop by campus and pick up a yard sign. In the spirit of social distancing, the yard signs will be placed in the ground at four locations, and you are encouraged to drive-thru and pick up (or pull out) one. Then take it home, place it in your yard, and show off your Augie pride!
 
Locations:
- Evald circle drive
- Centennial circle drive
- Founders circle drive
- Back entrance of the Gerber Dining Center
 
Supplies are limited and on a first-come, first-serve basis. 
 
Once yours is in your yard, take a photo and share it on social media by tagging Augustana or using the hashtag #augustanacollege.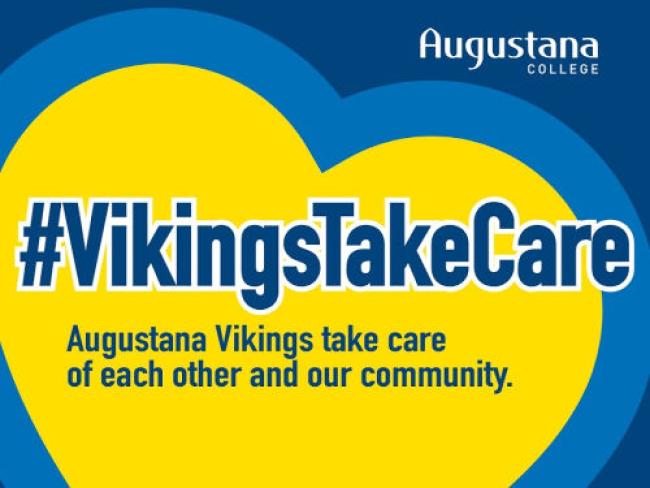 Benefits updates
We've been sharing a variety of benefits related changes over the past two weeks.  Here's a quick summary to keep it simple.  For more information on any of these topics, feel free to contact our benefits ninja - ashleykilker@augustana.edu
Wellness Clinic and Telemedicine:  Both are available without co-pay to employees on the traditional or high deductible health plan.
COVID testing and treatment:  No co-pay or deductible applied for these services.
Dependent flexible spending:  You can make a change to this deduction if you've experienced changes due to COVID with daycare.
Retirement savings changes:  You can change your retirement withholding at any time.
Retirement loans and withdrawals:  Loans and hardship withdrawals from TIAA have new rules including a waiver of tax penalties and longer time periods for loan repayment.
Student enrollment trend
In a typical recruitment cycle the next two weeks, leading up to National Candidates Reply Date on May 1, would include a flood of tuition deposits accompanied by celebratory gong-ringing as students make their final college choice. This year is anything but typical, though. 
The Office of Admissions remains committed to transparency, and it's important that we continue our practice of sending regular updates with five-year comparative data to our campus community. However, the extension of the reply date from May 1 to June 1 may not make these comparative reports as helpful as they would be in a typical cycle.
Applications 
2020: 6741
2019: 6705
2018: 6145 
2017: 6663
2016: 6520 
Accepts 
2020: 3832
2019: 3727
2018: 3866
2017: 3923
2016: 3313 
TD
2020: 332
2019: 400
2018: 379
2017: 390
2016: 362
*Data as of April 15 each year
The growing gap in tuition deposits is a concern. However, this is very common across the country. While it can be attributed, in part, to the deadline extension, we are increasingly hearing concerns from students about whether colleges will be able to open in the fall. And, predictably, financial concerns are creeping into more conversations as well.
Members of the enrollment team continue to introduce new virtual event opportunities, including robust academic program sessions. We're doing our best to showcase Augustana during decision-making time. On Saturday, we will host our annual admitted student event, It Begins with A, virtually and hope to be ringing the gong all afternoon to celebrate students choosing Augustana. 
We remain incredibly grateful to all who have risen to the occasion in reaching out to deciding students in new and different ways. We're hopeful for the fall of 2020. If you have any questions, please contact me at karendahlstrom@augustana.edu. Thanks again to the Augustana community for your continued support!
 
Fitness Friday
A HUGE thank you to Ben Hermann and Tanner Logan '18, for leading this weeks Fit Friday workout! Due to some technical difficulties in the past few Fridays they were nice enough to film their workout ahead of time and post it to their Youtube Channel "Worship Workouts". 
To pair some great music with today's workout, open the Spotify music app and search WW Group. They have made a playlist that pairs well with the workout. 
So lets all put on those sweatbands and get ready for a great workout to finish the week!
Weekend fun
Our wonderful Communication and Marketing department continues to keep spreading the blue and gold love, please check out our Family Fun Packets to keep the creativity flowing during this unusual time. It's got Augie-themed puzzles, coloring pages, conversation starters, recipes and Augustana Hearts to print.  
Color one of the Augustana coloring sheets in all blues and golds, and send it to:
Augustana College
Attn: Little Coloring Club
639 38th Street, Rock Island, IL 61201
We'll work with Gus, our Viking mascot, to send back a little surprise to you!
Faculty research stipend
The Swenson Swedish Immigration Research Center (in Denkmann Hall) invites applications for our annual Faculty Research Stipend.
This $600 stipend supports one Augustana College faculty member's 1-week exploration of Swenson Center library and archival materials, to support the creation of class projects or the faculty member's individual research (priority given to those that will impact students).
Application deadline extended to June 1. 
Virtual offices and co-workers
We love getting these photos every week and seeing how the rest of our Augustana community is doing and adjusting to our new "normal".
We hope you are enjoying these pictures as much as we are.  
Please send photos to brittnidegreve@augustana.edu.