HR update April 22, 2020
To keep communication as clear as possible, and archive it for later use, the Office of Human Resources will be sending out updates using this format.
If you have information that you would like to disseminate to all employees, please send that to brittnidegreve@augustana.edu and we will coordinate adding the information to a future HR update.
For now, we would ask that you limit any mass communications to avoid confusion.
Q&A with the HR Team
We understand you have questions on your mind, and we welcome the opportunity to answer those as possible. While there are many unknowns, feel free to send your questions to humanresources@augustana.edu, or reach out to an individual in the Office of Human Resources. Here are some common questions we've received in the past few days.
When will we return to campus work?
At present, the Illinois Stay at Home Order is set to expire on May 1. Once the order is lifted, the college will evaluate which offices will resume working from on campus first, and we imagine a phased return to campus. Experts are encouraging organizations to think about this not as an "on/off switch" but instead a "dialed" approach with a slow return. Employees should continue to work remotely or use available time off until they receive a direct instruction to return.
What if I don't feel comfortable returning to campus?
It's too soon to know when individual offices will be asked to return to campus. The college will be following CDC guidelines for a safe return to campus and implement necessary measures to continue to mitigate the potential spread of COVID-19.  We also will follow recommendations about high risk groups (those with health conditions or of a certain age) as it relates to on-site work.  Once employees are asked to return to campus, unless there is a medical necessity, employees will either need to use available time off or return to work.
Can I continue to work remotely even if the campus opens up?
While we appreciate the work done to make sure our mission is met while working remotely, the college does not have long-term plans to allow for remote work. We believe our campus community is at its best and serving students most effectively with on-campus work.
When am I supposed to use COVID leave?
The college provided 80 hours of COVID leave to all employees to be used as needed during this pandemic. Employees should currently be using this when there is less than normal workload or less than normal hours available for work. One use might be employees who are asked to return to work but are unable to return due to child care or daycare needs. 
Will employees be asked to report even if schools and day cares are not yet open?
Like most employers, this is an issue that we know will affect many employees and do not yet have answers.  We will continue to explore options that can assist employees in balancing work and family concerns while still ensuring the mission of the college is met.
How is a COVID furlough different from a layoff?
A furlough is a short-term leave where an employee is relieved of all work duties and eligible to seek unemployment benefits. Unlike a layoff, during a furlough eligibility for the Augustana health plan and other insurance coverage continues with the employee continuing to pay their portion of any premiums. With a furlough, Augustana pay ends, so there is no retirement benefit available. 
I'm reading about schools closing, reducing their workforce and/or mandating pay cuts. Will that happen here? 
The President and the Cabinet are closely monitoring the situation and creating budget models for a variety of scenarios based on fall enrollment, retention and secondary income sources. We are fortunate the financial health of the college is strong based on past decision making, and we are anticipating that students will return to on-campus learning this fall. The size of the class and changes needed to allow for a safe return will have a significant impact on next year's budget. It is too soon to forecast changes to pay and benefits.
Vikings Care signs - available while they last
Did you pick up a yard sign this weekend?  
If not, there are a few still available.  You can drive to campus and pick up signs while they last at the following locations.  Then, don't forget to show us your sign!  Use the hashtag #augustanacollege  and/or send a picture to brittnidegreve@augustana.edu.
Locations:
- Evald circle drive
- Centennial circle drive
- Founders circle drive
- Back entrance of the Gerber Dining Center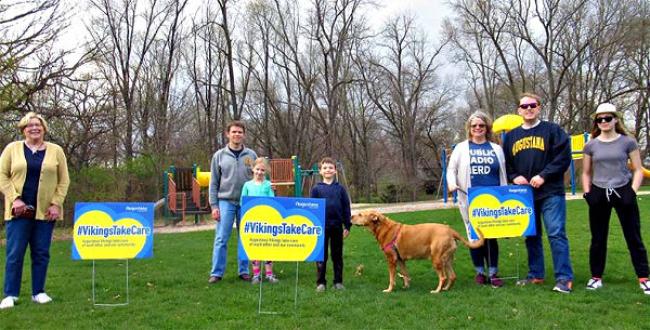 Update on masks
As announced on Monday, employees who are working on campus, or returning to campus to pick up or drop off work are expected to wear masks in compliance with CDC guidelines to assist in mitigating the spread of COVID-19.  Masks should be worn in common areas and can be removed in private work areas.  Several members of our community are sewing masks and making those available through Public Safety.  If you need a mask in order to safely visit campus or work on campus, feel free to stop by the Public Safety area to pick one up.
Essential employees currently working on campus will be wearing masks while working in non-private areas.  Additional masks are being created for these employees to assist in compliance with this CDC guideline.
 
Telehealth - WebMD
MD Live
There are three ways to access an MDLIVE provider.  As part of the CARES Act, the employees apart of our medical wellness plan and in addition to the college's high deductible health plan can now access MD Live with no copay required. This is a temporary legislative change that will sunset on December 31, 2020.
To speak with a medical professional without having the leave the comfort of your home, please follow one of the steps below:
Visit BCBS MDLive 
Download MDLIVE app from the Apple App Store or Google Play Store
Call MDLIVE at 888-676-4204
Mississippi Bend players' summer season
Due to COVID-19, Mississippi Bend Players' (MBP) 2020 summer season will not go on as scheduled.
Those on our campus who organize MBP hope to provide some alternative entertainment later this summer, so please watch for details.
Thank you for your understanding and loyal support.
New hobbies -The Green Thumber
Tia Fuhr (student life) is trying her luck with her green thumb. She is growing plants along with herbs and doing a great job at it! 
With all the beautiful sun we have been having, her plant babies are thriving and the herbs have been growing out of their original pots.
Got a puzzle you've been working on? Taking on that home project you've been putting off? 
Share your hobbies with the rest of us and submit your photos to brittnidegreve@augustana