HR update April 29, 2020
To keep communication as clear as possible, and archive it for later use, the Office of Human Resources will be sending out updates using this format.
If you have information that you would like to disseminate to all employees, please send that to brittnidegreve@augustana.edu and we will coordinate adding the information to a future HR update.
For now, we would ask that you limit any mass communications to avoid confusion.
Message From President Bahls
Dear faculty and staff,
It's important for you to see my communication with students and their families about our plans to reopen to live classes on Aug. 31, 2020.
 
Dean of Students Wes Brooks is chairing a task force developing more specific plans to reopen, all of which will be done in accordance with the Center for Disease Control and Prevention's (CDC) guidelines. This same letter also acknowledges the potential for a second wave of the virus, which could prevent us from reopening to live classes on Aug. 31. In the message, you will see the factors we'll use to make decisions about reopening.
 
I've been asked what this might mean for budgets and staffing at Augustana. The short answer is the situation is fluid, and it is hard to predict. Here is what we can see on the horizon:
 
• Most live summer activities at Augustana have been canceled by the college or those renting on our campus. We will need to develop plans appropriate for summer staffing to correspond with the levels of activities on campus.
 
• The Board of Trustees will be considering next year's budget (July 1, 2020, through June 30, 2021) at its May meeting. We anticipate revenues to be down significantly next year due to potential lower enrollment and more financial aid to students whose parents are unemployed.
 
• The board will likely consider two sets of budgets: one if we can open to live classes and one if we cannot. If we can open to live classes, the board will consider budgets with the potential of revenues being down by 7%, 14%, 17%, 21% and 25%. If we cannot open to live classes, total revenue could be down by one-third or more.
 
• In order to keep Augustana strong when conditions return to "normal," we cannot completely deplete our limited operating reserve funds, meaning that we will likely need to make significant cuts. Also we must make certain new investments to attract and retain students, both during the crisis and when it ends. With about 60% of our expenses going to pay and benefits, we cannot make cuts of the magnitude required without impacting pay and benefits.
 
• Under any scenario, pay raises for next year are not possible. Other actions that the board will likely consider are these temporary, emergency measures:
  › dramatic reductions in what we set aside for depreciation (used for building repair and renovation)
  › increases in endowment draws from 4.7% to the maximum allowed by law (7%)
  › use of some of our unrestricted and undesignated reserve funds
  › restructuring of paid time off
  › temporary reduction or suspension of retirement plan contributions
  › other cuts identified by the cabinet to meet the board approved budget.
 
• During this time of crisis, I will ask highly compensated employees to join me in donating meaningful portions of their salary back to the college.
 
• The hiring freeze will continue except for extraordinary circumstances.
 
Taking some or all of these actions can dramatically decrease the need for furloughs or layoffs, in the spirit of shared sacrifice. If classes cannot resume live, we will need to make additional cuts.
 
This is tough news to share, but I want to level with you; you deserve to know.
 
Over the last 15 years, you helped strengthen Augustana's financial position. Those hard decisions we made in the past are now more important than we had imagined. We will need to keep making hard decisions.
 
While no higher education institution is insulated from the impact of the pandemic, we are in a position to weather this storm. One thing is certain – we will remain robust for our students during and after this crisis.
 
Thank you for your tremendous work to keep us Augustana Strong.
 
Sincerely and with respect,
 
Steve Bahls, President
 
Working from Campus or Visiting Campus
A reminder for all staff,faculty members, and/or visitors to campus.  Two important steps before coming to campus:
 If you have not yet coordinated with the Office of Public Safety, please let them know if you will be working from an office location on campus.   
In compliance with CDC guidelines and the Illinois stay at home order, masks must be worn when visiting campus.  Once you arrive in a private area, the mask can be removed.  This is especially important when visiting the mail room, public safety and other common areas on campus used by others.  We are requiring all students to observe these guidelines and the role modeling of our campus community remains important.
 
Faces of Resilience Project
Dearest Augustana Community,
In an effort to highlight some of the amazing faculty, staff and students of Augustana during this unprecedented time, Farrah Roberts and The Observer have partnered to launch the Faces of Resilience Project.
Do you know a member of the Augustana community that has gone above and beyond during distance learning, demonstrated creative ways to stay connected, perhaps a student that has bounced back from adversity or gone out of their way to support their peers?
If so, please send their name and a brief description of their resilience to The Observer at observer@augustana.edu. They will be highlighted in an upcoming online issue.
TODAY is Denim Day!
Wear jeans TODAY to take a stand against sexual violence!
  
Post a picture of yourself in denim on social media with the hashtag #Augie4Survivors and be sure to tag the Sexual Health and Violence Prevention Committee (@AugustanaSHVP). 
**You can also email your picture to Emilee Goad and Kirby Stockwell so we can include it in posts throughout the day showing all who are participating!
Why Denim?  
An 18-year old girl is picked up by her married 45-year old driving instructor for her very first lesson. He takes her to an isolated road, pulls her out of the car, wrestles her out of one leg of her jeans and forcefully rapes her. Threatened with death if she tells anyone, he makes her drive the car home. Later that night she tells her parents, and they help and support her to press charges. The perpetrator is arrested and prosecuted. He is convicted of rape and sentenced to jail.
He appeals the sentence. The case makes it all the way to the Italian Supreme Court. Within a matter of days the case against the driving instructor is overturned, dismissed, and the perpetrator released. In a statement by the Chief Judge, he argued, "because the victim wore very, very tight jeans, she had to help him remove them, and by removing the jeans it was no longer rape but consensual sex."
Enraged by the verdict, within a matter of hours the women in the Italian Parliament launched into immediate action and protested by wearing jeans to work. This call to action motivated and emboldened the California Senate and Assembly to do the same, which in turn spread to Patricia Giggans, Executive Director of Peace Over Violence, and Denim Day in LA was born. The first Denim Day in LA was in April 1999, and has continued every year since.                                                                                                                                                                                              www.denimdayinfo.org   
Fitness Friday - Zumba with Lisa Raya
Come join us this Friday for Zumba!
We have instructor, Lisa Raya, who also teaches at Pepsico Center here to teach her Zumba class live using Zoom at noon.
What is Zumba you ask? 
Zumba is an interactive fitness class that combines dance and fitness moves. The movements are combined with upbeat music with a Latin feel. 
HR Updates - Move to Tuesdays & Thursdays
Beginning next week, HR Updates will move to a twice a week schedule, with updates shared on Tuesdays and Thursdays.  We welcome your continued pictures of your workplaces, "co-workers" at your home, and new hobbies and activities.  
Welcome Irene Luna Baker
So many beautiful babies joining the Augustana community.
Let's all congratulate first time parents Don Baker (HVAC, Facilites) and his wife in welcoming their new baby girl Irene Luna Baker born April 21. Luna came into the world weighing 7.5 pounds and 20 inches long. 
The family is doing great and are excited to start this next chapter in their lives.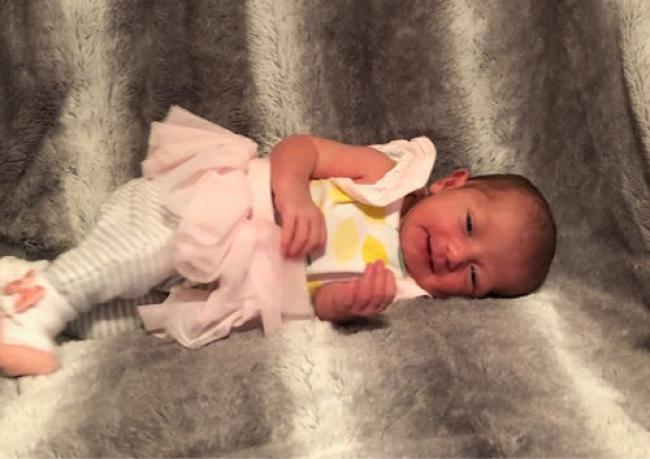 Dining Services - Pickle Roll Pizza
Pizza and pickle rolls are delicious in their own way but have you ever tried to combine the two!? 
That is just what our Dining department did and it is a smash hit! Grab these simple ingredients and try it for yourself. 
Don't forget to send your nailed/failed it photos to brittnidegreve@augustana.edu.
Enjoy!