HR Update - January 6th
To keep communication as clear as possible, and archive it for later use, the Office of Human Resources will be sending out updates using this format.
If you have information that you would like to disseminate to all employees, please send that to lauraford@augustana.edu and we will coordinate adding the information to a future HR update.
For now, we would ask that you limit any mass communications to avoid confusion.
Updated work guidance for J-term
As students return to campus on Monday, January 11th for J-Term, the following guidelines for non-faculty employees should be followed.  
1.  As we resume on-campus learning, it is important that offices who provide service and information to students remain open for those functions.  Offices should carefully examine the best ways to provide in-person service and direction will be provided by individual supervisors and leaders.
2.  Employees who can work remotely should talk with their supervisor about the ability to work remotely, or a hybrid of on-campus and remote work, with requirements of staffing of offices as described above.
3.  Employees who continue to work on-campus for all or part of their work schedule should continue to follow the present campus guidelines for masks and social distancing.   
Welcome Rev. Melinda Pupillo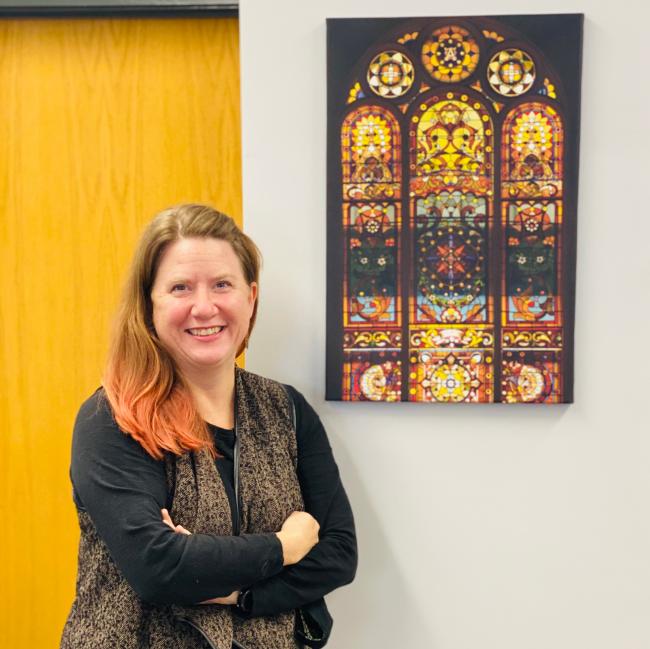 Plen opportunities for students - please share
Do you know any female students interested in Public Policy, STEM Policy, Health Policy, or Global Policy?    Augustana College is a member of PLEN whose mission is to increase the number of women in top leadership positions influencing all aspects of government policy.  Please encourage any students to learn more by visiting the PLEN website and then emailing 
laurakestnerricketts@augustana.edu for more information.  
Mental health resources for employees
As we kick off 2021 we will highlight resources that are sometimes overlooked by employees.  There are several resources available to employees and family members for taking care of your mental health.
Genesis EAP.  This benefit provides free counseling to Augustana employees and their family members.  Services are available at one of seven locations in the Quad City area or by phone.  
TAO Connect.  Therapy Assistance Online (TAO) offers more than 150 brief, effective, educational sessions covering 50 common topics and skills related to mental health, wellness, and substance use issues. TAO offers interactive sessions, mindfulness exercises and practice tools.
Blue Cross Blue Shield
GOOD MENTAL HEALTH CAN IMPROVE YOUR OVERALL WELLBEING
If you had asthma, a heart problem or some other physical health issue, you'd probably get checked out by a doctor, right? You'd do your best to follow the doctor's orders.
The same should be true for mental health issues. Both physical and mental health conditions may be caused by a combination of your genes and life experiences. But many people never seek help for mental health conditions.*
Your mental health is just as important as your physical health.
Taking care of your mind, along with your body, may help you:
Feel better about yourself
Improve the quality of your relationships
Manage your emotions
Handle personal and work challenges
Your health plan includes mental health benefits (called behavioral health) so you and your covered family members can get the support you may need for issues such as:
Anxiety
Autism
Depression
Drug or alcohol use
Eating disorders
And many other mental health conditions
Mental Health Providers to Fit Your Needs
Whether you need a counselor, psychiatrist or treatment facility, Blue Access for MembersSM can help you find one. Log in to BAMSM. Then, click Doctors & Hospitals to start your search.
Extra Support for Serious Issues
If you are dealing with an especially complex mental health issue, our licensed behavioral health professionals may contact you. We can help you understand your condition and find sources of support to help you stick with your treatment plan.
Answers to Your Questions
We can help you understand how your mental health benefits work or find a provider. Just call the Customer Service number on the back of your member ID card if you need help.
Employee scholarship for the Roseman Center for speech, langange and hearing
The Barbara A. Roseman Center for Speech, Language, and Hearing  is pleased to offer a  substantial scholarship for Augustana employees and their dependents. The Center is located in the newly expanded Brodahl Hall  and is a training site for undergraduate and graduate students in speech-language pathology. We provide assessment and intervention for individuals of all ages with any type of speech, language, or literacy need.  Our 12-week session starts Feb. 15th and runs through May 7th, 2021. We are able to see clients in-person or remotely through teletherapy. Space is limited, so if you are interested in securing a spot, please contact Dr. Stacie M. Greene, Center Director, at x7394 or staciegreene@augustana.edu. 
New flexible spending cards
The college has migrated to a new vendor for our flexible spending accounts.  If you elected this option in open enrollment, by now you should have recieved your new card.  See below for pictures of the new card as well as a picture of the former card which should now be destroyed.  A few details:
1.  Looking for a second flex spending card for your spouse or child? Follow these easy steps to request one:
Log into www.ebcflex.com
From the menu, select Secondary Benefits Card (from the Manage section)
Click on Add
Complete the First Name and Last Name fields
Click Add (save icon)
2.  Any unused flexible spending dollars from 2020 will be rolled over to your new flexible spending card and the grace period will allow you to incur new expenses through March 15, 2021 and will automatically be applied to any remaining balance.  Any unused 2020 flexible spending dollars after March 15, 2021 will be forfeited.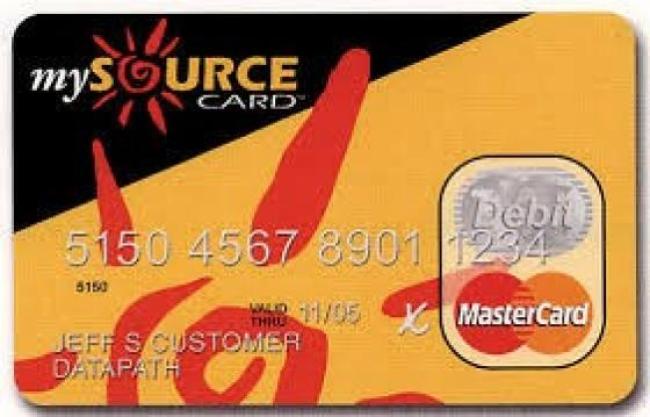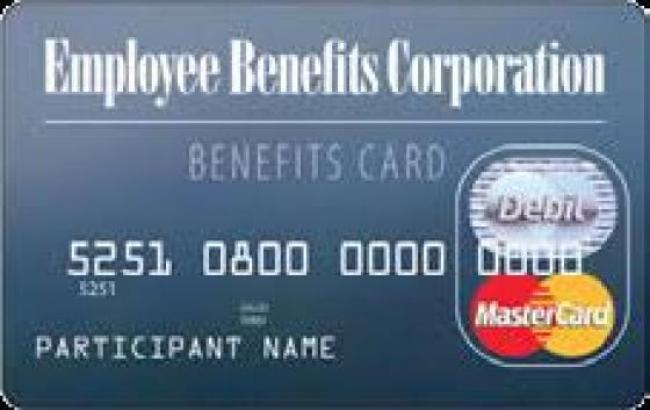 AUGUSTANA NOW - Finale Celebration
In case you missed it on New Years Eve, please enjoy a video that celebrates the college's successful fundraising campaign and highlights some of the results made possible be generous donors, including so many employees.
Check your desk for end of year donations
This is a reminder that any donations your department or program receives should be delivered to Advancement Services (Sorensen 266) as soon as you receive them. 
Please check your desks and/or any unopened (or opened and sitting) mail for year-end gifts to the college. You can help us make sure our donors are thanked and funds are processed to the correct account by hand-delivering these donations (cash, checks, or grants) to the Advancement office or to the Mail Center (addressed to Advancement Services).
We will need any December (or earlier) donations delivered to us no later than Monday, January 11th at noon.
Please include:
·  Account number (GL string)
·  Department or area (Accounting, Campus Cupboard, etc.) for which the gift has been designated
·  The envelope, if there is one (we are required to verify postmark dates)
If you have cash donations, the donor will only receive a tax receipt if we know the name/address/dollar amount of the gift.
No need to send fundraising money if goods or services were provided (money from bake sales, ticket sales, etc...). These are not treated as gifts to the college.
Questions? Please contact Brianne Berogan Myers at ext. 7545 or at brianneberogan@augustana.edu.
TIAA individual sessions available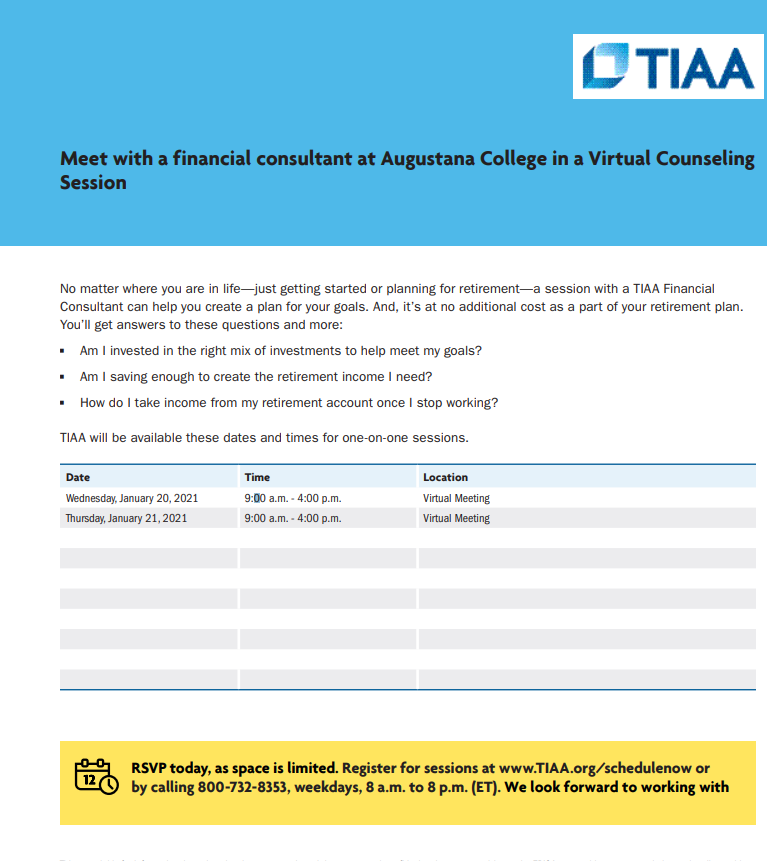 Tax estimator
As many employees prepare for the year ahead, our Payroll department reminds all that federal withholding amounts have changed.  You may find it beneficial to use the IRS Federal withholding tax estimator to compare with your first payroll check of the year. 
The below link provides an easy way to do this.
https://apps.irs.gov/app/tax-withholding-estimator
Questions?  Feel free to contact Payroll Manager, Jean Choate at jeanchoate@augustana.edu