HR Update January 13th
To keep communication as clear as possible, and archive it for later use, the Office of Human Resources will be sending out updates using this format.
If you have information that you would like to disseminate to all employees, please send that to hrupdate@augustana.edu and we will coordinate adding the information to a future HR update.
For now, we would ask that you limit any mass communications to avoid confusion.
COVID testing for IL residents
Illinois residents who are interested in COVID testing, the Tax Slayer center will again be a location for free Rock Island County Department of Public Health test.  
Testing will be available:
Saturday                   January 16                      8am – 4pm
Thursday/Friday    January 21 & 22                 8am – 4pm
Tuesday                    January 26                      8am – 4pm
Thursday                  January 28                      8am – 4pm
Student employment during J-term
As a reminder, only students who are enrolled in a J-term course can work on campus during J-term.  Those students no registered for a J-term course can resume campus student employment beginning February 8, 2021.
J term exceptions team
Please be aware that a J-term Exceptions Team composed of faculty and a cross-functional team of administrators from across campus has been established to review student requests for exceptions to J-term policies and procedures. Students with requests for waivers should be directed to the Registrar's Office (registraroffice@augustana.edu) for further information on how to submit a petition for a waiver. Similar to the Advanced Standing and Degrees Committee, the J-term Exceptions Team provides a mechanism for the college to consistently and equitably consider waivers to J-term policies and procedures.    
TIAA webinars for January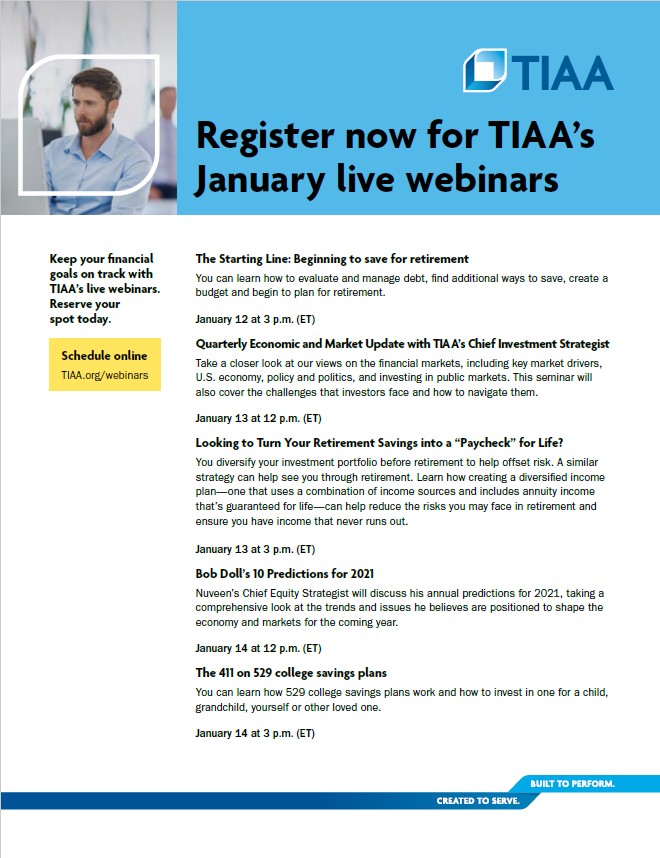 Update virtual office hours for J-term and spring semester
Update virtual office hours for J-term and Spring semester
Please review virtual appointment and office hour information for your office on the website. If updates are needed, please send the details to Leslie DuPree at lesliedupree@augustana.edu.
Looking for your W-2?
As we all prepare for tax season, Jean Choate and Kelly Hall from payroll provide the following update.
Friday, January 15th:  W-2's will be available for download on Arches for anyone who has signed up for electronic delivery.
Friday, January 29th:  W-2's will be printed and mailed and will arrive at your home address in 3-5 business days.
Interested in electronic delivery?  It's not too late!   This document takes you through the steps of signing up for electronic delivery.  As a bonus, once you sign up you will be able to access all W-2's electronically in the future.
Virtual visit & Augustana convenient care co-pays
The college's health insurance benefit includes virtual visits which have been especially helpful during the pandemic.  The co-pay for these visits is $15.
More information about MD Live is available here:  https://www.augustana.edu/files/2018-07/MDLive_Flyer.pdf
All college employees can visit the Augustana Convenient Care Clinic powered by Genesis with a $0 co-pay.  If labs or other outside services are required, a fee will be assesed.  
The clinic is open and available to employees regardless of whether you participate in the Augustana health insurance plan.  Family members on the Augustana health insurance plan can also visit the clinic without charge.
Hours, a video tour, and a link for scheduling an appointment is available here:  https://augustana.edu/health-clinic
3 Augie welcomes