HR Update - February 3rd
To keep communication as clear as possible, and archive it for later use, the Office of Human Resources will be sending out updates using this format.
If you have information that you would like to disseminate to all employees, please send that to hrupdate@augustana.edu and we will coordinate adding the information to a future HR update.
For now, we would ask that you limit any mass communications to avoid confusion.
Centralized scheduling and management of Zoom
The college is centralizing the scheduling and management of large-scale Zoom webinars and events. The Office of Conference Services is happy to assist you with those needs. Because our license allows only one Zoom webinar per account at one time, these events must be scheduled through Astra.  A "building" named Virtual Meeting and a "room" named Zoom Webinar have been created in Astra, and may be requested like any room on campus. We have also created a form (https://augustana.formstack.com/forms/application_for_zoom_webinar) on which you may submit the information necessary to set-up your webinar. If you have questions or require assistance, please contact Rita Gustafson.
Know justice know peace & racial healing sessions
Dear Augustana Community, 
The Office for Diversity, Equity and Inclusion (ODEI) has received grants to promote justice, peace and racial healing. Augustana's commitment to social justice and the current racial challenges being faced across the US are the impetus to continue the pursuit of our commitment. 
The activities will move our community towards a prolonged and deeper understanding of justice, peace and a commitment to racial healing. 
I invite you to participate in the scheduled Know Justice Know Peace and Racial Healing sessions listed below. 
Racial Healing Circles to dispel the myth of the hierarchy of human value - Conversations that take place in racial healing circles center around common identity - humanity. Race, often the most visible identity, becomes a salient part of the discussion. Sharing the experiences that have shaped our lives creates the opportunity to make connections and unify us all. The experience of the healing circle removes any perceived hierarchy, encouraging a re-imagination of participants' own and other's existence and a commitment to collectively improve human existence.
Book Discussion – Read Becoming Brave: Finding the Courage to Pursue Racial Justice Now. Dr. Monica M. Smith and Pastor Melinda Pupillo will facilitate a four part discussion series of this powerful text that challenges and encourages readers to get involved in the pursuit of justice, healing and reconciliation. Sign up for student or employee discussions. A hardcopy of the book will be available to the first 50 registrants. The book is also available for Kindle and Audible. Author, Dr. Brenda Salter McNeil will be the speaker for Women's History Month. She will discuss her journey and commitment to social justice. Stay tuned for event information.
1619 Project (Begins in April-Dates to be determined) – The 1619 Project observes the 4ooth anniversary of the beginning of the enslavement of Africans in the United States. Prior to the creation of this project this account of history was rarely shared. Join a 3-part listening and discussion session of this Pulitzer Prize winning podcast. 
Onward Together,
 
~Dr. Monica M Smith, DSW (she, her, hers)
Office of the Vice President of Diversity, Equity and Inclusion
Augustana College |639 38th Street | Rock Island, IL 61201
TIAA February webinars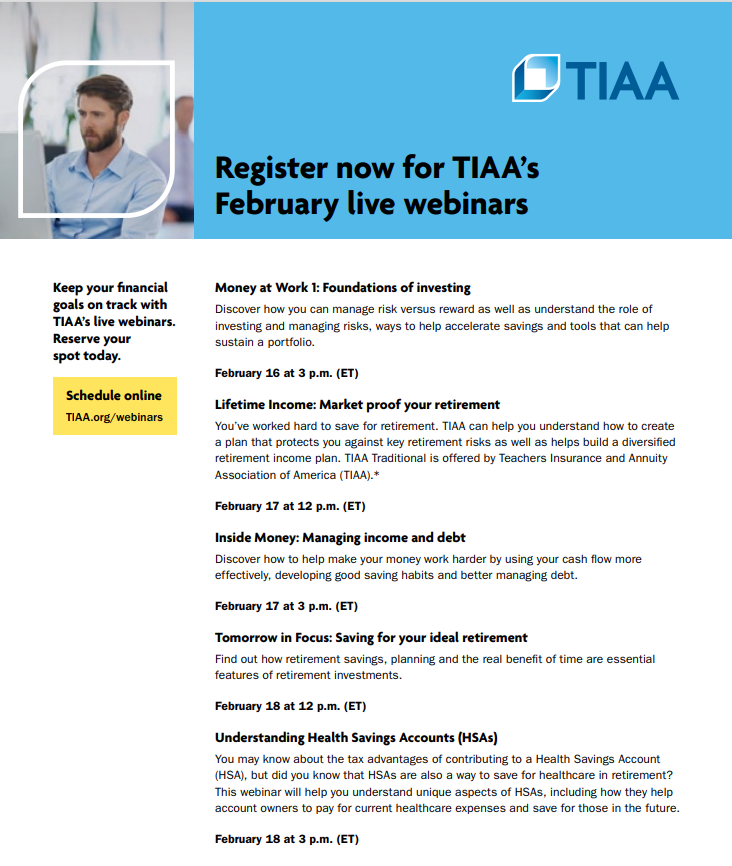 Audiology screenings
Are you having difficulty hearing in conversations or in noisy places? Have you been concerned about your hearing and want to have it checked? If so, come visit us at the Barbara A. Roseman Center for Speech, Language, and Hearing. We offer a free hearing screening to anyone, including students, faculty, staff, and community members!
We also offer a variety of other services at our audiology clinic, including fitting hearing aids, tinnitus counseling, and custom hearing protection. 
If interested, please contact Dori Garro at 309-794-7358 or dorigarro@augustana.edu for an appointment.
Thank you and happy hearing!
Why does blackness matter? Free online course
If you are interested in the history or sociology of race in the United States join this complimentary four week 90-minute course to learn more. The course meets virtually on Thursdays through the end of February. Dr. Angela Simms, Assistant Professor of Sociology and Urban Studies at Barnard College - Columbia University and Dr.  Cullen Buie, Associate Professor in MIT's Department of Mechanical Engineering and director of the Laboratory for Energy and Microsystems Innovation will facilitate the course. 
COURSE DESCRIPTION
Over the course of four weeks, we will examine the social construction of race in the United States from the colonial period to the present. The lectures, readings, and personal and group exercises will analyze how capitalist interests, class differences, gender, immigration, and who "deserves" the full rights and privileges of citizenship, shape boundaries between and within racial and ethnic groups, and ultimately the racial hierarchy underpinning White domination. We will also consider how racism affects resource access inequities between racial and ethnic groups in education, criminal justice, media, and other domains.
IS THIS COURSE FOR YOU?
This course might be for you if:
• You are asking yourself: how can I better understand the current context of racism in America?
• You are looking for a group-setting in which to ask questions and learn more.
• You have read a few books, but still have lots of questions about American history and capitalism.
If this course is for you, register for "Why Does Blackness Matter?" here.
COVID supplies
As spring semester nears, some have asked about a "refresh" for COVID supplies.  Here's what's available:
Reusable masks are available to employees and students by stopping by the Office of Public safety.  They are open 7 days a week, 24 hours a day.
If you are in need of:
hand sanitizer
face shield
disposalbe masks
disposable gloves
email brandontidwell@augustana.edu to coordinate a pick up or delivery.
Student website about disease history
Students in Brian Leech's J-Term course History 260: Making a Museum spent the last few weeks researching and then building a digital exhibition about the history of disease at Augustana College. Wondering how members of the Augustana community dealt with the smallpox vaccine? With the 1918-1919 flu pandemic? With the AIDS epidemic in the 1980s and 90s? Polio? Cancer? Cholera? We have those answers and more. Please visit our new page Disease and Epidemics at Augustana College, 1890-2021! .