HR Update - February 10th
To keep communication as clear as possible, and archive it for later use, the Office of Human Resources will be sending out updates using this format.
If you have information that you would like to disseminate to all employees, please send that to hrupdate@augustana.edu and we will coordinate adding the information to a future HR update.
For now, we would ask that you limit any mass communications to avoid confusion.
All employee handbook
With the hardwork and input of many, we have now released a new policy document for all employees.  The All Employee Handbook is a companion to the faculty handbook and a replacement document for the former staff and administrative employee handbook.
We hope this will be a helpful reference for employees with policy questions, although the Office of Human Resources continues to welcome your individual questions by phone, email or visit.
Staff and Administrative employees will find a section with policies that only apply to non-faculty employees.
Please take a look as your schedule allows:  
Vaccine information
The Office of Human Resources has received many calls, emails, texts and questions about vaccination issues.  It's great to know so many are interested in pursuing this option.
At this time, supply is limited and there is not yet the ability to host a vaccination clinic on campus.  We continue to discuss future options with Genesis Health Systems and hope that when the supply becomes available, we can host such a clinic.
The Rock Island County Health Department is including higher education in it's Phase 1B distributions.  In general, all questions regarding vaccinations should be directed to the county or state health department or your primary health care provider.
Information available on public websites is provided below.  Thanks to our colleagues in Academic Affairs for gathering this.
As more information becomes available, we will update the campus community.
Flexible spending card issues
If you've used your new flexible spending card, you may have gotten a request to submit receipts.  We apologize for this snafu that occured during our transition.
Moving forward, receipts will be required for charges over $75 or for anything that is not recognizable as a generally approved item.
So sorry for those of you who were affected.  We believe as of today this issue has been resolved.
This place was made for you
As we continually strive to be more welcoming and inclusive at Augustana, the Office for Diversity, Equity and Inclusion has created these "This place was made for you" office signs and stickers for employees to display in their offices.
If you would like to receive one of these signs and/or stickers for your office, please complete this form. For questions, please contact Juliane Fricke.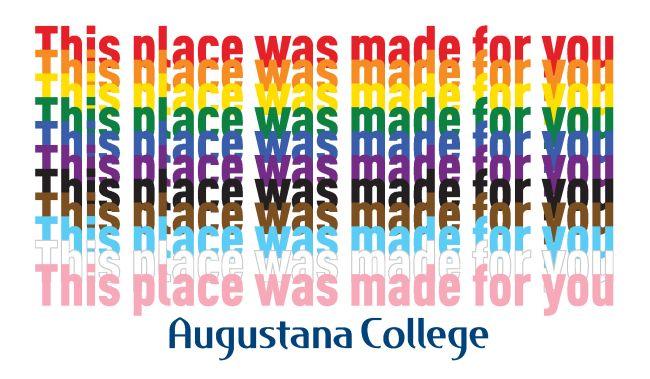 Presidential search listening sessions
Academic Search, a partner of the Presidential Search Committee, will host listening sessions Feb. 24-26.
Members of the campus community are invited to share their thoughts about what important skills and qualities candidates for the position of Augustana president should possess.
Email invitations to these sessions have been sent to faculty, staff and students. (If you did not receive an invitation, email pressearch@augustana.edu for the link to your session.)
Contact the search committee at pressearch@augustana.edu, or leave a comment or question.
Schedule
All times listed in Central Time.
Wednesday, Feb. 24 
1:45-2:45 p.m.Staff
4-5 p.m.Community leaders
5:30-6:30 p.m.Students
Thursday, Feb. 25 
4-5 p.m.Faculty session
5:15-6:15 p.m.Student leaders
Friday, Feb. 26 
8-9 a.m. Faculty council
9:15-10:15 a.m.Staff
10:30-11:30 a.m.Alumni leaders
Noon-1 p.m.Faculty
3:30-4:15 p.m.Directors group
Swenson center February news & events
This month's Swenson Center newsletter offers a lunchtime lecture series, coloring book pages, an offer to take your books/archival materials, and more!
Headlines:
The Center encourages virtual appointments

Nordic Book Club's next pick is " Astrid Lindgren: The Woman Behind Pippi Longstocking" by Jens Anderson and Caroline Waight (translator), 2018

Lunchtime Lecture Series:

Tuesday, February 16 – "Swedes, Nordic Whiteness, and Race Privilege in Chicago at the Turn of the Twentieth Century" 

Dr. Erika Jackson, Colorado Mesa University 

Register

Tuesday, March 2 – "Immigrant Diplomacy: The Swedish Women's Educational Association (SWEA) and Swedish-American Relations" 

Dr. Nevra Biltekin, Stockholm University 

Register

Spring community Swedish language classes

Color our collections

We want your stuff!

Thrivent Choice Dollars Program

Swedish American Genealogist needs your stories
Want back issues of SAG?

Are you a member?
The Swenson Swedish Immigration Research Center (located in Denkmann) is a library/archives for the study of Swedish-American history and relations.