HR Update March 10th
To keep communication as clear as possible, and archive it for later use, the Office of Human Resources will be sending out updates using this format.
If you have information that you would like to disseminate to all employees, please send that to hrupdate@augustana.edu and we will coordinate adding the information to a future HR update.
For now, we would ask that you limit any mass communications to avoid confusion.
Great Colleges survey
Dear Colleagues,
The Great Colleges to Work For survey, sponsored by the Chronicle of Higher Education, is a national survey designed to recognize institutions that have built great workplaces. Augustana will once again participate, and on Monday a random selection of our employees will receive an invitation with details about the program and how to access the survey.
If you receive an invitation from Great Colleges, please take a moment to complete the survey. Your feedback is invaluable! A high response rate helps ensure an accurate representation of our community, and the reports Augustana will receive summarizing and comparing our organizational competencies and relationships help us build a healthier, more resilient workplace culture. 
The survey is voluntary and completely confidential; no one will be able to trace results back to individuals. Your survey will be processed by ModernThink LLC, an independent consulting firm focusing on workplace quality in higher education. They can be reached at 888.684.4658 or at surveys@modernthink.net.  
I hope you will take this opportunity to share your honest feedback!  Thank you, in advance, for your participation. Please contact Dr. Tšooane Molapo, Augustana's institutional research analyst tsooanemolapo@augustana.edu, or visit www.ChronicleGreatColleges.com, if you have any questions. 
Thank you very much,
Steve 
Steven C. Bahls
President
T.S. Banks performance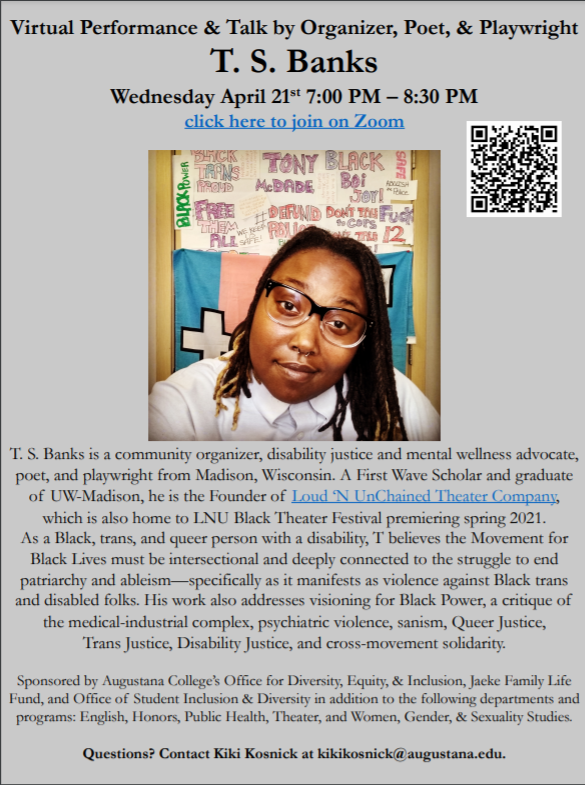 New Freistat Center fellowship program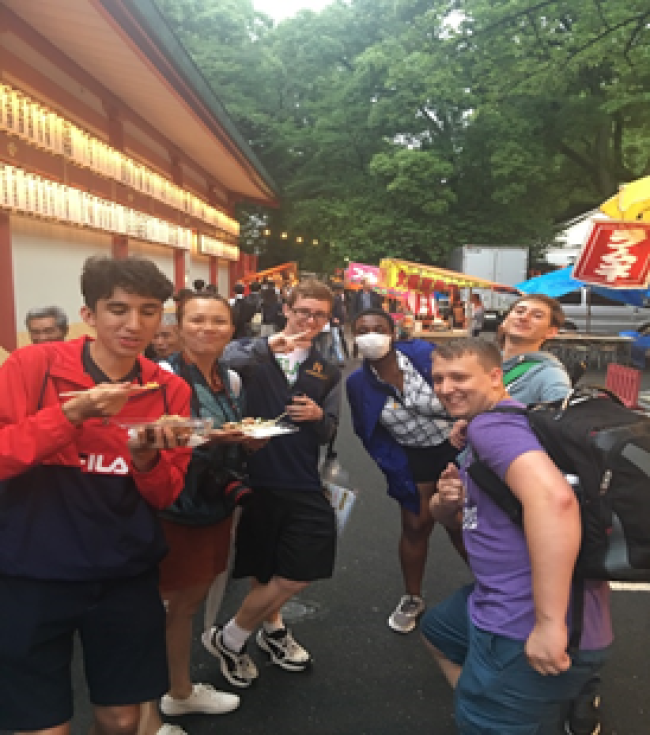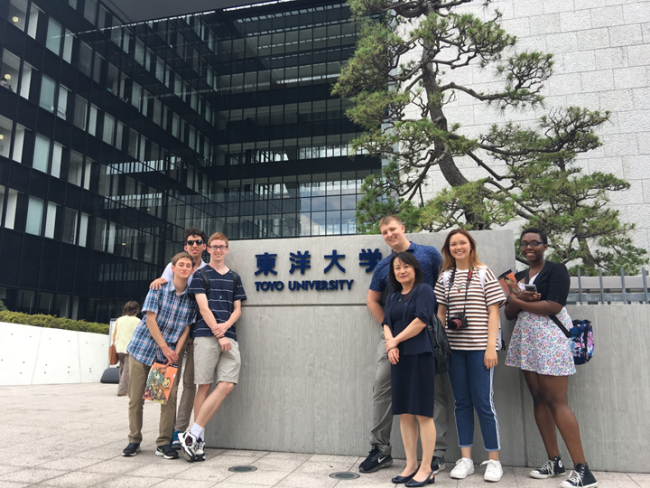 The Freistat Center is pleased to announce a new Fellowship program for research and studies conducted sometime during Summer 2021 through Summer 2022, including J-term.  We invite faculty-student teams (1 faculty; 1-2 students) to engage in a mutually defined project related to: (a) intensive language study; (b) research with international components of study; or (c) research dedicated to issues related to peace, justice, or fairness.  Stipends up to $7000.  For more information about available funding and our easy-to-use online application, please contact Heidi Storl, William F. Freistat Endowed Chair, heidistorl@augustana.edu 
Augustana athletics spectator policy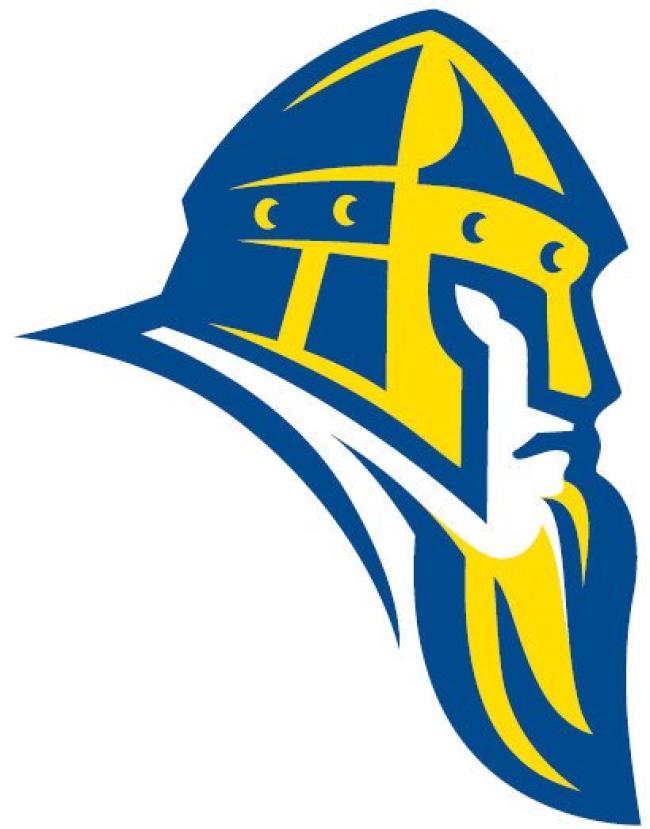 In collaboration with the membership of the College Conference of Illinois and Wisconsin (CCIW), Augustana College is pleased to announce an updated spectator policy for its home athletic contests that will allow a limited number of guests to attend beginning Saturday, March 13.
Each student-athlete will be limited to a maximum of four guests at each home competition who are legally or emotionally related to them, according to the conference policy approved by the Council of Presidents. Student-athletes are not permitted to transfer their guest privileges. If venue capacity caps permit, Augustana faculty, staff and students will also be able to attend home events.
Prospective student-athletes and their guests are permitted on a limited basis with advance approval from the Department of Athletics.
Spectators will be expected to follow all Augustana safety guidelines while in attendance, including wearing a face covering correctly and maintaining physical distance from other fans. Concessions will not be available. Food will not be permitted in any venue. Spectators may bring a non-alcoholic beverage.
Augustana strictly prohibits tailgating activities at this time. Additionally, all fans in attendance will be asked to depart the venue immediately following the conclusion of the event. Fans are not permitted to enter playing areas while exiting.
The outlined policy applies to attendance at home Augustana contests only. Spectators from opposing teams are prohibited. Please refer to the opposing institution's fan policies before planning to attend an away event. In most instances, opposing team spectators will not be permitted.
The spectator policy will be reviewed on a weekly basis to ensure ongoing compliance. Augustana College and the Department of Athletics may adjust the attendance policy at any time based upon the campus and local health conditions.
 
Book it to the Tredway Library
Read our most current Book it to the Tredway Library post to learn more about what's happening in the library.
If you are a faculty member who has used Social Explorer in your class, please contact Lauryn Lehman (laurynlehman@augustana.edu). She will be leading a brown bag lunch on March 23rd at noon (google meet in link above) to highlight ways to use Social Explorer in the classroom, and would like to use classroom examples in her session. 
Also, Literary Madness will be done a little differently this year. Voting forms will only be available via the library's social media accounts, so make sure to follow at least one of these platforms to participate for a chance to be on a READ poster. 
Twitter: @thomastredway
Instagram:@thomastredwaylibrary
Facebook: facebook/ThomasTredwayLibrary
Chris Schafer, EdD, MLIS
Director of the Thomas Tredway Library
Color field tapesty series at the QC airport
Please see the link below to view the newest installation at the Quad City Airport featuring the work of Dr. Rowen Schussheim-Anderson.  
Augustana accounting golf outing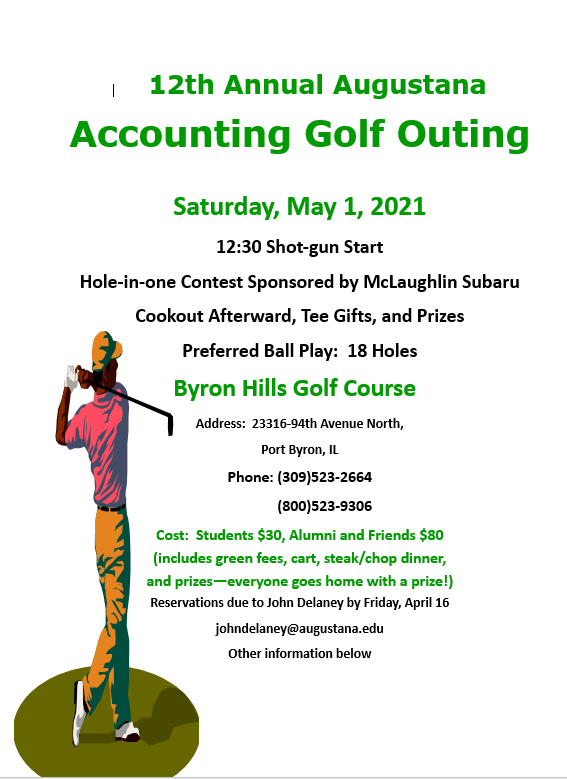 Open positions - please share
The college is currently searching for several open positions.  Please share this information with those who may be interested in joining our community.  Our employment page has all the details for each position as well as application instructions.  
Custodian - 1st shift
Director & Head Coach of Esports
Assistant Director & Coordinator of LGBTQ+, Office of Student Inclusion and Diversity
Public Safety Support Officer
Swenson center lunchtime lecture - Allan Kastrup and the Swedish-American connection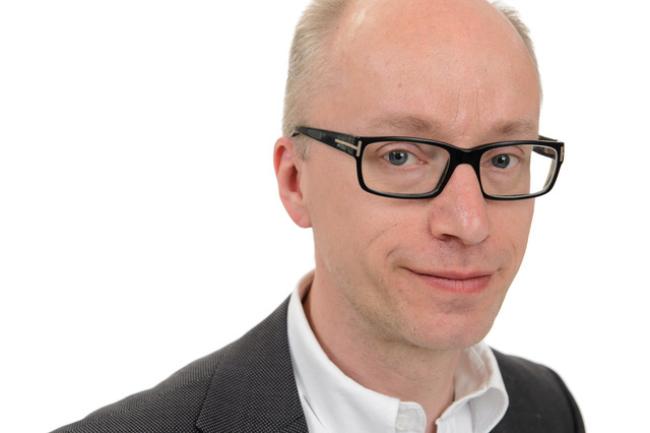 Please join us for the lecture "Allan Kastrup and the Swedish-American Connection" with Dr. Ulf Zander on Tuesday, March 16 at noon. Dr Zander will be speaking about the work of Allan Kastrup, the longtime Swedish-American news editor. Kastrup's great knowledge of both Swedish and American history and society, as well as his many years as a mediator of Sweden and Swedish news in the US makes him an interesting point of departure for a discussion about the importance of Swedish foreign correspondents writings about United States in Sweden.
Dr. Zander is a Professor of History at Lund University. His main interest is how history is communicated and used. He has published on debates on and uses of Swedish history from the late 19th century to early 21st century as well as on monuments, film, history and identity and uses of history in the United States. Another of his research interests is the Holocaust and representations of the Nazi genocide in Scandinavia and Great Britain after 1945. Zander has co-edited a number of anthologies, among them Echoes of the Holocaust. (2003), Holocaust Heritage (2004), The Holocaust – Post-War (2006), and Perspectives on the Entangled History of Communism and Nazism: A Comnaz Analysis (2015), and was the editor of Scandia, one of the leading Swedish Academic journals in history, 2003–05.
The talk will be followed by a live Q&A with the speaker. 
For more information and to register for the talk, visit: https://augustana.edu/about-us/news/lunchtime-lecture-series
Registered participants will receive a link to the Zoom meeting via email on March 15