HR Update March 17th
To keep communication as clear as possible, and archive it for later use, the Office of Human Resources will be sending out updates using this format.
If you have information that you would like to disseminate to all employees, please send that to hrupdate@augustana.edu and we will coordinate adding the information to a future HR update.
For now, we would ask that you limit any mass communications to avoid confusion.
Open position update
Swenson Center March newsletter
This month's Swenson Center newsletter offers a lunchtime lecture series, options for COVID-safe class visits, a welcome to our intern and more. 
Headlines:
The Center encourages virtual appointments
Nordic Book Club's April pick is "The Wonderful Adventures of Nils" by Selma Lagerlöf. Join us!
Lunchtime Lecture Series:

Tuesday, March 16 – "Allan Kastrup and the Swedish-American Connection" Dr. Ulf Zander, Lund University Register
Tuesday, March 30 – "Mapping Swedish Migration in the Quad Cities: Teaching Cultural Geography with the Swenson Swedish Immigration Research Center" Dr. Chris Strunk, Augustana College Register
Tuesday, April 13 – "Animals/Vegetables/Minerals: Understanding the Environmental History of Swedish America through Veterinary Scrapbooks, Farm Advertisements, and Mining Diaries" Dr. Brian Leech, Augustana College Register

Recording of Dr. Erika Jackson's lecture "Swedes, Nordic Whiteness, and Race Privilege in Chicago at the Turn of the Twentieth Century"
Swedish language classes
Welcome to our new intern, Maja
Safe Class Visits
Faculty Research Stipend
Visiting Scholar Award
Thrivent Choice Dollars Program
Share your family story in Swedish American Genealogist
Want back issues of SAG?
Are you a member?
The Swenson Swedish Immigration Research Center (located in Denkmann) is a library/archives for the study of Swedish-American history and relations. 
1 day only - bookstore sale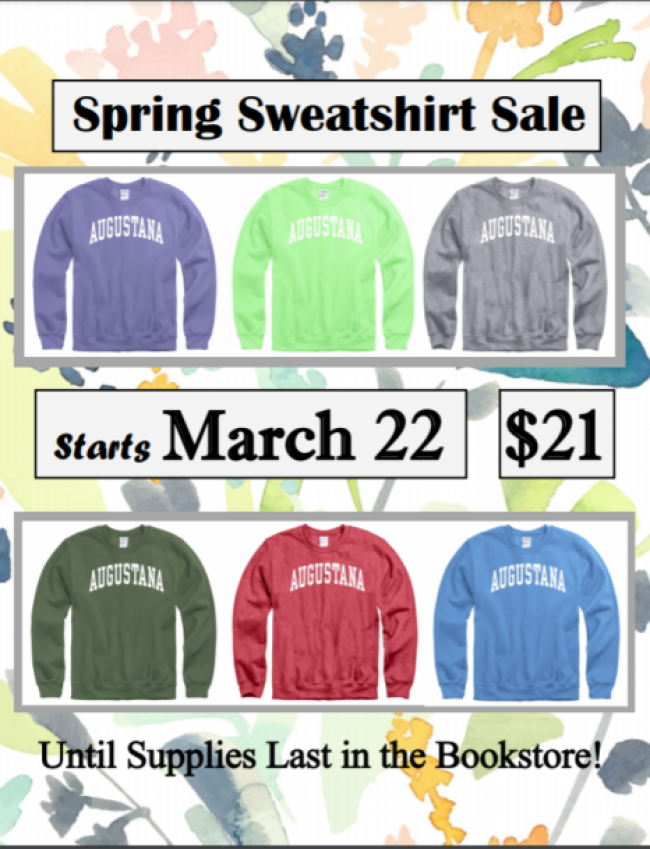 You don't want to miss this spring special, available at the bookstore.  Grab this crew sweatshirt on Monday, March 22nd for only $21 - one day only.  It's available in six spring colors.
Kaleidescope goes virtual - registration open
Kaleidoscope will be offering two virtual children's art class sessions.   The first session will be March 20 and 27 and the second will be April 10 and 17.  Information and registration information can be found at www.augustana.edu/kaleidoscope. 
Return of dinner-to-go, March 18th
Herb Grilled Pork Chops ~ Carry Out Dinner for 4
Too much going on, would you like to take a break? Let Augie dining service cook for you, $25.00 feeds a family of 4.
Use this link to order:  March meal to go 

Herb grilled pork chops, orzo pilaf, dinner rolls, and fresh vegetables.
Orders must be received by 5 pm on Thursday, March 18th.
Pick up your orders Friday, March 19th between 3-5 pm at the Gerber Center Dining Hall.