HR Update - April 14th
To keep communication as clear as possible, and archive it for later use, the Office of Human Resources will be sending out updates using this format.
If you have information that you would like to disseminate to all employees, please send that to hrupdate@augustana.edu and we will coordinate adding the information to a future HR update.
For now, we would ask that you limit any mass communications to avoid confusion.
Changes to HR update submissions
Due to staffing transitions in the Office of Human Resources, please be sure to send future submissions to hrupdate@augustana.edu.  As this publication becomes a shared duty, submission to this email address will ensure your content is included in the next HR Update.
Supporting survivors zoom webinar tomorrow
April is Sexual Assault Awareness month and we'd like to take this opportunity to invite community members to join us for a virtual lunch and learn on April 15th from 11:30-12:30 pm.
Led by Farrah Roberts, Director of Student Well-Being and Resilliency and Zachary Draves, Program Director, Sexual Violence Prevention and Education, we will explore what each of us can do to support survivors on the Augustana campus.  Farrah and Zachary will also provide an update on their work and initiatives, and provide guidelines for helpful behaviors for survivors during a disclosure.

Please join us as your schedule allows.  We will also record the session for later viewing.  You can join the webinar here:   Supporting Survivors at Augustana
Flex eligible expenses
The college's flexible spending account vendor, EBC provided this reminder about eligible expenses that we thought might be useful to many.  Additional information is available here as well:  http://www.ebcflex.com/EligibleExpenses/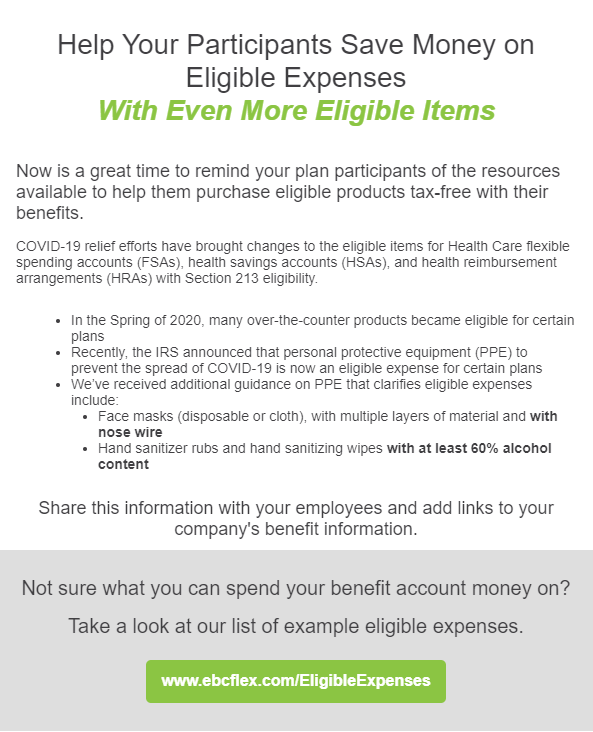 Library updates
The library's latest updates can be found here. Included in this issue is Stefanie Bluemle's upcoming workshop, the Observer issues uploaded in our database, and more resources added to the Race and Inequality guide that focus on AAPI hate and anti-Asian racism.
Mark your calendar - T.S. Banks April 21st visit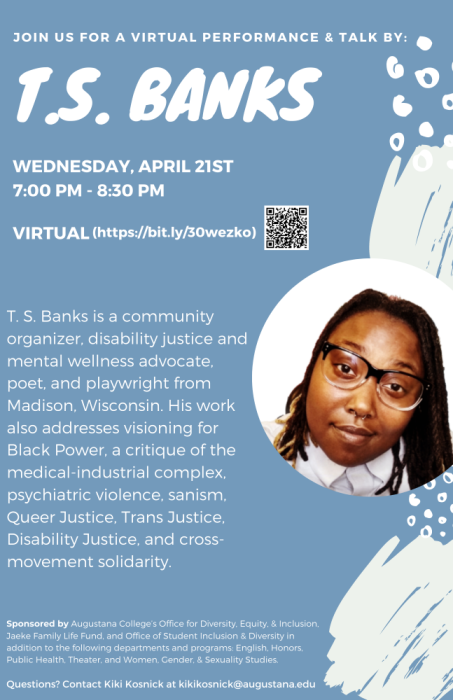 Blind date with a book fundraiser
Donate your favorite book for Mortar Board's Blind Date with a Book!
Do you love to read? Are you constantly sharing your book recommendations with students and other faculty? Augustana's Mortar Board Honors Society is hosting a fundraiser called Blind Date with a Book and we need your help! 

We are asking you to donate a book that is a favorite or a recommendation (fiction, non-fiction, whatever you want to share with the community!). These will be wrapped and then sold to the Augustana community for $5 each in the Brew April 26-30.

If you would like us to pick up your book from your office email alisonng17@augustana.edu. We'll be taking book donations until Wednesday April 21st. There will be a donation box in the Psychology Department Lounge in the basement of Evald. You can also mail your books to faculty advisor Rupa Gordon (Evald 014).
Open positions - share the news
The search is on for several new colleagues at Augustana!  Details and application deadlines are avaiable by following the links below.
Dragons love tacos virtual children's performance
Join us on April 17 for a virtual presentation of the children's play Dragons Love Tacos!  Based on the popular children's book, this energetic, dance filled romp is equal parts silly and sensational; all the ingredients you need to whip up a fantastic time for the whole family. Tickets can be reserved here and you may view the performance anytime on April 17th.
Hearing services on campus & free hearing screenings
Have face masks made it difficult to communicate and hear others? Have you been concerned about your hearing and want to have it checked? If so, come visit us at the Roseman Center for Speech, Language, and Hearing. We offer a free hearing screening to anyone, including students, faculty, staff, and community members!
Audiological services are provided to individuals of all ages by a licensed audiologist, Dr. Ann Perreau, and provide CSD majors with the opportunity to observe real patient interactions. We offer complete audiological services including hearing aid provision, tinnitus counseling and evaluation, and auditory processing evaluation. 
If interested, please contact me or Dori Garro at 309-794-7358 for an appointment.
Thank you and happy hearing!