HR Update - November 11th
To keep communication as clear as possible, and archive it for later use, the Office of Human Resources will be sending out updates using this format.
If you have information that you would like to disseminate to all employees, please send that to hrupdate@augustana.edu and we will coordinate adding the information to a future HR update.
For now, we would ask that you limit any mass communications to avoid confusion.
Updated COVID information for employees
As you are no doubt aware, COVID numbers in the Quad Cities and greater midwest continue to trend upward and have created changes to our campus guidance.
Currently, the college is not allowing any gatherings of more than 10 people, either indoors or outdoors.  The only exception to this prohibition is classroom activities.
In addition, we encourage all campus members to think carefully about the things within the control of each of us to mitigate the spread on our campus and in the community.  In particular we encourage you to consider the following:
Limit travel outside of the Quad Cities, and in particular to areas of the country that are identified as high transmission areas.  The college uses this map to track infection rates.
Carefully consider your holiday traditions and gatherings.  The CDC attributes much of the current spread to small gatherings.  Limit these gatherings as possible.
If you are in a high risk category, talk with your manager about whether remote work may be possible.
If you have tested positive, consider donating convalescent plasma to combat the shortage currently experienced in Quad City area hospitals.  More information is available about the need here.
Continue wearing a face mask, practicing social distancing and frequent handwashing.
The college will continue to update guidance as numbers both on campus and off campus are examined by the Augie Strong task force.
Saluting Augie veterans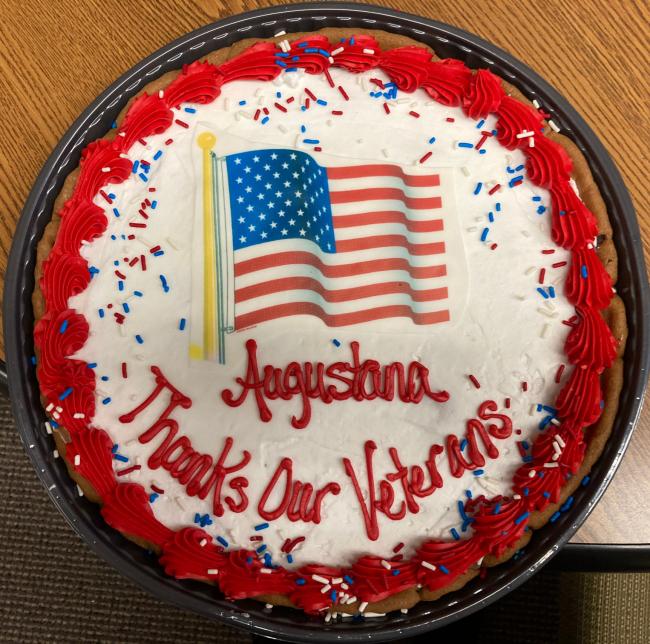 Please join us thanking the Augustana employees who are veterans for their service.  In the past few years, the college has hosted a breakfast for these employees.  Since this was not possible, those on campus received a big cookie to share and celebrate with their families.
Ralph Arias, Power Plant Mechanic
Don Baker, HVAC Apprentice
Gloria Bollinger, Public Safety Dispatcher
Bill Estes, Shipping and Receiving Coordinator
Joe Giffen, Career Counselor
Jim Gripp, Healthcare Driver
Troy Hass, HVAC Apprentice
Heather Hufford, Advancement Assistant
David Kundert, Power Plant Mechanic
Dan Lee, Professor of Religion
Kenny Lee, Public Safety Lead Officer
James McCabe, Public Safety Officer
John Mockmore, Custodian
John Peters, Electrician
Allen Wolford, Cook
Open enrollment - act now
The college's open enrollment process is happening now and all employees need to log into log into Arches, click "Benefit Enrollment" and complete the process by Nov 20th.  This quick and paperless process will allow you to make decisions about health insurance, vision and dental coverage, as well as FSA or HSA accounts.  If you do not complete this process all coverages will end on December 31, 2020.
Two resources to help you:
Quick Start Benefits Enrollment Guide
And, if you still have questions, Ashley Kilker is available to assist.  You can email her at ashleykilker@augustana.edu or call at 309-794-7740
Employee social email group
In order to keep the Augie culture around sharing info that is less business-y but still valuable to working relationships we have created a Google Group.  This opt-in Google Group is for all employees of Augustana College to share non-work-related information such as social events and outings, updates and announcements, and other news for the community. 
Joining the Employee Social Group
Managing Notifications for Your Google Groups
Click My Groups on left-hand side; You will see a list of the Google Groups in which you are already a member
Under the Third Column, called Subscription, you can manage the frequency and how you would like to receive notifications

Each email: you will receive every email posted to this group as it is posted
Digest: you will receive an email digest of up to 25 emails posted to this group
Abridged: you will receive one email daily, containing a summary of that day's messages
No email: you will receive no emails but can go into the group to see emails posted
Welcome - Tyler Vens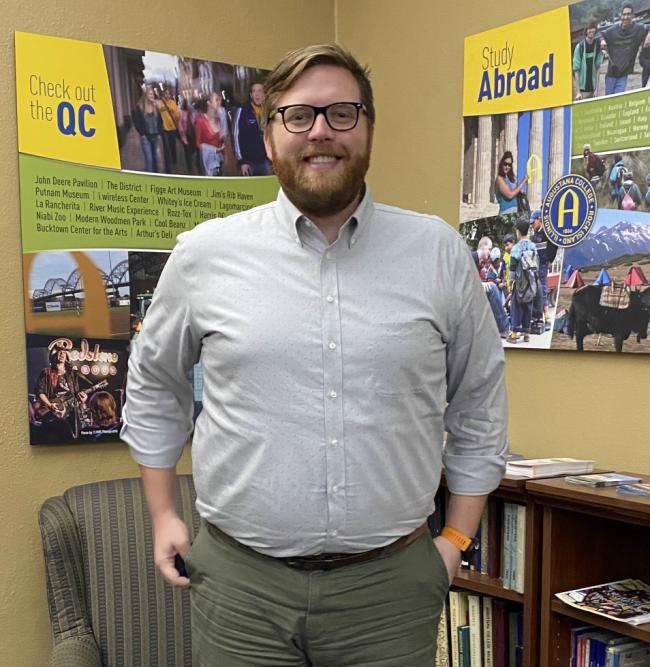 Non-faculty goal setting and employee check ins
Due to the COVID pandemic our regular performance engagement initiatives have been on pause, but are now set to resume.
Next week, non-faculty employees and their supervisors will receive information about goals setting and employee check-in meetings that should occur between now and the beginning of the winter break on December 24, 2020.  The process will ask for 3-5 goals for each employee for work activities during the first half of 2021.  Employees will also have some discussion starter questions to answer prior to the goal setting meeting with managers or supervisors.
Please keep an eye of your email for detailed instructions. 
Mandatory training - deadline of November 30
All employees were assigned training in late September with a due date of November 30th.  This training satisfies training requirements from a variety of entities and we hope also provides some helpful information for our campus community.
You may have noticed some incorrect boiler plate language in your original invitation and/or follow up reminder emails.  Please know that if you are receiving reminders, this means you have not yet completed all assigned training courses.
To access the training, you can follow the link in the reminder email or use this site to login with your augustana email address and regular password.  Please plan now to finish the training assigned to you on or before November 30th.
Illinois unemployment fraud
As reported earlier this fall, colleges and universities in Illinois have been experiencing an unprecedented number of fraudulent unemployment claims.  Unfortunately, Augustana has been no exception.
Please know that the Office of Human Resources is processing claims on a daily basis and reaching out to any employees where fraud is suspected with best practices and next steps to ensure this is resolved on a timely basis.
In discussion with local and state law enforcement and unemployment authorities, the origin of the information is believed to have been a breach of a large credit checking organization, but impossible to determine with certainty. 
There are no actions advised for employees currently although changing passwords frequently, taking care before sharing information and keeping an eye on your credit score on a periodic basis is always a good idea,
Swenson center November news & events
This month's Swenson Center newsletter offers a Scandinavian painting class, recap on the virtual genealogy workshop and more. 
Headlines:
The Center encourages virtual appointments
Nordic Book Club's December pick "A Very Scandinavian Christmas: The Greatest Nordic Holiday Stories of all Time" compiled by New Vessel Press.
Sign up to paint a Scandinavian-Style Christmas tree
Lucia moves virtual on Dec. 13th
Fika language table 
Ander Lecture recording
CARES Act donations
SAG genealogy workshop recap
Amazon wishlist
Gift a membership
The Swenson Swedish Immigration Research Center (located in Denkmann) is a library/archives for the study of Swedish-American history and relations.