HR Update December 2nd
To keep communication as clear as possible, and archive it for later use, the Office of Human Resources will be sending out updates using this format.
If you have information that you would like to disseminate to all employees, please send that to hrupdate@augustana.edu and we will coordinate adding the information to a future HR update.
For now, we would ask that you limit any mass communications to avoid confusion.
End of the year check requests
As we are approaching Winter Break and getting ready to leave campus, there are a few things that I ask you to keep in mind regarding Accounts Payable and Pcard reconciliation:
Our last check run for December will be on Tuesday the 22nd and we will not have another check run until January 6th.  Please make sure that all invoices and check requests that need to be paid before the middle of January are turned in to Accounts Payable by noon on December 17th.  With limited access to our office, please give sufficient time for us to receive any requests.  Any that are received after noon on Thursday December 17th will be paid when we return.
Check requests that are turned in for the check run on the 22nd, will be mailed to home addresses unless otherwise noted.  Please remember this when requesting reimbursements for students. 
The pcard reconciliation must be taken care of before you leave campus for break.  (Statements and receipts can still be sent to me the week that we return from break, but it is very important that all online reconciliation be completed by the 23th of December.)
Thank you,
Jill Harris - AP Supervisor
Kristen Vickers – AP Assistant
Malhar Saheed – Purchasing Manager
Required on-line training
All employees have required training that was due on Monday, November 30th.  For most employees, there are three required modules:
FERPA Basics
Data Security
Preventing Harassment and Discrimination
The three courses in total will likely take about 2 hours to complete.
New employees will have these three courses along with several additional courses.
Completion of these courses is required to comply with Illinois law as well as other regulations.
You can access the training by following the link in the email reminders you have received, or you can enter you normal login information at this sign in portal.
Advent book study - humbly with God
The Center for Faith and Learning, in conjunction with Campus Ministries invites you to  participate in a two-part book study devoted to Humbly with God during advent (specifically 10-11AM on two Tuesdays, Dec, 8 and 15). This virtual discussion is open to any and all faculty, staff, and administrators wanting to chat about Christian faith and hope in difficult times. The discussion will be hosted by Jason Mahn and led by Richard Priggie and you can expect it to be similar in tone to the Bible studies that Richard has offered over the years. 
Participants will be provided with their own copy of Humbly with God for discussion and reflection during the upcoming sessions.  The books is also available for purchase at the Augustana bookstore with all proceeds supporting the Richard W. Priggie Student Fund for Spiritual Exploration - a great gift for friends and family.  
All that is required is completion of a quick google form to arrange for pick up of your book at Public Safety and an email address for a zoom meeting invite.  Please sign up here:  https://forms.gle/m5tNqnq12gMfWnUa8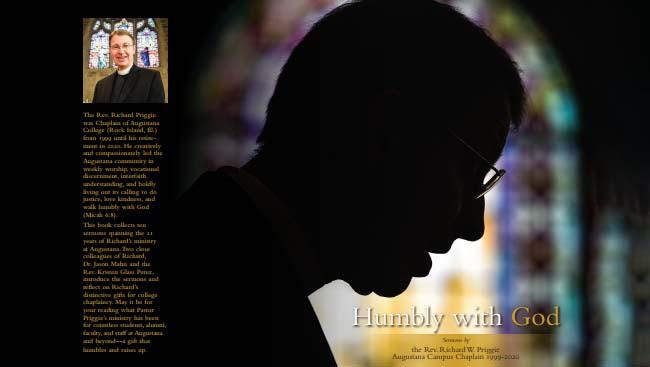 Augustana experiential learning program | call for campus-based projects
Augustana College is seeking campus-based projects for college seniors to complete during the spring of 2021.  
Background
Part of Augustana College's mission is to connect students with meaningful, skill-building learning experiences.  Typically, students engage in experiential education through internships, study away, and research.  Though many students were able to complete their activities as planned just as many had their planned experiences cancelled or postponed until the global pandemic is more under control.  
CORE is seeking campus-based projects for academic or student service departments that may have long-standing projects they just haven't had a chance to get to.  We are asking departments to consider projects requiring skills such as research, writing, curating, archiving, data collection, etc.  For example, one project we are developing for the President's Office is for a student to research and curate communication, policies, procedures, etc. related to the college's response to COVID-19.
Projects need not be paid; most students will be eligible for college support through Augie Choice as long as the project meets certain criteria as listed below.
We are also reaching out to our community partners soliciting community-based projects. 
Campus-Based Project Goals and Objectives
The goal of the Augustana Experiential Learning Program is to create a mutually beneficial collaboration between campus departments and our graduating seniors seeking skill-building educational or professional development opportunities. 
·Available to college seniors in several majors with various career goals
·Timing of project will be spring semester: Starting February 10- and ending no later than May 14, 2021
·Projects must consist of at least 40 hours of active engagement including instruction, training, feedback, and project work
·Projects must complement, rather than displace, the work of paid employees while providing significant educational benefits to the student
Campus-Based Project Timeline
·November 30- December 11: Solicit Campus-Based Projects from academic or student service departments
·Upon receipt- December 15: Process and approve Community-Based Projects
·Through December 18: Hold Zoom Meetings with department contact and CORE Office
·December 21- January 15: Promote to seniors seeking Community-Based or Campus-Based Projects
·January 18- January 29: Work with organizations and departments to select and match students with Projects
·February 10- May 14: Project work may begin anytime after February 10 for pre-determined length; ending no later than May 14.  Project must consist of at least 40 hours of active engagement including instruction, training, feedback, and project work
Student Expectations
·Commit to start and end dates and fulfill all duties and requirements of the Community-Based or Campus-Based Project
·Complete all required assignments/evaluations as required for Community-Based Project credit: Weekly Hours Log, Learning Contract, First Impressions Reflection, Site Visit OR Midterm Check-In, Informational Interviews, Updated Resume, Final Evaluation, Employer Evaluation, and Final Paper.
Department Expectations
·Provide Campus-Based Project Description including project title, project summary, project objectives and expectations, desired competencies and qualifications
·Supervision: one main contact who is accessible in-person or virtually to develop project goals, give direction and any necessary training, and feedback including a midterm and final evaluation
Campus-Based Project Submission Requirements
Complete the Community- or Campus-Based Project Submission Form consisting of:
·Project Description (sample attached)
o   Project title
o   Project summary
o   Project objectives and expectations
o   Desired competencies and qualifications
·Selected Learning Outcomes (options provided on form)
·Provide Contact Information
·Once approved, complete a 15-minute Zoom meeting with a staff member from CORE Office. 
If your department is interested in submitting a Campus-Based Project to be considered for the Augustana Experiential Learning Program, creating a mutually beneficial collaboration between campus departments and graduating seniors seeking skill-building educational or professional development opportunities, please complete the Community- or Campus-Based Project Submission Form.
Please direct any questions to Bobbie Tidball, Assistant Director, Internships at Augustana College. bobbietidball@augustana.edu.
Pepsico & Carver available to employees
Based on current usage, we are confident that we have capacity for employees to resume safely using both the Carver Athletic Center and Pepsico Recreation Center.  We appreciate your patience while these facilities were unavailable.  While the priority for these facilities remain student usage, we expect there will be enough occupancy for all.  If that is not the case, employees may be asked to delay their usage.
PepsiCo Hours During Break.  Pepsico will be open November 30 - December 13:
Monday - Friday: 8:00 a.m. - 4:00 p.m.
Saturday: 9:00 a.m. - 3:00 p.m.
Sunday: 10:00 a.m. - 4:00 p.m.
Tentative Hours for December 14-23:
Monday - Friday: 10:00 a.m. - 4:00 p.m.
Saturday & Sunday: 10:00 a.m. - 4:00 p.m.
Carver Hours During Break:
8am - 5pm, Monday-Friday.
Avoiding tax issues - check your legal name
We encourage all employees to check their earnings statement to make sure the name in Collague is correct.  If your name in Colleague is not the same as that listed on your social security card, tax issues will likely arise.  If you notice a discrepancy, please contact jeanchoate@augustana.edu ASAP.
Welcome Nelson Samuel Lueders