Careers and internships
Students gain experience during the school year at various veterinary clinics in the Quad-City area, which prepares them well for admission into schools of veterinary medicine.
Augustana's agreement with the University of Illinois is not only an early admission program, but also a 3-4 program, which means students have the opportunity to enter the vet school after their third year at Augustana. After their first year of veterinary school, they graduate with a B.A. from Augustana, then finish the remaining three years of vet school (seven years total). This program is for all students, regardless of residency.
Students enter veterinary medicine programs at other graduate schools, as well. Recent examples include Iowa State University, the University of Minnesota, Purdue University and the University of Wisconsin-Madison.
A sampling of graduates
Chaney Tambling '14 is a veterinarian at Fitzpatrick Equine Field Service in Kankakee, Ill.
Hannah Hart '13 is a veterinarian at USDA-FSIS south of Milwaukee, Wis.
Dawn Kernich '12 is a Public Programs Education/Summer Camp On-Site Manager at the Saint Louis Science Center in Missouri.
Scott Wood '11 is a Internal Medicine Intern at Hope Advanced Veterinary Center in Falls Church, Va.
Gloriann Golden '08 is an associate veterinarian at Animal Care Center in Plainfield, Ill.
About the program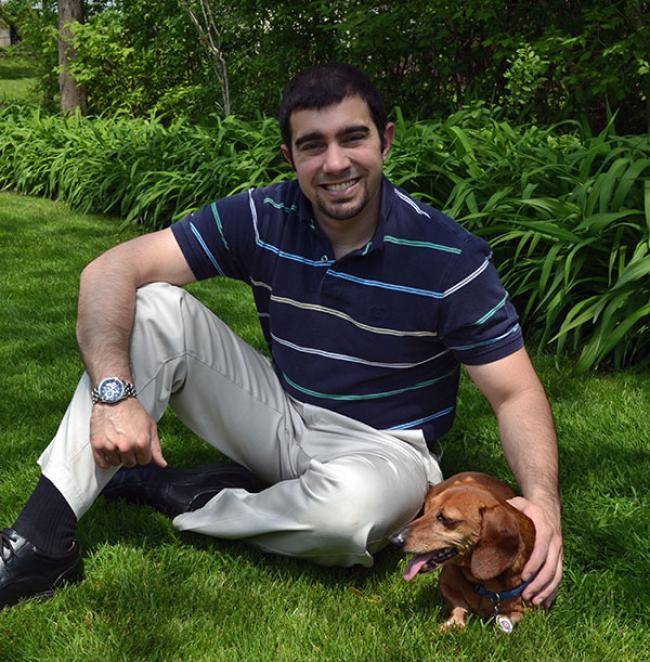 Augustana's program in pre-veterinary medicine prepares students for admission to and achievement in veterinary school. Students interested in veterinary medicine should consult with the advisor early in their first year at Augustana to plan an appropriate schedule of studies.
Augustana pre-vet students prepare with a challenging science curriculum — especially biology, chemistry and physics, and including advanced courses in subjects such as histology, immunology, neuroanatomy and biochemistry.
As the program is not an academic major, pre-vet students select an academic major in order to graduate with a bachelor of arts. Most students choose to major in biology.
Augustana classes are small; the largest biology classes seldom enroll more than 45 — and even these classes break into small sections for labs, creating more personalized interaction. Professors teach both the class lectures and labs, for continuity and connection between theory and practice.
The Hanson Hall of Science houses the pre-health programs and the departments of biology, chemistry and physics, promoting cross-disciplinary study and research among students and faculty. Special facilities include high-tech individual labs for anatomy, physiology, cell biology, genetics and human cadaver dissection, among others. Very few undergraduate students throughout the country have the opportunity to work in cadaver dissection on their own campus.
Augustana is one of only three colleges with an early acceptance agreement with the University of Illinois College of Veterinary Medicine. Students accepted into this program can enter vet school one year early.
Students in any of Augustana's pre-health programs can gain hands-on experience in the field through the JETS Service Learning Program in Central America. During this annual service-learning trip, students learn alongside veterinarians, doctors and dentists in hospitals and clinics in Central America. The $2,000 of Augie Choice funding can help pay for this or another high-impact learning experience.
What students say
Chaney Tambling '14, biology/pre-veterinary medicine and Spanish for professional use; graduate student at the University of Illinois– Champaign-Urbana School of Veterinary Medicine
"I chose Augustana because of its pre-vet program, but it also gave me the opportunity to play both basketball and softball at the varsity level. I'm in the place I wanted to be at this point in time: ready to head to vet school and pursue my dreams of becoming a vet, but I've also learned so much more about myself and life than I ever planned or thought I could while at college."
Hannah Hart '13, biology major with pre-veterinary medicine emphasis; attends University of Minnesota College of Veterinary Medicine
"I liked that the school had such a high acceptance rate into vet school. After talking with an admissions representative at a college fair in Minneapolis, I decided to visit. I was overwhelmed by the friendliness of everyone I met, and I was very impressed with the Science Building (now Hanson Hall). I got a sense that I would be well-prepared for vet school if I attended Augustana, and I felt that I would have a fantastic support system on my way there.
Attending vet school was always the goal, but I don't think I realized how much I would grow personally and academically in my four years at Augustana. There are so many resources on campus to help students get where they want to go, and I found myself surrounded by the most amazing, driven, talented and passionate students, faculty and staff. I know that they played a big part in my development into a more confident individual and a more able scientist. I didn't imagine that I would achieve such growth when I started my undergraduate career."
Dawn Kernich '12, biology major with pre-veterinary emphasis; works for World Bird Sanctuary in Missouri
"The pre-vet program at Augie helped me to get involved with animals without having to actually become a veterinarian. I love working with animals but I didn't want to be the "bad guy" all the time. Now, I educate others about the importance of animal conservation, especially birds of prey, while holding a particular bird that I have bonded with."
Scott Wood '11, biology/pre-veterinary medicine; graduate student at the College of Veterinary Medicine at University of Missouri
"I have wanted to be a veterinarian for as long as I can remember, so I am definitely where I hoped I would be. [At Augustana] I learned I am actually more confident than I often give myself credit for, and I'm very capable of adapting to completely different situations. With the liberal arts education, I had to take many classes on different subjects with very different teaching styles. I was forced to tweak my study habits accordingly, and was able to do so successfully.
I had too many peak experiences to name just one. I played a concert in Lucca, Italy, with the Symphonic Band and moved the audience to tears; I saw a live birth of twin calves during a job-shadowing experience my advisor helped set up; and I was finally able to match my 8K times from my first cross-country season after two years of injuries. You could say my entire time at Augustana was a peak experience."