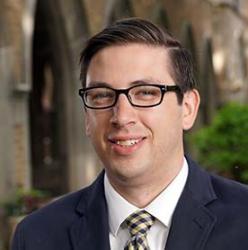 Mark Roth
Admissions Counselor
Hometown: Washington, Ill.
Current town: Davenport, Iowa
College attended: Augustana College
Major(s): Communication studies, sociology with a concentration in welfare 
What do you most love to tell prospective students about Augustana? 
I love to tell prospective students about the culture at Augustana College. Our campus community is welcoming to all families and students are able to flourish on a diverse campus.
Our 12:1 faculty to student ratio allows for collaboration that enhances each students experience at Augie. Augie Choice ($2,000 available to students to defray non-tuition costs of international study, internships, and research) is Augustana's commitment to making experiential opportunities a high priority. 
What's great about the Quad Cities? 
After living in the Quad Cities for seven years, I still feel like I uncover something new about the area on a regular basis. The opportunities that can be found right in Augustana's back yard are a great advantage to our students, from internship opportunities throughout the year, to off campus entertainment five minutes from campus; the Quad Cities has a lot to offer!
What advice do you have for students who are searching for the right college for them? 
Think about the experiences that each college is able to offer you. In four years, you will reflect on the opportunities that you had and the relationships that you built. Those are the experiences and relationships that you are going to rely on to launch you into your professional life!
Take time to talk with students and faculty members when you visit different schools. Ask questions and take notes about each school and trust the process! 
What do you like to do around the community? 
I enjoy attending minor league baseball games in Davenport along with minor league hockey and arena football games in Moline. We have three minor league teams within 10 minutes of each other! The Quad Cities has a plethora of outdoor music options throughout the year.
The TaxSlayer Center in Moline will have big-name artists come through, but there are a lot of local outdoor options as well!
I have become a fan of trying out new restaurants in the Quad Cities so if you need a recommendation, let me know! A couple of my favorites close to campus are Arthur's Deli, La Rancherita, and Lee's Diner!
What is your favorite time/tradition of the Augustana school year? 
I enjoy following all our athletic teams here at Augustana. Our teams are exciting to watch all year! Our student-athletes represent Augustana exceptionally well and take advantage of everything Division III athletics has to offer!
Between our athletic programs and strong academic programs, we have the third-most Academic All-Americans in all of Division III and seventh-most across all divisions!