Augustana Summer Academy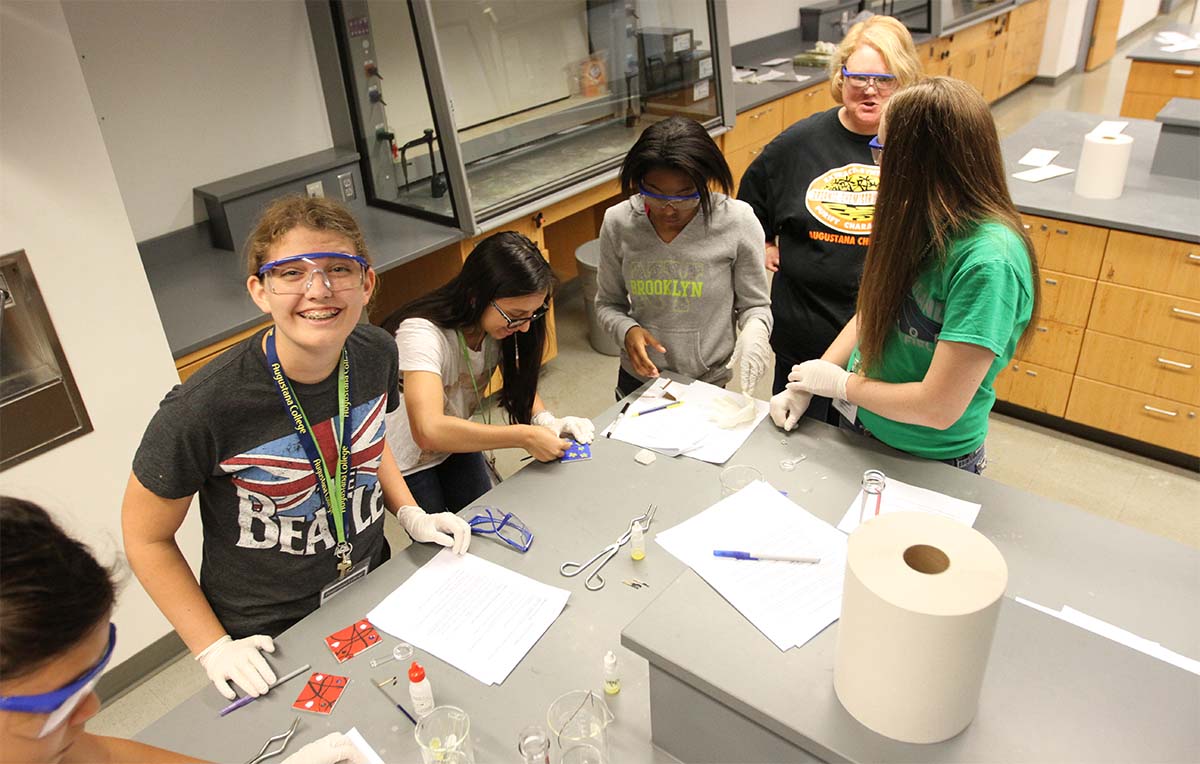 High school students can experience a unique college atmosphere and summer adventure by taking a course in the Augustana Summer Academy.
Summer Academy 2020 will run June 21-25.
Courses are from two to four days and take an active, hands-on approach within a close-knit learning community based on the beautiful Augustana campus. You'll find fun outside of class, too, through field trips, evening activities and ventures off campus.
Course fee includes housing on campus, all meals, evening activities and class fees.
Classes are taught by popular Augustana professors. Investigate your interests, whatever they may be, and have fun while enriching your education on Augustana's campus this summer.
For more information, contact coordinator Bonnie Jessee, 309-794-7395.
2020 courses and workshops
The Amazing Brain: A Neuroscience Experience, check-in June 21, class June 22-23
Learn about the brain in the same way the neuroscientists do, by asking questions, performing hands-on experiments, and drawing conclusions.
Anatomy of Injury, (Session I), check-in June 21, class June 22-23; (Session II), check-in June 23, class June 24-25
This course is for students interested in health-care professions. Learn the basic anatomy of the human body through demonstrations using human cadavers and lifelike models.
The Art, Science and Industry of Coding, check-in June 21, class June 22-25
Learn basic coding and create a scientific simulation, artwork and 3-D animations. Develop a small adventure game for Android phones/tablets.
Cancer: Exploring the Mysteries of Metastasis, check-in June 21, class June 22-25
Conduct research by studying cancer cells in vitro using different types of microscopes and state-of-the-art lab equipment.
CSI: Augustana, check-in June 21, class June 22-25
Learn about the science behind forensics, using DNA, bones and trace evidence. Using state-of-the-art equipment, you'll evaluate evidence and apply your findings to a simulated crime.
Education in America: Myths and Realities, check-in June 21, class June 22-25 
This course is designed for student interested in teaching as a career, or who are curious about our rapidly changing urban school systems. Participants will have a chance to do some informal teaching at the local Boys and Girls Club.
Entertainment and Media Production will not be offered as Fresh Films is producing a feature film this summer. If you are interested in working with Fresh Films, contact Kelli Feigley for details.
The Psychology of Happiness, check-in June 21, class June 22-23 
See how psychologists study happiness through discussion, mini-lectures, videos, experiential activities, and hands-on studies.
Signals from the Universe, check-in June 21, class June 22-25 
Learn how astronomers "see" radio emissions from space to probe the universe. Build a simple radio telescope, "listen" to the sun, visit a planet-sized radio telescope, and learn to make images from radio signals.
Speech Language Pathology, check-in June 21, class June 22-25 
This is a hands-on experience in Augustana's Center for Speech, Language, and Hearing. Observe children with communication disorders and assist professional pathologists.
Writing Fiction, check-in June 21, class June 22-25 
There isn't much time to write creatively in high school, so come to Summer Academy and write poetry, short stories, plays and more.
Non-discrimination policy
It is the policy and commitment of Augustana College to provide an environment free from discrimination based upon race, color, religion, national origin, service in the uniformed service (as defined in state and federal law), veteran status, sex, age, political ideas, marital or family status, pregnancy, disability, genetic information, gender identity, gender expression, sexual orientation, or any other classification protected by law in matters of admissions, employment, housing, or services or in the educational programs or activities operated by the college.
For any questions on academic or housing accommodations, contact Bonnie Jessee, 309-794-7395.
Cancellation policy
Courses not meeting minimum enrollment will be canceled. Students who signed up for a canceled course will have the option to sign up for another course or receive a full refund.
Courses meeting maximum enrollment will be closed. Students wishing to participate in a closed course can choose to be placed on a wait list and will be notified should an opening become available. All students on wait lists will be notified by June 1, 2020.
Students who sign up for a course and cancel their registration before April 15, 2020, will be entitled to a full refund. Registrations canceled from April 15-May 15, 2020, will be charged a $150 administrative fee. Registrations canceled after May 15, 2020, will not be refunded. 
If you have any questions, email or call Bonnie Jessee, 309-794-7395.