Augustana College COVID alert levels
Aug. 27, 2021
As we return to campus in the 'new normal' phase of operations, it is important that our community is aware of the factors that the college will consider in assessing the risk presented by COVID-19 and in determining what mitigation steps will be required, including those for vaccinated and unvaccinated individuals on campus. 
The college will operate under one of four alert levels:  
Level 1- Green (current level), the lowest alert level, indicates near pre-pandemic, "new normal" operations and effective disease mitigation.
Level 2- Yellow, indicating increased health precautions in place impacting most operations.
Level 3- Orange, indicating a higher risk of disease transmission with further operational restrictions in place.
Level 4 Red, the highest alert level, indicating a significant health risk on campus and in the larger community, and resulting in the most restrictions on community operations.        
Movement between these alert levels will be informed by guidance from local, state and federal public health officials, as well as the COVID disease indicators listed below, including the vaccination levels of our community, positivity rate on campus and in Rock Island County, and the number of new cases.  
Of course, these factors and the operational impact of any particular level may be modified as new information, best practices and experience warrant. In many cases, mitigation requirements may be increased or decreased in specific areas without changing the overall alert level.
Vaccination against COVID-19 is strongly encouraged for all Augustana College community members. Vaccination is the best step individuals can take to end the pandemic and return to normal operations.  A higher level of vaccination among our community members has a significant positive impact on college operations, and will help allow the return of many — if not all —  pre-pandemic activities. Unvaccinated individuals on campus should expect increased COVID mitigation requirements and limitations on certain higher-risk activities. 
To date, 88% of our community members have received the COVID-19 vaccination or indicated their intent to obtain the vaccination before Aug. 31, 2021. (Vaccination data as of Aug. 26, 2021; data will be updated periodically.)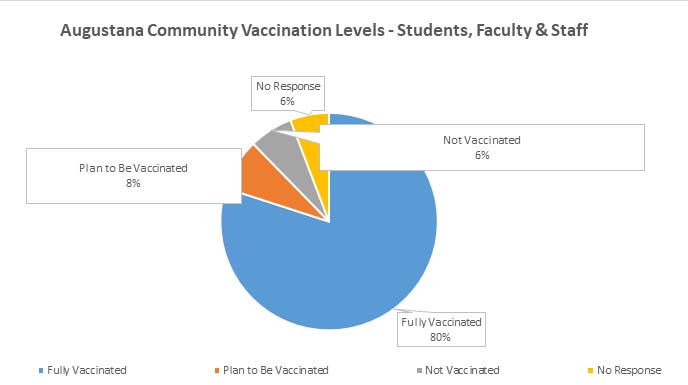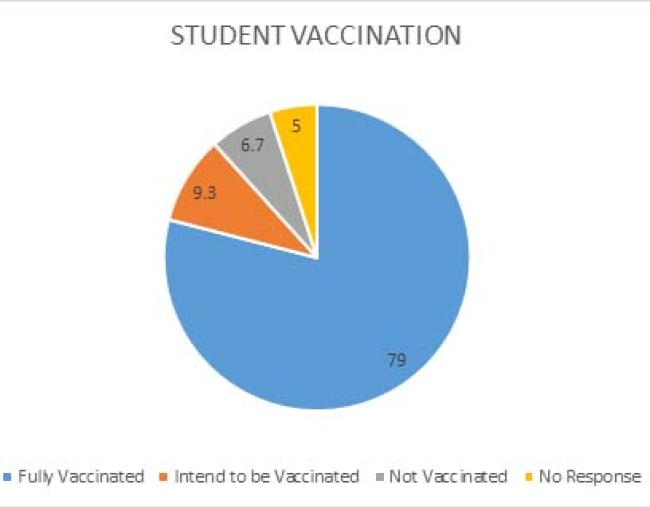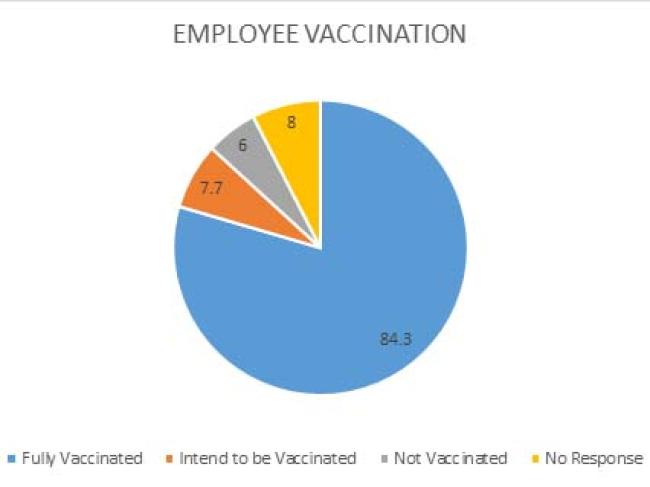 In addition to the vaccination levels of our community, the following factors will inform decision-making: 
• Recommendations, mandates and orders from federal, state and local public health authorities
• Vaccination levels of larger community;
• New positive cases per week on campus
• New positive cases per week on the larger community
• Trend of new cases on campus
• Trend of new cases in the community
• Number of community members in quarantine
• Number of community members in isolation
• Campus compliance with COVID mitigation measures in place
• Testing capacity on campus
• Risk of "breakthrough" infections
• Hospital stress in the Quad City area and treatment capacity
• Overall campus experience/ability to provide essential services
• Teaching and learning capacity
The Augustana College Cabinet will determine movement between alert levels and campus mitigation requirements. Consultation with public health experts will continue, and any movement to Level 4/Red Alert will include the Augustana College Board of Trustees. Changes in alert levels will always be informed by both the data and by the college's judgment of current conditions.
As noted above, the college may, in response to a specific indicator or indicators, change the operational restrictions or mitigation requirements in a particular area without impacting the overall alert level and impacting all operations. This will allow for more targeted responses to current conditions and the COVID-19 risk they present. Augustana community members must be prepared, however, to move to a higher alert level with little advance notice.   
We are beginning the academic year at a Level 1/New Normal. The college's current alert level and mitigation requirements in place, as well as highlights of operating conditions, are available at www.augustana.edu/augustana-strong.    
ALERT LEVELS
Level 1/Green (current level)
Campus operations return to new normal; standard COVID precautions in place which effectively mitigate COVID transmission with limited impact on operations.
Level 2/Yellow
Modifications to campus operations to address of increased risk of COVID transmission.
Level 3/Orange
More significant modifications to campus operations due to higher risk of COVID transmission.
Level 4/Red
Essential campus operations only; highest risk of COVID transmission; government shelter in place orders likely in place.
This chart outlines expected campus operations by alert level. (Alternate plain text version)
The chart may be modified by the Cabinet as new information or new public health guidance becomes available. Because specific operational limitations or mitigation requirements by operation may be imposed without changing the alert level, it is important that community members check current mitigation requirements at www.augustana.edu/augustanastrong.