All the Augie holiday celebrations
The holidays are fast approaching and Augustana has a vast range of celebrations for all to attend. The celebrations at Augie accommodate all faiths, beliefs, and cultures.
 
The holiday season can be tough when you're away from home, there may be traditions you're missing out on, family time, or maybe it's your first time celebrating on your own. But don't stress, because Augustana has many opportunities and events for you to attend until winter break begins!
 Grab your roommate or friend from class and head to these upcoming holiday celebrations! 
The celebrations will kick off on December 2nd at 4:30 p.m. with the annual Lighting of the Christmas tree. This event is in front of Old Main and is led by President Bahls and First Lady Jane Bahls. Most of the celebrations will end by December 15th, the Sunday before Christmas break begins. 
Check out the list of holiday events below:
 
Christmas at Augustana on December 7th & 8th at 2:00p.m. This is a performance where the Augustana Symphony Orchestra joins the Augustana Brass Ensemble, Ascension Ringers, Augustana Choir, Augustana Concert Chorale and Jenny Lind Vocal Ensemble in a celebration of the holiday season. Click here for ticket information.   
Hanukkah Party hosted by Augustana Hillel on December 8 at 5:00 p.m in Gavle 3. Play the dreidel game, watch a Hanukkah skit and enjoy Hanukkah music. Plus, everyone's favorite: FREE FOOD. All are welcome to this celebration, Jewish or not. 
Joy of Christmas on December 4, at 7:30 p.m. This is a service that includes the Christmas story in several languages, and communion by candlelight in the Jenny Lind Chapel in Andalusia, IL. There will be cookies and hot chocolate served after.  
Julbord Dinner on December 3, at 5:00 p.m. This dinner will serve a traditional Swedish-American Christmas smörgåsbord fare.
After the dinner, at 7:00 p.m. the Festival of Sankta Lucia will begin. This festival will include student performances of traditional Swedish and Swedish-American songs. Click here for ticket information. 

Lighting of the Christmas Tree on December 2, at 4:30 p.m. The lighting of the Christmas tree is led by President Bahls in front of Old Main. 
 
Our Lady of Guadalupe on December 7th, at 6:00 p.m. This event will take place in Wallenberg Hall.  

SantaLand Diaries on December 12th, 13th, 14th, and 15th. The show begins at 7:30 p.m., but on the 15th the showing will begin at 2:00p.m. The Mississippi Bend Players will present the "SantaLand Diaries" by David Sedaris, adapted by Joe Mantello. Click here for ticket information.  
'Season of Light' Planetarium show on December 7th, 8th, 9th, 10th, 11th, 12th, and 13th. On the 7th and 8th the show is at 2:00 p.m., on all other dates the show begins at 7:00 p.m. The 'Season of Light' is a multimedia show that uses the planetarium sky projector, astronomical images, music and narration, all projected onto a 30-foot dome to tell the story of how holiday traditions are connected to the sky above.  Admission is free, but reservations are required. To reserve your tickets, click here.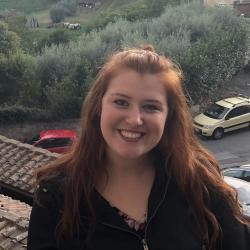 Chelsea Meyer
Chelsea Meyer is a senior from Roscoe, IL. She is double majoring in Communication Studies and Multimedia Journalism & Mass Communication while on the Pre-Law track. 
On campus she's involved with Greek Council as the service chair, a member of the Delta Chi Theta Sorority, and a member of the Women's Golf Team.