Feb. 27: Information about the COVID-19 virus
Campus Community, 
 
The college continues to monitor information regarding the COVID-19 virus, also known as the coronavirus. More cases are being confirmed around the world, including in the United States. Members of the Emergency Planning Committee and other college employees are monitoring the situation.
The college is in communication with the Rock Island Public Health Department. Our goal is always to maintain the safety and well-being of the Augustana community. Community members are encouraged to review the coronavirus information provided by the Center for Disease Control and Prevention (CDC). 
As of 9 p.m. on Thursday, Feb. 27, there are no confirmed cases of COVID-19 on the Augustana campus and the college is not aware of any Augustana community member who is abroad that has contracted the virus.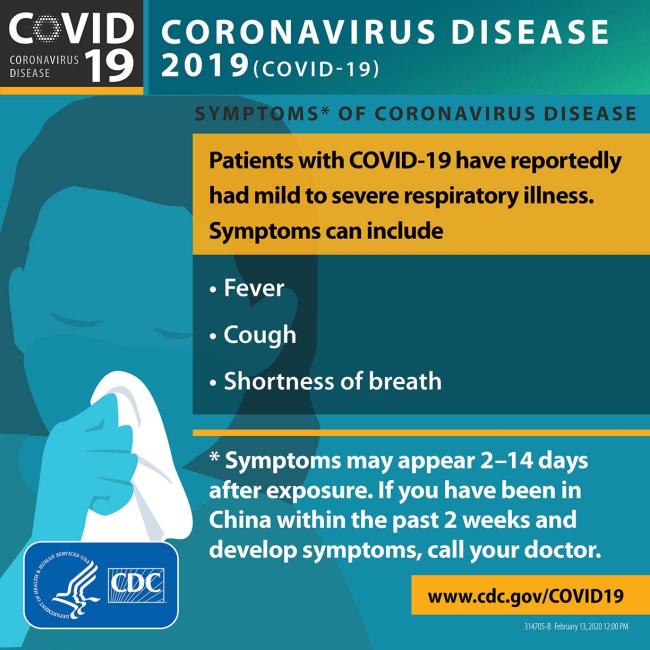 Symptoms
 
If you develop flu-like symptoms, please visit a health care provider. Free transportation is provided to all health care providers in the area. Between 8 a.m. and 6 p.m. Monday-Friday, students may use a free shuttle service provided by the college which can be reached at 309-781-5711.
During other hours, service is available with Lucky Cab at 309-788-8182. The taxi will pick students up within 30 minutes of a call and take them to a health care provider free of charge. Students must show their student IDs. 
Trinity Express Care Clinic is the nearest health care provider, located at 106 19th Ave., Suite 103, Moline, Ill. The phone number is 309-779-7050. The Trinity Express Care Clinic is recommended when experiencing typical cold symptoms or minor injuries. The clinic will refer students directly to Trinity Medical Center if the illness or injury is more serious.
Inform the college
 
If you develop a fever and cough or other respiratory symptoms, please notify Laura Schnack, associate dean of students, by email or by calling 309-794-7533. Contacting the Dean of Students Office allows for communication and verification (when medical documentation is provided) of absences with instructors. It also allows the college to provide the necessary support for you and care for the entire community.  
 
*More detailed employee information will be shared in the future.
Prevention efforts
The CDC recommends taking preventative actions to help prevent the spread of disease:
• Avoid close contact with people who are sick.
• Avoid touching your eyes, nose, and mouth.
• Stay home when you are sick.
• Cover your cough or sneeze with a tissue, then throw the tissue in the trash.
• Clean and disinfect frequently touched objects and surfaces using a regular household cleaning spray or wipe.
•  Follow CDC's recommendations for using a facemask. CDC does not recommend that people who are well wear a facemask to protect themselves from respiratory diseases, including COVID-19. Facemasks should be used by people who show symptoms of COVID-19 to help prevent the spread of the disease. The use of facemasks is also crucial for health workers and people who are taking care of someone in close settings (at home or in a health care facility).
•  Wash your hands often with soap and water for at least 20 seconds, especially after going to the bathroom; before eating; and after blowing your nose, coughing, or sneezing.  If soap and water are not readily available, use an alcohol-based hand sanitizer with at least 60% alcohol. Always wash hands with soap and water if hands are visibly dirty.
Need support? 
 
Do you have family or friends that have been impacted by the coronavirus? Augustana Student Counseling Services is available to you. Emergency counseling sessions are available Monday through Friday at 9 and 11 a.m. and 3 p.m. No appointment necessary.
For more information about other specific counseling offerings designed to assist students who are away from impacted family and friends, see Augustana Counseling.
International travel
 
Augustana's International and Off-Campus Programs office will provide updates on international travel in the future.