Today's update: Fall semester numbers
Sept. 2, 202
Fall semester numbers
We've posted our first COVID-19 dashboard for the semester and thanks are in order to the majority of people who have registered their vaccination status with us.
Registrations are still coming in and being processed, so the numbers are not complete. But according to the survey results, it looks as if about 85% of employees and as many as 93% of students are fully or partially vaccinated as of today.
Plus, our most recent testing (of athletes and international students) and self-reporting show only two cases on campus currently.
Let's keep the good news coming. If you have not received a COVID vaccination, get one!
But whether you are vaccinated or not, please let us know. Students who have not registered should go to the Dean of Students office in Founders Hall and show their vaccination card. 
This Friday is Vaccination Day at the campus health clinic from 10 a.m.-5 p.m. Just walk in and get your shot. No appointment is needed. This clinic is for first and second doses of the Pfizer vaccine, not boosters.
Briefing this Friday
College leaders will discuss vaccination rates and Illinois COVID testing rules during a campus briefing at 11:30 a.m. Friday. 
---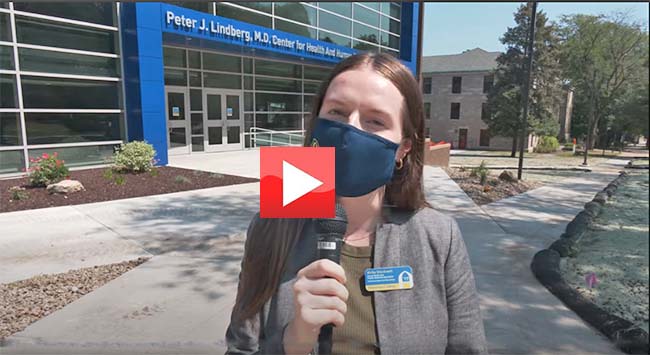 Take the tour!
The Peter J. Lindberg, M.D., Center for Health and Human Performance officially is open for academic use after a ribbon-cutting Monday. The pool will be open later this fall.
---
Today's updates
• Juniors, seniors and commuter students can add or change a meal plan through the housing and dining portal . (If you are not in campus housing, stop by Dining Services in the Gerber Center or call 309-794-7543.) Any changes must be made by Sept. 10. 
• Kaleidoscope is offering art classes and workshops for ages 4 through adult this fall. Registration is open!  
• If you do not want your image or biographical information shared by the college, please read our photo policy and fill out the form to opt out for this year.
• Campus Cupboard will reopen next week; hours will be updated soon. It provides non-perishable food items and hygiene products to students. If you need assistance now, contact Farrah Roberts . 
• Ruth Nwatu '20 has landed a fellowship with the CDC's highly competitive Public Health Associate Program .
• Alyssa Froehling '17 won the 2021 Arthur Rense Prize for her poem "Aledo, Illinois, June." She has an MFA in poetry from Ohio State.
• The Office of Student Inclusion and Diversity invites you to a First Fridays open house from 11 a.m.-3 p.m. this Friday. Meet the staff and learn about the office.
• Need some laughs? Try Safari Bingo on Friday or Second City on Saturday.
---

Student Alumni Board open for nominations
 
The Augustana College Student Alumni Board connects students from all groups, clubs, and associations to each other and alumni through programing and educational initiatives.
 
The board works with the Office of Alumni Relations and the Alumni Association Board of Directors. Nominations for the Student Alumni Board are open for the fall semester.
Deadline for Augie Choice for fall internships
 
Internships need to be registered with CORE in order to be eligible for Augie Choice. To register your internship by the Sept. 8 deadline, you must make an "Internship registration" appointment in Handshake by Sept. 7. See the Augie Choice page for more information.