The athlete, the artist and the mentor (x3)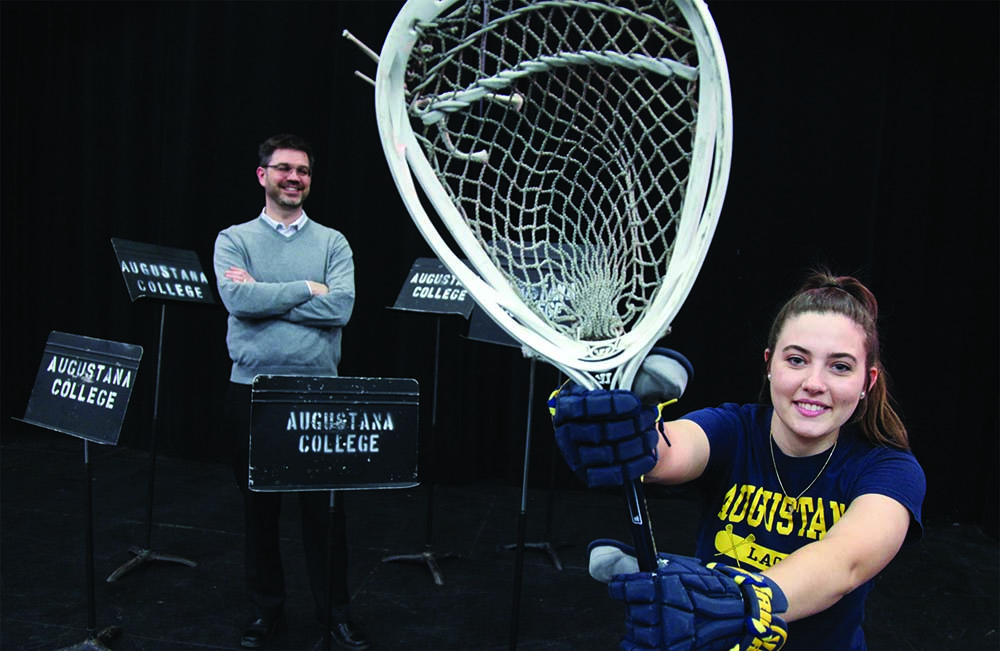 Meet three student-athletes who make time for academics, their sport and the arts. They do it with the help of coaches and professors who understand they are not defined only by what they do in their major, on the field or in the gym. Their art—pottery, music, poetry—is part of who they are and provides them a space to give to others and to themselves.
The singer goalkeeper
Dr. Michael Zemek teaches conducting and music education at Augustana, and directs the Jenny Lind vocal ensemble, a selective women's choir. He also is "NOT a very athletic person." But he does know that, for his students who are varsity athletes, "it takes dedication and commitment to making schedules work, and communication with coaches and directors. So they have to really want to do it."
Professors and coaches make it a priority to help out. Currently Dr. Zemek has four athletes in the Jenny Lind choir. One is alto Courtney Veitch  '21, goalkeeper for Vikings women's lacrosse.
"She is a really good singer," said Dr. Zemek. "She had a major solo in collaboration with our opera program, and I have a picture in my mind of her standing all alone on the Brunner stage with the spotlight on her, and then all of us coming in around her...It was really dramatic."
An Asian studies and international business major, Veitch was recruited for lacrosse at Augustana, but she also wanted to continue singing. She did so with the help of a music scholarship, which Augustana awards to qualified musicians even if they aren't music majors.
Veitch has been singing in a choir and playing lacrosse since fourth grade. She said being a member of a choir is similar to being a teammate. "Definitely you form a bond...You have to trust what other members are doing, so that together you can do your best."
She says communication is what's most important, in the choir and on the field.
"We have to communicate during a song, because it produces a different sound when we do. And communicating on the field is really important, to see how a play is formed. My entire job is to communicate to the defense about what is going on," she said.
These are in addition to the communication skills all students learn through their Augustana education. Students who broaden their experience to include athletic and artistic outlets can truly appreciate an education for the whole person.
As a choir director, Dr. Zemek sees it happening. "And that's something we do really well at a liberal arts college like Augustana. We offer all these opportunities and celebrate that, and make it available to all of them as best we can."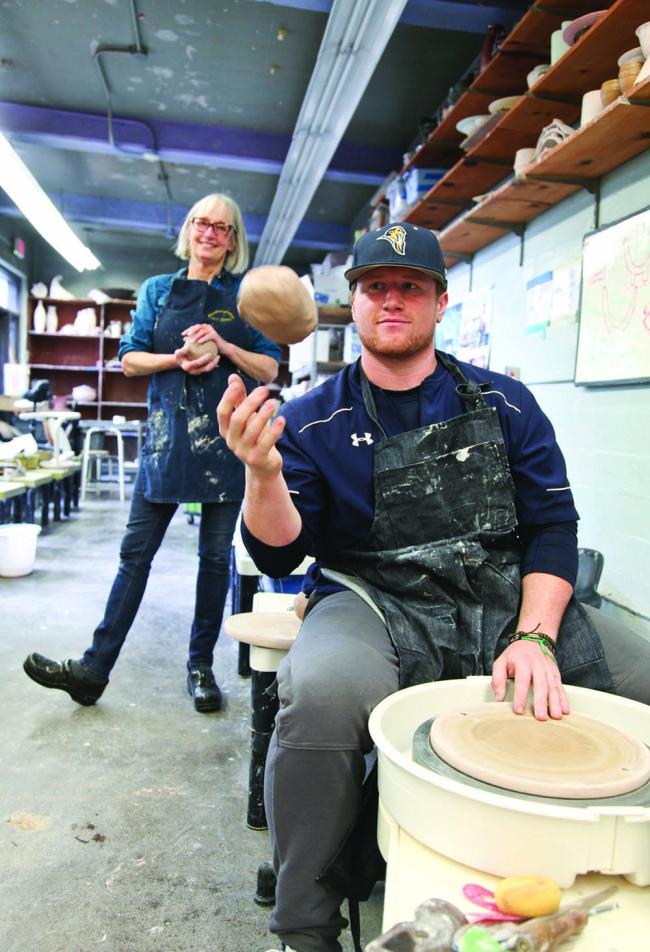 Art professor Megan Quinn and baseball catcher Ryan Grannemann  '19 have known each other through two art classes and two independent studies in ceramics. He's even joined her for art show openings in downtown Rock Island.
Quinn calls Grannemann ambitious. When he took his first class with her, he was the first student to arrive at the Friday "help hours," every time.
"He's a potter," she stated, meaning he is more than a student of ceramics. "He's interested in challenging it and taking each detail to the next level. He's just really observant; and his work shows that he is paying attention to understanding formal elements of design in his piece."
Grannemann is a math teaching major graduating this spring, with two teaching/coaching job offers in suburban Chicago, so far.
While his mom and sister both are "art-inclined," he said he had never been serious about art before Augustana.
"Now it's not serious in the way that you'd think—like getting a job or anything like that—but I take it seriously in that I want to get better with it, and create things that are cool."
He thought he'd try ceramics after a teammate recommended the class. "Yeah, it was kind of dumb luck, and then I ended up getting addicted, so you trapped me," he laughed with Quinn.
For Grannemann, making art is more than creating new pieces. It's also a way to unwind.
"I had a weird transition where baseball used to be really therapeutic for me, and I used to go and hit for hours. But once I got to college, it turned into a little bit more of a job, and art filled that void of being a therapeutic way to just relax," he said.
"I could come in here for three hours, and I wouldn't realize how much time had passed. It's a way to get your mind off of all the crazy stuff that's going on outside of the pottery building."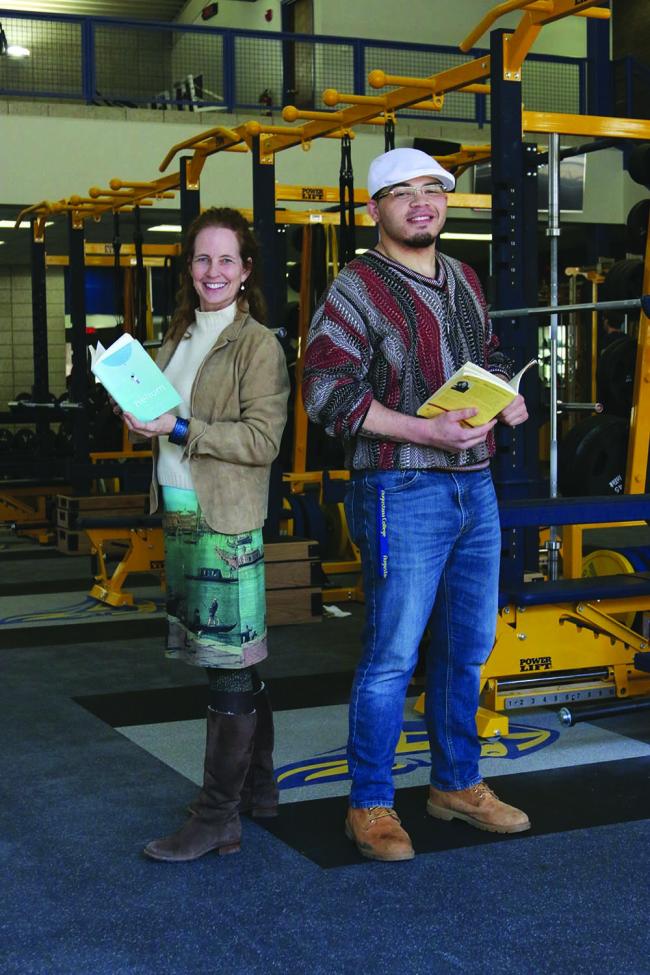 At the NCAA Division III Wrestling Championships in March, Adarios Jones  '20 took second in the nation in the 285-pound category. Last year, he took third. This top-tier athlete has taken on many kinds of challenges in the past two decades, including a battle with cancer. Wrestling with words is one challenge he embraces.
Jones is a spoken word poet, relying on strong rhythms and a strong personality. Spoken word is performed to an audience. It's emotional, musical, meant to stir things up.
"The most exciting thing I find about spoken word poetry is that, similar to wrestling, it's just YOU," Jones said. "I step on the stage and it's just me, nobody else. In that moment I get the chance to share my feeling and my words with the audience—and that is the most electrifying feeling, next to wrestling."
Jones took his first poetry class with English professor Rebecca Wee in 2016. From the start, poetry became an outlet for a healthier life.
Professor Wee calls him "a sucker for love poems." But it's not that simple.
"His poetry is laced with sorrow and questions, just as it is passionate, determined and hopeful," she said. "He's a champion wrestler and a huge-hearted poet...and once he takes the stage, everyone feels the quality and intensity of his experiences, heart and talent."
In her decades of teaching creative writing at Augustana, she's taught plenty of athletes. For some reason, baseball players and cross-country runners are more commonly drawn to poetry. She thinks perhaps Dr. Paul Olsen, Augustana's former coach and professor emeritus of English, has sent his runners to her classes.
"But I haven't had a runner-poet with as much poetry-power as Adarios," she noted, "so clearly athletes of all kinds are as likely to be poets, and to care about poetry, as anyone else on the planet."
For Jones and spoken word, caring about poetry means caring about the person.
"I pour my heart and soul into my words so that people leave with something, they leave with a little bit of who I am," he said, adding, "hopefully helping them or impacting them in a positive way."
— By Beth Roberts