In memoriam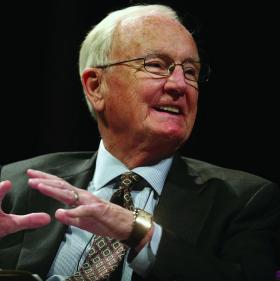 Nils Hasselmo passed away Jan. 23, 2019, after a long battle with cancer. He was 87, which would seem to be a little old for a 1957 graduate of Augustana, but by the time he arrived in Rock Island he had completed military service in the Swedish Royal Signal Corps and already had earned his first baccalaureate degree at Uppsala.
Following his Augustana graduation, Nils taught Swedish at Augustana and pursued graduate work at Harvard, culminating in his Ph.D. in linguistics in 1961. From 1965 to 1983, he served as a faculty member and administrator at the University of Minnesota, before being named provost and senior vice president for academic affairs at Arizona.
Nils would return to the University of Minnesota in 1988 as its president, retiring in 1997. He then moved to Washington, D.C., as president of the American Association of Universities, an association consisting of 62 major research universities in the United States and Canada.
Through it all, Nils remained closely tied to Augustana. In addition to being a graduate and former faculty member, he was a trustee of the college, only missing one meeting (fall 2018) due to his illness. He was a very important advisor to me, and I will forever be grateful that he delivered the keynote address at my inauguration in 2003.
–By President Steve Bahls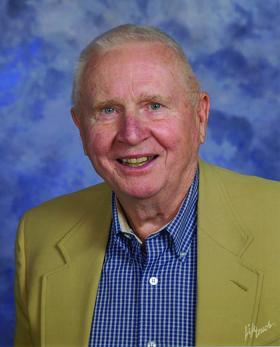 John Kindschuh passed away Feb. 15, 2019, at the age of 92. He served Augustana for 36 years and was among the last of the senior administrators of the college to have been ordained into the ministry of the Augustana Lutheran Synod.
A native of Uehling, Neb., John began his education in a one-room schoolhouse. He graduated from Gustavus Adolphus College and then earned a master of divinity from the former Augustana Theological Seminary, and a master's in educational administration from the University of Michigan.
In 1963 he left a pastorate in Burlington, Iowa, to become an assistant to then-President C.W. Sorensen for church relations, while also supporting admissions and fundraising. Having secured a $1.5 million gift from Roy J. Carver that would fund the completion of the Carver Center, John was promoted to vice president for administration, a role in which he worked on such major projects as the Tredway Library, the PepsiCo Recreation Center, Hanson Hall of Science and the Olin Center.
As the late Charles Lindberg, a former trustee of the college, once noted, "John took no credit for anything but he is the unsung hero of so many successful projects. His dedication symbolizes what Augustana is all about."
On his retirement in 1999, John shared the following: "The work I've done is not as important as what teachers and students do here, but I'm grateful to have been a part of the fabric of life at Augustana. When I go home at night, walk across the overpass and look up to Old Main, I always feel like I've done something worthwhile for the world that day."
–By Kai Swanson '86