New academic program, building, varsity sport announced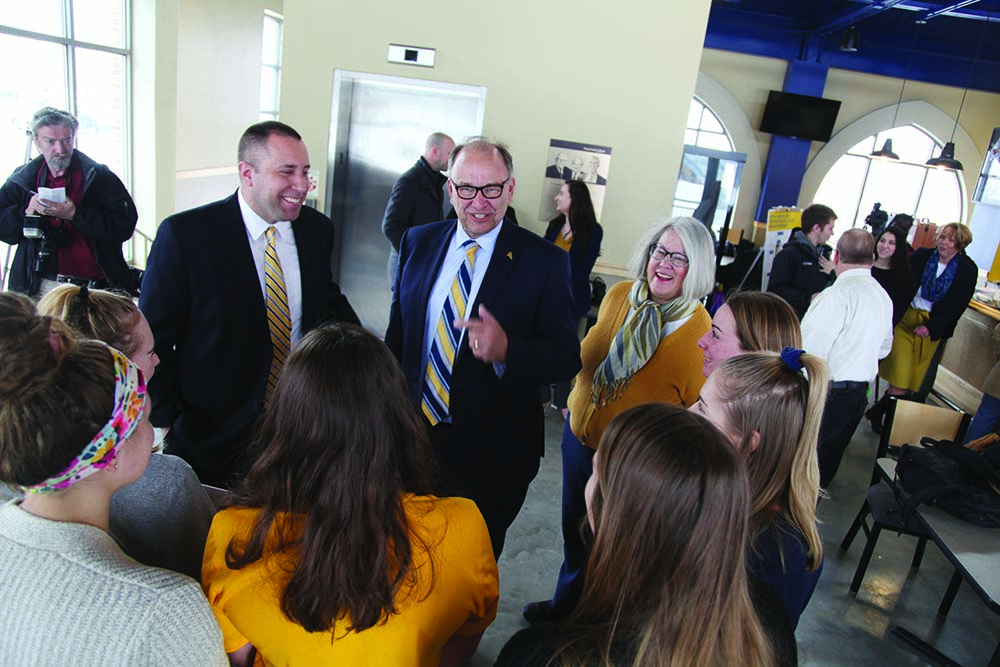 Kinesiology as an academic discipline is concerned with the study of physical activity and human movement, and its impact on health, society and quality of life.
Exciting additions are coming to Augustana that will change the landscape of the campus. Adding to the college's rigorous programs in the sciences, public health and pre-health fields, Augustana is introducing a program in kinesiology along with a comprehensive approach to academic health and wellness programs that will benefit future students as well as the Quad-Cities community.
To support the new kinesiology program and related fields, Augustana will build the Austin E. Knowlton Center for Innovation in Health, Wellness and Human Performance, scheduled to open in the spring of 2021. The Knowlton Center will feature classrooms, faculty offices, a joint resource area, exercise laboratories, meditation area, team spaces and an aquatic center.
"The new programming as well as the new center support a grand vision for our students and ultimately our graduates to make a difference in the world," said Kent Barnds, executive vice president. "This vision is supported by generosity."
A challenge grant of $8 million from the Austin E. Knowlton Foundation will partially fund the academic programming and capital investment for the $16-million building. The grant requires college leaders to raise additional funds from other donors, foundations and government agencies.
"It's great that in an environment in which many colleges are in retreat that Augustana is playing offense and constantly seeking new initiatives to better serve future generations of students, the Augustana community and the Quad-Cities community," said Eric Lindberg, trustee of the Knowlton Foundation. "This project is, in our opinion, going to be truly transformative for Augustana as an institution."
Knowlton Foundation trustees believe the investment will:
enhance and expand current opportunities to prepare Augustana students for high-paying careers in the growing health care field
enable the college to form partnerships to better serve the physical and mental health and wellness needs of not only Augustana, but the broader community
strengthen the financial and operational future of Augustana and ensure its continued success in the decades ahead.
"We were thrilled to hear about Augustana's investment in this program," said Jordan Voigt '09, president of Genesis Medical Center in Davenport, Iowa. "The issues and needs around health care continue to grow more and more, here in the community and nationally, as well. The value of having Augustana graduates who are well-rounded critical thinkers is an asset not only here at Genesis, but in the community as well."
Kinesiology: a fast-growing field
Kinesiology as an academic discipline is concerned with the study of physical activity and human movement, and its impact on health, society and quality of life, according to Dr. Kimberly Murphy, program co-coordinator and associate professor of biology. The U.S. Bureau of Labor Statistics reports that students with a kinesiology background could fill jobs in five of the 20 fastest-growing occupations.
"This program listens to the needs and wants of our current students, as well as prospective students," Dr. Murphy added.
Augustana's record of success in preparing students to be physicians and other health professionals stands for itself:
Medical school acceptance rate of Augustana graduates is 50 percent above the national average.
Public health graduate acceptance rate is 100 percent.
Augustana students complete an average of 150 health care-related internships or job shadows each year.
"We look at Augustana and our strong background in the health sciences. It just makes sense to bring all of those pieces together, add a kinesiology program and think about the synergies that exist," said Augustana Provost Dr. Wendy Hilton-Morrow '94.
"We know that this is a field that needs students to come out prepared to deal with these problems in sophisticated ways, and that's what we know the center will allow us to do."
Aquatic center: one of CCIW's best
Since 1971 all Vikings swimming and diving programs have used the pool in the Carver P.E. Center. The new aquatic center inside the Knowlton Center will include a 25-yard competition pool and a therapeutic pool, and more.
"We are currently working with the architects and pool consultants on the design, but we know it will be one of the top swimming facilities in the CCIW," said Dan Lloyd, head coach of the Vikings men's and women's swimming and diving teams.
"It's going to give our swimming and diving program a new home for the next 50 years that will pay tribute to the history of our program while laying a foundation for the future."
The new 25-yard competition pool will include an additional lane that will allow for an expanded roster of swimmers; state-of-the-art starting blocks, lane lines, scoreboard and other equipment; and three diving boards and new training equipment.
"The new aquatic center will allow us to add women's water polo as a varsity sport and expand our varsity swimming and diving teams and men's club water polo," Lloyd said. "This will continue to boost our enrollment with quality student-athletes who are interested in performing at the highest level both in the classroom and the pool."
The 2018-19 men's and women's swimming and diving teams won the Scholar All-America award last fall from the College Swimming & Diving Coaches Association for academic performance.
"This building represents a unique integration of academics and athletics, while at the same time focusing on the overall health of all our students here at Augustana," Lloyd said.