Class notes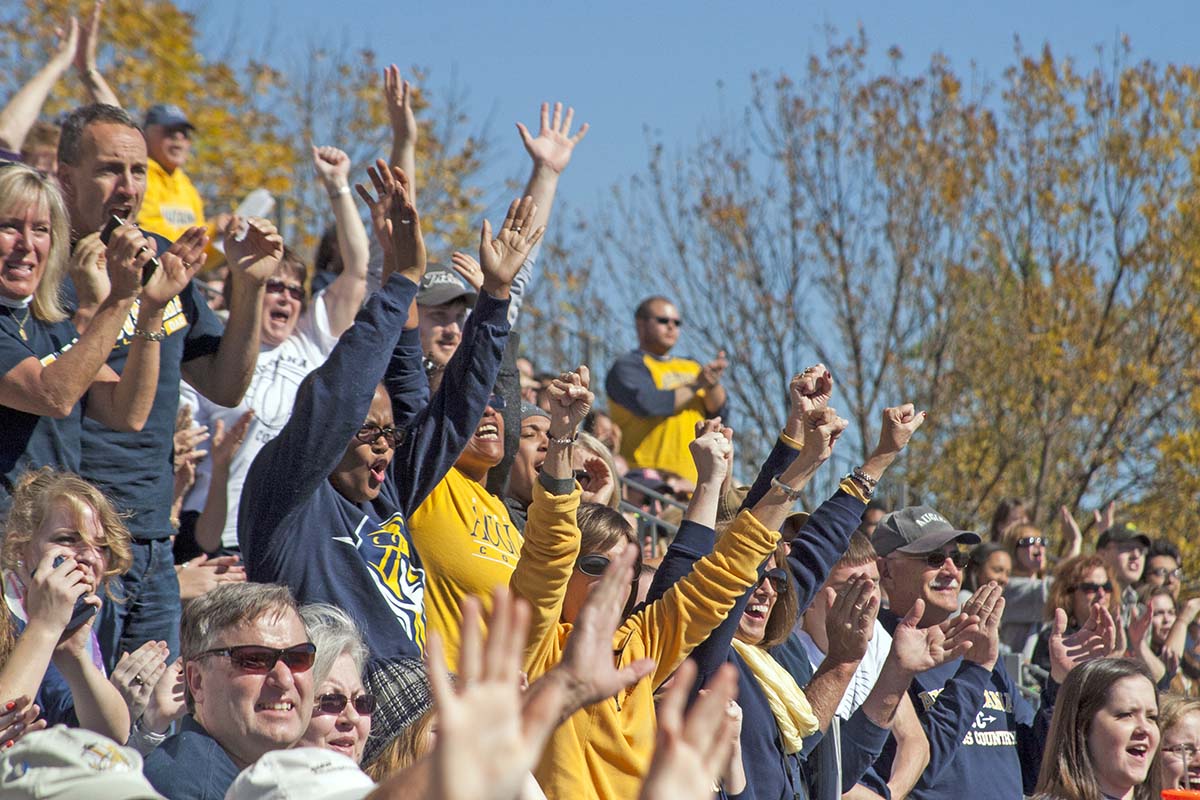 Keep us in the loop! Another degree, another baby, a new job, a service award?
Let us know online or mail your news to Alumni Relations, Augustana College, 639 38th St., Rock Island, IL 61201.
(received as of Sept.15, 2019)
1944
Julie Johnson Reeves could not attend her 75th reunion during Homecoming Oct. 4-6 because she was already committed to presenting a paper on "Lincoln in New Orleans" to the Topeka (Kansas) Lincoln Club. ("Yes, I'm still researching and writing at 96, thanks to Augustana," she said.)  
1957
Thomas Bellows published Singapore: A Story Unfolding (Carey School of Law, University of Maryland) in 2017. He is a professor of political science at the University of Texas at San Antonio, and was the editor of the American Journal of Chinese Studies from 1999-2017.
1962
A new track at the University of Illinois is being named after Gary Wieneke. The track is part of the Demirjian Park Stadium, set to open in 2021. He was a coach for 36 years, retiring from the University of Illinois in 2003.
1965
Jeanette Steelandt Sorensen retired in 2017, after more than 32 years as a speech pathologist in public schools.
1968
Scott Petersen is in his 15th year of performing in the Chicago theatrical production "Pleading for the Future," which is a distillation of the closing arguments in the 1924 murder trial of Richard Loeb and Nathan Leopold in Chicago. He plays the role of the state's attorney who argues for the death penalty—while Clarence Darrow, played by another actor—pleads for life in prison.
Richard Vantrease and his high school sweetheart, Norma, celebrated their 50th wedding anniversary on Aug. 2, 2019.
1969
Vic Butsch retired from the Electric Boat Division of General Dynamics in Groton, Conn., after 45 years. He also taught Civil War history in a local adult education program for several years. Two years ago, he co-authored and published his first book, A Journey to the Gallows, about Aaron Dwight Stevens, who was instrumental with John Brown in the raid at Harper's Ferry. He is planning to publish a second book about Dorence Atwater and Clara Barton titled In the Crossfire Between Heaven and Hell.
George Drost received the President's Award from the National Czech and Slovak Museum & Library, Cedar Rapids, Iowa.
1970
Nancy Anderson Hamming retired from the practice of pediatric ophthalmology. She served as head of Pediatric Ophthalmology at Rush University in Chicago while working in private practice in Gurnee and Lake Forest, Ill. She also completed an eight-year term as a director for the American Board of Ophthalmology and presided as chair during her tenure on the board.
William Moorcroft, professor emeritus at Luther College, helps insomnia patients sleep better without drugs by using behavioral methods at Northern Colorado Sleep Consultants, LLC, in Fort Collins, Colo. New Harbinger Press recently published his book Mindfulness for Insomnia (co-authored by Catherine Polan Orzech).
Kresten (Kris) Riber retired from international school teaching in 2015.
1971
Wendy Wegner Riber retired from international school teaching in 2015.
1972
Thomas Johnson received the University of Wisconsin Madison, Department of Geoscience 2019 Distinguished Alumnus Award. He is principal of Thomas Johnson Associates, an environmental and water expert consulting firm based in Sausalito, Calif., and Middleton, Wis.
Bryant Julstrom married Ann Shuda on June 29, 2019.
1973
Regina Brodell Portscheller retired in 2013 as a foreign interactions instructor and instructional designer of homeland security courses at the U.S. Department of Energy National Training Center in Albuquerque, N.M. Since retirement, she has enjoyed creating mixed media art, selling her work in galleries and art shows, and teaching art workshops.
1974
Elizabeth Ebinger Boesen will retire from active clinical and parish ministry on June 30, 2019, after 37 years in the LCA/ELCA.
Kathy Anderson Janicek is one of the conductors of RiverChoir, community singers from Iowa and Illinois, featured in concerts with the Clinton Symphony Orchestra and other area venues.
1975
Bill Albracht served as the 2019 Bettendorf (Iowa) Fourth of July parade grand marshal. Albracht was the youngest captain, at the age of 21, to command combat troops in Vietnam. He is the recipient of three Silver Stars for gallantry in action, three Purple Hearts, five Bronze stars and other awards for combat valor. He was a special agent with the U. S. Secret Service—protecting six presidents during a 25-year period. He retired in 2001 as the assistant special-agent-in-charge of the Secret Service Washington, D.C., office.
Clarence (Al) Bowman was appointed to the Board of Directors of Heartland Bancorp Inc. and its subsidiary, Heartland Bank and Trust Co., both headquartered in Bloomington, Ill.
Rod Johnson retired from Deere and Company in Moline, Ill., after 41 years of service. He was involved in international logistics for most of his career.
Rob Pfaff has started a professional genealogy service, Chasing the Past Genealogical Services, LLC. He was a college chemistry professor for 36 years.
1976
Garth Gardner is executive vice president of Operations for Optum International, working from the company's Sao Paulo, Brazil, headquarters.
1977
Nora Gottschalk Sale retired in May after more than 30 years in development and non-profit management. Most recently, she served as senior director of development and campaign for the Zoological Society of Milwaukee.
1978
Keith Brill received the 2018 D. Ray Wilson Volunteer Service Award from Judson University. He is controller for Clad-Rex Steel in Franklin Park, Ill., and has been a volunteer for the Elgin Community Crisis Center for 28 years, serving on its board as president, treasurer and now vice-president.
Paul Dennhardt retired from Illinois State University on June 30, 2019. He continues his freelance career as a fight director in professional theatre. Recent professional credits include Romeo and Juliet at the Alabama Shakespeare Festival, Sweat at People's Light Theatre in Pennsylvania, and Macbeth, Hamlet and The Conclusion of Henry the Sixth at the Utah Shakespeare Festival.
Diane Wilson retired in May 2019 after more than 40 years as a medical technologist (clinical laboratory professional) at Rockford Memorial Hospital/Mercyhealth.
1979
Heidi Evans Klodd and her husband, David, own and operate a vineyard/winery/event venue in Indianola, Ind.
Paul Obrock was installed as chair of the Illinois Section of the Pierre Fauchard Academy (PFA). The PFA is an international honor organization for dentists with more than 10,000 fellows encompassing 11 regions and 86 countries.
1980
Madelyn Kerback Anderson was named to Sycamore Music Boosters Hall of Fame, and received the Advocate Award.
Stephen Kowalsky is pursuing a Doctor of Philosophy in Music Composition at the University of Chicago.
1981
Jane Dalton was awarded tenure and promoted to rank of associate professor of art education at the University of North Carolina Charlotte. She co-edited a three-volume book series on Contemplative Practice, Pedagogy and Research (2019), Rowman & Littlefield, and The Whole Person: Embodying Teaching and Learning through Lectio and Visio Divina (2019), Rowman & Littlefield.
Kenneth Paulus was named president and CEO of Prime Therapeutics, Egan, Minn.
1982
Gary Aiken retired after teaching for 37 years in Texas. He spent the last 26 years teaching instrumental music at New Caney Independent School District.
Trudy Pollard Bennorth retired from teaching and coaching in District 204 in Naperville, Ill., after 24 years.
Mahlon Erickson is the 9th grade physical science/conceptual physics teacher at Cristo Rey OKC Catholic High School in Oklahoma City, Okla.
Mark Pedersen retired from AT&T after 32 years.
1983
John McGehee was appointed by the Illinois Supreme Court as a resident circuit judge for Rock Island County. He has served as state's attorney for six years.
1984
Brent Gwaltney is the chief executive officer of Consolidated Energy Ltd. in Wollerau, Switzerland. He and his wife, Linda Mezger '84 Gwaltney, live in Richterswil, Switzerland.
Grant Koeller retired from the United States Air Force Band, which includes six performing ensembles, in 2011 after 23 years of service. Currently he is a private music teacher and performer in Dayton, Ohio.
Rick Milbourn retired from United Technologies in 2017 after more than 33 years.
Sue Rezin announced her bid for the GOP nomination to run in the 14th Congressional District (Illinois) in 2020.
1985
Rich Biesterfeld retired from State Farm Insurance in April 2018 after a 32+ year career in IT. He currently is pursuing his interest in photography; he recently was awarded the top prize in the 2019 Amazing Arizona Photo Contest.
David Miller has written and produced seven full-length plays, all of which have been produced at the high school level. Six have been produced multiple times in summer stock with adult casts. Currently, he is working on a graphic novel and movie adaptation of a play. In addition, he is a writer/photographer for the Cass County Star-Gazette in Beardstown, Ill.
1986
Jeffrey Frick was selected by Washington and Jefferson College as the new vice president for academic affairs and dean of the college.
Julie Sena Hoffman is the director of development at The Center for Violence Free Relationships.
1987
Lynda Schweinberger Lunday received a M.Ed. in deaf education/special needs in 1989 from the University of North Florida. She married her husband Kevin, who was an ensign in the United States Coast Guard (USCG). Lynda  received her master's in speech pathology in 1993. She continued to work as a medical speech language pathologist (SLP) in hospitals and clinics, and she had her own swallowing disorders clinic. She gave up full-time work when her husband became a Rear Admiral in the USCG. He currently is the Commander of District 14 (the South Pacific), and they are based in Hawaii. Lynda continues to work per diem as a medical SLP.
1988
John DeCero, president and CEO of Mechanics Bank, will be co-CEO of the new Mechanics Bank, which acquired Rabobank, N.A.'s retail, business banking, commercial real estate, mortgage and wealth management businesses.
Collis Jones was named to the Thurgood Marshall College Fund Board of Directors. He is vice president, U.S Public Affairs Policy & Strategy, for Deere and Company.
1989
Douglas Holtz was called as lead pastor to Calvary Lutheran Church (ELCA) in Oshkosh, Wis., in 2018.
Peter Novota is a family medicine physician with Marin Community Clinics, Calif.
1990
Paul Johnson was hired to serve as associate state director of the Wyoming Small Business Development Center Network.
1991
Tom Jessee was inducted into the inaugural class of the A STEP UP Assistant Coaches Hall of Fame. It is the first Hall of Fame of its kind that specifically recognizes NCAA Division I, II and III men's and women's assistant basketball coaches. He has been an assistant coach for Augustana men's basketball for 26 years.
1992
Laura Freeman Knoke earned her master's of education in learning & technology from Western Governors University. She works as an itinerant teacher of students who are blind or have low vision and recently was promoted to department chair for the Fort Wayne, Ind., school district.
1993
Patricia Gomez Castro is the acting state's attorney for Rock Island (Ill.) County.
Eric Rowell, Augustana's assistant director for admissions and diversity outreach, was honored by the YWCA Quad-Cities Race Against Racism.
Karen Schwelle is a senior lecturer and English language specialist in the McKelvey School of Engineering at Washington University in St. Louis.
1994
James Toppert was re-elected to the Riverdale, Ill., School Board.
1995
Erik Doughty is chaplain at Augustana Health Care Center in Minneapolis.
Maria Venegas Trigueros earned a master's in secondary education with endorsements in ESL and social sciences. She is an EL English teacher at Rock Island High School and a member of the Moline-Coal Valley School District Board. Her son, Armando Trigueros Jr., is a member of Augustana's Class of 2023.
1996
Kimberly Bath married Ryan Daufeldt on Sept. 23, 2017.
1997
Audrey Wheeler Adamson received the Governor's Volunteer Service Award for her work with the Girl Scouts. She is the assistant director of student affairs at Western Illinois University-Quad Cities and a member of the Moline School Board.
LaVette Allen was promoted to vice president, internal controls at Bluefin, a payments technology company in Atlanta, Ga.
Lauren Webb-Elbaz is the speech language pathologist at El Segundo High School in the El Segundo Unified School District (Los Angeles County).
1999
Jane VanVooren Rogers married Arturo Villagomez on June 7, 2019. She is a market analyst for Collabera, and a freelance writer and editor.
Heather Dowding Tipton earned a master's in nursing education.
2000
Luke Cooley is a project manager for Modern Woodmen of America in Rock Island.
2001
Elizabeth Oakdale Davis had a son, Carter Christian Davis, on April 4, 2019 (Christian).
Nicole Habich married Michael Martin on June 21, 2019.
Laura Licari is an assistant professor of clinical sciences at Roosevelt University College of Pharmacy in Chicago.
Janel Matousek Sullivan and Jonathan Sullivan '04 have relocated to Conifer, Colo. Janel is a speech pathologist at University of Colorado Hospital and Littleton Adventist Hospital. Jon is co-owner of Gen Con Systems, a fire protection company based in Golden, Colo.
2003
Elizabeth Blazevich Okeke-Von Batten had a son, Julian-Sebastian, on Nov. 17, 2018 (Karl-Marx).
William Dwyer is principal of West Chicago Community High School.
Mary Rudakas married Tony Bonk on Sept. 9, 2017.
2004
Aaron Kivisto, associate professor of clinical psychology at the University of Indianapolis, was the lead author on a study on gun violence published July 22, 2019, in the American Journal of Preventive Medicine.
Woody Loverude is the director of the Writing Center at Grace Church School in New York, N.Y., where he also teaches literature classes and coaches the boys' JV basketball team.
Jonathan Sullivan and Janel Matousek '01 Sullivan have relocated to Conifer, Colo. Jon is co-owner of Gen Con Systems, a fire protection company based in Golden, Colo. Janel is a speech pathologist at University of Colorado Hospital and Littleton Adventist Hospital.
Lindsay Harden Tanquary had a son, Dolan, on March 10, 2018 (Scott).
2005
Jessica Baumgartner Harms had a son, Ezra, in January 2018 (Zoe, 7). She is a licensed clinical social worker and therapist with the University of Illinois.
Ashley Hillard married David Allard on June 13, 2019.
Annie White Ladnier is the pastor of Hope Lutheran Church in River Falls, Wis.
Colleen Wynne Nagy had twin daughters, Genevieve Faye and Grace Caroline, on Feb. 7, 2019.
Mike and Alex Corson Wenz had a son, Caleb Wenz, on April 4, 2019 (Luke, 10, and Isaac, 8).
2006
Ashley Poust earned a Ph.D. in integrative biology from the University of California Berkeley. He is employed at the San Diego Natural History Museum.
Andrew Quain is the head football coach at Prairie Central High School in Fairbury, Ill.
Nick Stirrett is an assistant coach for the Oregon State University women's soccer team.
2007
Kristen Ufheil Lawson had a son, Kaine Thomas Lawson, on Feb. 22, 2019 (JoliAnne, 5; Ella, 4; and Scarlett, 2).
Sarah Konfirst Mayer had a daughter, Emily, on April 7, 2019 (Nathaniel).
Rebecca Richardson was made a partner in the law firm of O'Donoghue & O'Donoghue in 2019. She has two daughters, Isla (born 2015) and Aoife (born 2018).
2008
Katie Kluever Carton had twins, Andrew and Jacob, in October 2018 (Mike; Michael, 7). She works for Congressman Dave Loebsack.
Clyde Andrew Walter was named vice president for advancement, Lutheran School of Theology at Chicago.
2009
Jeff Becker and his father, Brian, published a book, Tender Lions – Building the Vital Relationship Between Father and Son.
Brent Boyens was promoted to senior product manager at DocuSign in Chicago.
Rachel Gahn married Paul Scott on Aug. 11, 2018, in Augustana's Ascension Chapel.
Emily Jacobs was elected as a trustee for the Village of Winfield. She is the youngest elected official in Winfield's history and the only woman currently serving on the board
Matt Mencarini is a reporter at the Courier Journal in Louisville, Ky.
Matthew Pruitt is chief experience officer with VSBLTY, a leading retail software and technology company.
Kevin Ryan had a son, Jack, on March 31, 2019 (Olivia; Coleton, 7; Annabelle, 6; and Calvin, 4). Kevin is a managing director at Northwestern Mutual.
David Sally is the assistant athletic director for West Aurora High School.
2010
Caitlin Diamond married Nathan Dikun on Aug. 26, 2017. She is a pricing and contract analyst with Beltmann Integrated Logistics.
Bobby and Dana Swanson Olson had a son, Andy, in December 2018.
Christopher Schilf graduated from his Northwestern anesthesiology residency in June 2018, and is pursuing advanced subspecialty training in cardiothoracic anesthesiology at Duke University Hospital in Durham, N.C.
2011
Anna Knepler married Nick Chumbley on July 6, 2019.
2012
Hilmir Kristinsson and Samantha Bazely '13 had a daughter, Vala, in June 2018.
2013
Alyssa Anderson received her Doctor of Optometry from the Pennsylvania College of Optometry at Salus University in 2018. She is an optometrist at Virdi Eye Clinic in Rock Island.
Samantha Bazely and Hilmir Kristinsson '12 had a daughter, Vala, in June 2018.
Asta Gustafson is a human services caseworker with the State of Illinois Department of Human Services.
Rylee Hall is pursuing his post-bachelor's paralegal certification at the College of Saint Mary.
Samantha Lach received her unrestricted mental health counseling license, LCPC, in March 2019.
Alexander Lawson and Gianna Pecora were married on Sept. 22, 2018.
Lauren Novak earned her Doctorate of Veterinary Medicine from the University of Illinois in 2017. She works at Chimp Haven in Keithville, La.
Bailey Eilering Yeager received her Doctorate of Dental Medicine from Southern Illinois University on June 1, 2019.
2014
Jesse Alexander was named the men's track and field coach for McPherson College in McPherson, Kan.
Jacqueline Cozzone Arnold earned her Doctor of Optometry from the Illinois College of Optometry in 2018. She is an optometrist at Forsight Vision in Long Grove, Ill.
Lydia Boyle is an occupational therapist at the Mayo Clinic in Jacksonville, Fla.
2015
Karlie Everett is a self-directed care provider with Care Wisconsin.
Haley Fox is the assistant sports information director at St. Ambrose University in Davenport, Iowa.
Lorraine Stamberger married Robert Foelske on Sept. 8, 2018. She completed her master's in natural resources and environmental sciences from the University of Illinois in December 2018.
Rachel Vandermyde graduated from the University of Illinois College of Veterinary Medicine with a Doctor of Veterinary Medicine. She is an associate veterinarian at Coyne Veterinary Center in St. John, Ind.
2016
Jeneen Schier Anderson is a veterinarian with the Iron Mountain Animal Hospital in Iron Mountain, Mich. She earned her Doctorate of Veterinary Medicine from the University of Illinois in 2019.
Ryan McCormic is a logistics officer in the United States Marine Corps.
Anna Moorhead is a mission ambassador at Lutheran School of Theology at Chicago.
Madeline Ruzek married Maxwell McCarty on July 20, 2019.
Jacob Soukup is a marketing communications associate with American Hydrotech, Inc.
2017
Rashaun DeBord earned a master's in history from the University of Illinois-Springfield in May, and is employed at Washington University.
Emily Grooms is a school psychology intern at Black Hawk Area Special Education District in East Moline, Ill.
Robert Rosene is a graduate student in agricultural economics and agribusiness in the University of Arkansas College of Agricultural, Food and Life Sciences. He successfully defended his thesis titled "Producer Preferences for Alternative Irrigation Practices in the Arkansas Delta." Upon graduation, Robert will be a data analyst at H.C. Schmieding Produce LLC in Springdale, Ark.
Christopher Saladin is a graduate resident advisor (RA) at the University of Minnesota.
Alexiss Santoni is a graduate student at The Chicago School of Professional Psychology.
Connor Woolf is a sales executive at Zillow, an online real estate database company based in the Seattle, Wash., area.
2018
Ryan Powers joined Park City Investments as a financial consultant.
Natalie Wuest is a virtual volunteer with the Almost Home Foundation in Schaumburg, Ill.
2019
Maggie Bednarek is an intern at the Stillman Nature Center in South Barrington, Ill.
Alyssa Mish is an account coordinator with Creative Group, Inc.
Brendan Walker is an account manager with American Marketing and Publishing.
Deaths
(received as of Sept. 15, 2019)
Geraldine Peterson '39 Turner on March 11, 2019. Survivors include her son, James Turner '77.
Jeannette Bennett '42 Carpentier on June 7, 2019.
Richard Peterson '42 on June 2, 2012.
Mildred Larson '43 on Aug. 10, 2019.
Betty Fridlund '44 on March 23, 2018.
Marlowe Tillberg '45 Nordlander on Feb. 26, 2019.
Lois Anderson '46 Roby on April 10, 2019.
Marjorie Anderson '47 Carlson on June 28, 2019. Survivors include her daughter, Lisa Carlson '75 Goodale, and granddaughter, Meredith Goodale '14.
H. June Freitag '47 Engstrom on Aug. 25, 2019.
Mary Buck '47 Lindquist on March 30, 2019. Survivors include her son, Kirk Lindquist '72, and grandson, Anders Lindquist '04.
C. Jean Dunbar '48 Arndt on April 13, 2019.
Calvin Peterson '48 on April 9, 2019.
Thelma Werner '50 Crane on July 13, 2019. Survivors include her daughter, Martha Crane '73 Scheidler.
Lawrence Larson '50 on Nov. 29, 2017. Survivors include his daughter, Lori Larson '78 Meneghetti.
Doris Hillquist '50 Lundahl on April 26, 2019.
Miriam Burton '50 Olson on Sept. 8, 2019. Survivors include her sister, Elsa Burton '52 Orescan.
Harry Peterson '50 on Oct. 15, 2018.
Ferris Noble '50 Schrock on March 4, 2019. Survivors include her husband, Ernest Schrock; daughter, Diane Schrock '72 Prill; son-in-law, Charles Prill '73; daughter, Elaine Schrock '82 Clawson; and grandson, Kevin Prill '03.
Robert Taube '50 on April 8, 2019.
Marilyn Wicker '51 Cavanaugh on May 12, 2012.
Richard Hendricks '51 on Sept. 11, 2019. Survivors include his wife, Joan Herrstrum '72 Hendricks, and daughter, Denise Hendricks '80 Pelham.
William Johnson '51 on March 9, 2019.
Nils Nelson '51 on June 10, 2019.
Shirley Briere '51 Parker on Feb. 8, 2017.
Arthur Roop '51 on April 8, 2018. Survivors include his wife, Marilyn West '52 Roop.
Nancy Nylen '52 Kalweit on March 5, 2019.
Lloyd Melis '52 on Aug. 14, 2015.
Letty May Walsh '52 Newman on April 23, 2019. Survivors include her son, Craig Newman '89.
Mardell Parker '52 on March 17, 2019.
Donna Rein '52 Swanson on Jan. 9, 2014.
Lester White '52 on July 4, 2019.
Beatrice Swanson '53 Beyerhelm on March 27, 2019. Survivors include her husband, Carl Beyerhelm '51, and sister, Martha Swanson '59 Sundquist.
Curt Pierson '53 on Aug. 4, 2017.
Bette Charlene Hill '53 Renner on Aug. 24, 2018.
Ann Hendrickson '53 Tinsley on July 16, 2019. Survivors include her daughter, Suzanne Tinsley '74 Butler.
Beverly Carlson '53 Wessman on April 20, 2019.
Donald Baustian '54 on May 18, 2019. Survivors include his wife, Beverly Baustian.
Annabell Larose '54 Brunell on March 31, 2019. Survivors include her husband, Robert Brunell '52.
Dolores Goldstein '54 Greenspan on March 4, 2019. Survivors include her husband, Alan Greenspan.
Carolyn Bloomquist '54 Hallin on Nov. 11, 2018.
Phyllis Hult '54 on Nov. 20, 2018.
Carole Sahlin '54 Magnuson on June 22, 2019. Survivors include her husband, Bruce Magnuson.
Gloria Morgan '54 Paulsen on July 30, 2019. Survivors include her husband, Donald Paulsen '55, and son, Bryan Paulsen '80.
Mary Iverson '54 Peterson on July 24, 2019. Survivors include her son, Jeffrey Peterson '77, and daughter, Martha Peterson '79 Eggemeyer.
Eunice Berg '54 Stokes on March 20, 2019.
Jeanette Swanson '55 Miller on Aug. 10, 2019. Survivors include her husband, Riggs Miller.
Janice Swanson '55 Moore on June 13, 2019. Survivors include her husband, Stanley Moore; and sisters, Constance Swanson '57 Moore and Luray Swanson '60 Wiberg.
Othelia Johnson '56 Dillbeck on Aug. 27, 2019.
John Guthrey '56 on June 14, 2019.
Joann Larkin '56 Zelm on March 15, 2019.
Richard Hosking '57 on March 27, 2019.
Roy Larson '57 on Jan. 31, 2019. Survivors include his wife, Janice Kuster '56 Larson.
Henry Power '57 on Feb. 4, 2019. Survivors include his wife, Eleanor Johnson '62 Power, and son, Scott Power '85.
Max Harksen '58 on April 3, 2019.
Willard Hedberg '58 on March 26, 2019. Survivors include his wife, Mary Hedberg, and sister, Carolyn Hedberg '52 Vandeventer.
A. John Robinson '58 on April 3, 2019.
Charles Christophersen '59 on July 26, 2017. Survivors include his wife, Carol Christophersen.
Norman Lefstein '59 on Aug. 29, 2019.
Burdette Ringquist '59 on July 10, 2019.
Jack Smith '59 on April 17, 2019.
E. Robert Greenway '61 on March 8, 2019.
Donald Kain '61 on March 31, 2019.
Sulah Seward '61 Robinson on May 27, 2019. Survivors include her daughter, Julie Coyne '82 McFarland.
C. Darlene Wilcox '62 Durkee on Aug. 22, 2013.
Richard Housman '62 on July 15, 2019.
Katherine Knanishu '62 McCutcheon on March 26, 2019. Survivors include her sister, Sallie Knanishu '67.
Robert Mindock '62 on May 21, 2019.
Mary Johnson '62 Savely on May 11, 2019. Survivors include her sons, Peter Savely '86 and Michael Savely '90, and daughter, Sharon Savely '89 Lantzky.
F. Glen Erickson '63 on July 1, 2019. Survivors include his wife, Pam Erickson.
Donnajean Jeppesen '64 Kabella on Sept. 26, 2018. Survivors include her husband, George Kabella '64.
Carl Palmquist '64 on June 30, 2019. Survivors include his sisters, Betty Palmquist '63 Lankers and Charlotte Palmquist '59 Shanks.
James Anderson '65 on April 29, 2019. Survivors include his wife, Mary Anderson.
Kathryn Peterson '65 Becker on April 12, 2019. Survivors include her sister, LaVona Peterson '48 Farney.
Judith Bell '65 Gustafson on June 18, 2019. Survivors include her husband, Chester Gustafson.
Raymond Peterson '65 on Feb. 10, 2019.
Lawrence Pohlmann '65 on July 3, 2019. Survivors include his wife, Janet Pohlmann.
Rolf Larson '66 on March 11, 2019. Survivors include his wife, Linda Larson, and daughter, Britta Larson '02.
Julie Lindley '66 Rodell on May 13, 2019. Survivors include her husband, Gary Rodell, and son, James Rodell '92.
Lucille Kehoe '66 Siefers on June 28, 2019.
Martin Knanishu '70 on June 17, 2019. Survivors include his sister, Sallie Knanishu '67.
Robert McKinley '70 on May 25, 2019.
Linda Wilson '70 Swenson on June 17, 2019.
Paul Bown '71 on March 3, 2019. Survivors include his wife, Susan Brown.
Kathlyn Johnson '72 Hall on May 13, 2019.
Gaylor Nelson '72 on May 26, 2019.
Barbara Jacobs '73 Fackel on Aug. 22, 2019. Survivors include her husband, Joseph Fackel.
Dean Cady '74 on Aug. 8, 2019.
Michael Hemmingson '74 on May 21, 2019. Survivors include his wife, Laurie Stelle '77 Hemmingson.
Terrence Drengwitz '75 on May 26, 2019.
Edward Millet '80 on April 18, 2019.
Pamela Carlson '82 on May 5, 2019. Survivors include her sister, Eileen Carlson '79.
Gregory Adamson '83 on June 11, 2019.
Ross Campbell '83 on April 8, 2019. Survivors include his wife, Carol Davis '83 Campbell.
Mary Sirevaag '91 on June 18, 2019.
Jennifer Albert '05 Gavlin on March 16, 2019.