5 things to know before coming to Augustana
Welcome Class of 2027! We can't wait to see you on campus. And to make things easier for you, here are five things to know before you arrive:
Get involved.
Visit the Student Activities Fair during Welcome Week and learn about our 200 student groups and organizations. Being involved will help you  meet new people and experience new things! From athletic groups to Greek life to the performing arts —and everything in between — there is always something to do at Augustana. 
Get out of your comfort zone.
Leaving home, moving to a new city and meeting new friends can be scary. But be open to new experiences and opportunities that come your way. Spread your wings and create memories that will last a lifetime.
Utilize campus spaces.
Studying in your bed can be tough; utilizing campus spaces helps you focus better and gets you out of your room. Find a favorite spot in Brew by the Slough, the Thomas Tredway Library, Old Main, etc. Just a simple change of scenery can help you be more focused and productive. 
Ask for help.
Everyone at Augustana is here to help you reach your fullest potential! Our faculty and staff are cheering for you. Augustana offers many campus resources to support you in and out of the classroom.
Have fun!
College is the time to learn who you are! Take every opportunity to learn about something new, study abroad, find an internship, try a new club sport or get involved in student government. Play Augie's version of Bingo (so popular), go to the concerts and see the comedians who come to campus, attend free theatre productions, try new foods, make new friends and make memories that will last a lifetime. Reach boldly, and shine brightly at Augustana. 
Viking notable mentions:
• Comfortable walking shoes are a must. The campus is 115 acres of pure beauty; you will want to explore it all.
• A heavy winter coat and boots are necessary. Don't mess around with below-freezing wind chills. 
• Viking Bucks — don't spend them all in the first month. We know Brew by the Slough and Gus' Snack Bar are tempting, but use your Viking Bucks wisely.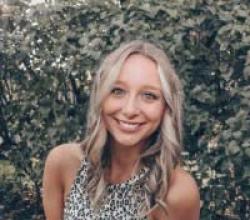 Tobi Matter
Digital Content and Social Media Specialist