6 thoughts every Augie student has when it snows
The snow so far this year has been unexpected, and Augie students are noticing. As we woke up, passed each other on the Quad and grabbed our coffees from the Brew, we all had the same thoughts about winter.
1. Is class canceled?
Unfortunately, no. It's only a couple inches of snow, but we can still hope for miracles! Your professor feeling ill is more likely to get your class canceled than the weather.
2. Do I have to get out of bed?
The answer is, unfortunately, yes. See #1 for why. Your professors are waiting for you. AND since you worked so hard on your homework last night, you might as well go turn it in.
3. Wait, I don't have all my winter clothes!
This fall/winter has been kind of fickle. It was like 50 degrees last week, and now I need my winter coat and every scarf I own? 
4. What's the largest hot chocolate they sell in the Brew? I want it.
Luckily, there are ventis available to keep us warm. And if you need more caffeine, the Brew makes some delicious lattes. Grab a caramel latte and think of me.
5. So, I can really officially play Christmas music now right?
If you're anything like my roommate who has been playing Christmas music since the beginning of October, sure. Thanksgiving is officially over so I guess bring on the fa-la-las.
6. I can't wait for spring break!
If I close my eyes and pretend I'm on a beach in Mexico, finals will end and spring break will come sooner, and I'll be warm again. I'm not sure that will really work, but we can at least try. 
Stay safe and warm out there, Vikings!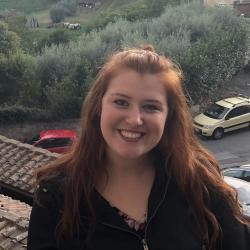 Chelsea Meyer
Chelsea Meyer is a senior from Roscoe, IL. She is double majoring in Communication Studies and Multimedia Journalism & Mass Communication while on the Pre-Law track. 
On campus she's involved with Greek Council as the service chair, a member of the Delta Chi Theta Sorority, and a member of the Women's Golf Team.