For the Birds: Greenland Field Journal #2
Week 2 is coming to a close up here in Thule.
This week was mostly defined by trapping small songbirds. Taking measurements such as wing and beak length is a very important task as it shows the condition of the bird and is especially interesting when we catch the same bird again.
Newly captured birds are banded with a color band, and a silver government band for individual identification. The birds must be removed from the trap quickly, otherwise they will fly right past you if you are caught being too slow. The main birds being caught are snow buntings and Lapland longspurs. Redpolls have apparently been caught before, but we have yet to catch any.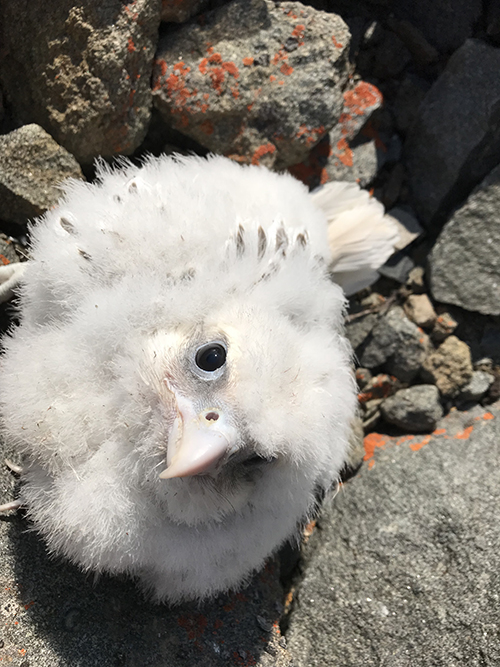 Thursday was a grueling but rewarding day.
Dr. Jeff Johnson from the University of Northern Texas arrived to join the team in the field. We hiked up Dundas mountain, a rather steep mound of rock that gyrfalcons and peregrine falcons call home. The hike was difficult, and not particularly pleasant but we needed to band the gyrfalcon chicks and retrieve last year's camera.
All four chicks in the nest were banded and carefully sent back up to the nest. We scouted out the peregrines to confirm they were present, and indeed they were. Peregrines are very aggressive when guarding a nest, so Dr. Johnson was getting dive bombed as he drew near.
A second trip to Dundas is needed to retrieve the camera in their nest, which means another nasty trek.

Being in good shape is very important out in the field. Hiking, climbing, and lifting heavy objects are all expectations when working. I feel this is often something that people may overlook, thinking science is just sitting in a lab.
These birds often nest in hard to reach areas, and they don't care if you can't jump over a rock. Being in bad shape doesn't just make it harder, but more dangerous. Science is much more than playing with test tubes in a sterile environment, so be mindful of that.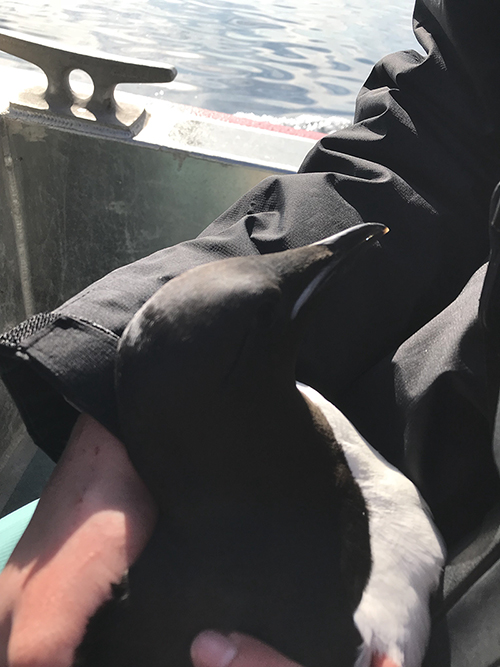 Friday was our first time on the boat for the field season.
The boat is mandatory if we want to explore the islands in the area for seabirds. We went to Saunders Island, an island straight out from Thule. The cliffs were covered in kittiwakes and mures, which are seabird species. Dr. Burnham got out of the boat and used a dip net to catch around 20 birds total. It
 
was very hectic, taking measurements, samples, getting bitten, and banding the birds. The entire trip took about 8 hours, which honestly flew by quickly.