Consider this before declaring a neuroscience major
If you're wondering what a neuroscience major involves, possible careers in the field and what you should consider before declaring, here are some tips.
What is neuroscience, and why should I major in it?
Neuroscience is the study of the biology behind thoughts, perceptions, emotions, motivations, decisions and actions. You explore the amazing neurological connections between the brain and behavior. 
Although the major is based in Augustana's psychology department, you'll also have the opportunity to take classes in areas like biology, philosophy, plus the liberal arts. This is an interdisciplinary major where you don't have to choose only the sciences or the humanities; you get to take classes in both.
In neuroscience as well as psychology, you'll find plenty of opportunities for hands-on experiences and data collection/assessment. If you like doing research or think you might like doing research, neuroscience is a good way to find out for sure.
Having a strong background in high school biology or chemistry is a bonus when studying neuroscience in college, though not critical. In addition, high school courses in electronics, biology, chemistry, geology, geography, human biology, physics, mathematics, computer science or psychology give you an advantage. 
How do I choose a neuroscience school?
If you know you want to study neuroscience, make sure the schools you consider will offer the support you need to be successful while you're a student and after you graduate. Here are some things to look for:
• Faculty attention and mentorship
Augustana has an 11:1 student-faculty ratio, and professors are able to truly get to know their students, regardless of major. The ability to form relationships with professors gives Augustana students opportunities to find mentors and advisors in their field, and many serve as research assistants or co-authors as undergraduates. These close relationships can result in grad school reference letters that will help you stand out!
Because professors are focused on student success, teaching is their first priority. There are no teaching assistants at Augustana; 100% of classes are taught by professors.
At Augustana, three full-time neuroscience faculty have a Ph.D. in psychology or neuroscience, with expertise in the areas of learning and memory, pain and drug-seeking behavior, communication, cognitive and affective neuropsychology, and sensation and perception.
Faculty from the biology, computer science, communication sciences and disorders, philosophy and religion departments also teach courses in the major. As is common in most Augustana majors, neuroscience majors complete a Senior Inquiry capstone experience, which involves research on or off campus with a project faculty mentor.
• Career and internship support
The career mentors and advisors at CORE (Careers, Opportunities, Research and Exploration), Augustana's career and exploration center, help an average of 150 students find health care-related internships or job shadows each year.
Students go to CORE for career coaching, help with graduate school applications and résumés, internships, study abroad and more. Also through CORE, every student has access to $2,000 Augie Choice funding to support a standout learning experience such as research, an internship or study abroad.
If you major in neuroscience at Augustana, you can apply to participate in the prestigious Texas Medical Center Summer Research Internship Program, as well as other high-quality internships and opportunities to practice empirical research.
• Research opportunities
Look for a college that encourages research and participation in national and international conferences to present your research. 
Augustana students often travel to present their research as part of their professional development. Examples for neuroscience majors include: Midbrains: The Undergraduate Neuroscience Conference of the Upper Midwest, the Chicago Society for Neuroscience and the Undergraduate Research Symposium in the Biological Sciences and Psychology sponsored by the Midstates Consortium for Math and Science.
Conducting research and presenting your results before peers in your field looks great on a job or grad school application.
So, what can I do with my neuroscience degree when I graduate?
A challenging yet rewarding major, neuroscience can be an excellent starting point to a career in medicine, psychology or research science. 
Undergraduate neuroscience majors typically earn advanced degrees in neuroscience or a related field like psychology, and many choose to go to medical school and pursue a career as a physician, surgeon, psychiatrist, psychologist, neuroscientist*, genetic counselor, substance abuse and behavioral disorder counselor, industrial organizational psychologist and college professor.
*Neuroscientists work in both offices and laboratories, often as part of a multi-function research team. Common workplaces include universities, hospitals, government agencies and private industry settings. In research-oriented careers, neuroscientists typically spend their time designing and carrying out scientific experiments that contribute to the understanding of the nervous system and its function.
Keep in mind you don't need a graduate degree to have a great career. With only a B.A. in neuroscience, you may qualify for many positions. A partial list includes:
Pharmaceutical sales representative
Laboratory technician 
Medical technician
Pharmacy technician
Regulatory affairs specialist
Psychometrist
Science writer or editor
Clinical research assistant
Patient care assistant
Health educator
EEG technologist
Medical and health care manager
Natural sciences manager
Advertising or marketing representative
How much do neuroscientists make?
Earning an advanced degree in neuroscience will help you find higher-paying jobs in management positions and careers in policy work, in addition to science and medicine.
Qualifications for a neuroscientist include extensive laboratory experience; strong research, analytical and communication skills; and a familiarity with common neurological disorders. 
The average annual salary for a neuroscientist is $73,500, according to payscale.com in October 2020. 
Now what?
If you're a high school student still searching for the right college, our admissions team can help you decide if Augustana is a good fit for you. Start by exploring our admissions information, including visits and financial aid, or request more information.
If you're already in college and wish to transfer to a school that offers a neuroscience major, start by exploring our options for transfer students.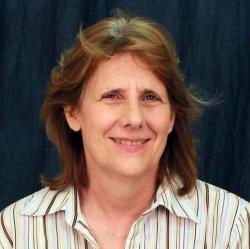 Debbie Blaylock
Editorial Director, Communication and Marketing