How to choose a major
Navigating the future can often feel like driving through a thunderstorm on the highway: It's scary, you can't see what's ahead of you, and if you go too fast, you might swerve into the wrong lane. It's unpredictable, but not uncontrollable.
One of the first big steps we take by coming into our own is figuring out what we want to do for the rest of our lives. You might be one of those fortunate enough to know exactly which career you wish to pursue and the major you need to achieve that. In that case, all the power to you.
However, for some students, it's a bit more difficult.
I think it's safe to assume we all want the same happiness, financial stability and job satisfaction that the "American Dream" promises. Unfortunately, there isn't a road map on how to get there, and we're expected to figure out where to start our journey before we turn 18. 
At least, that's what I thought.
A majority of universities and colleges are lenient about major declaration. Augustana students generally declare their major(s) by the spring semester of their sophomore year, but as one of the aforementioned lucky ones, I declared myself a geology major my freshman year. 
This gives you a full year and a half to explore your college courses and determine who you want to be and what you want to do, all well past the age of 18.
For those entering college who prefer to hit the ground running with a set plan, but are still unsure about which major to choose, here are a few questions to ask yourself to help with your decision.
What do you love to do?
I want to emphasize that you should be asking what you love to do, not what you like to do. Whatever career you intend to go into, it should be something that gets you excited. Ideally, it should be something that you won't get burned out of quickly and that you can see yourself doing and wanting to get better at. 
If you eat, sleep and breathe the performative art of theatre, then you should pursue a theatre arts major. At Augustana, you can specialize some degrees into a form that works best for your passions. This might look like a major in theatre with a focus in musical theatre, dramaturgy or the technical aspects.
If you love learning about the world around us and answering questions about how it works, consider looking into physics or chemistry. If your interests go beyond our atmosphere into the solar system, there's an astronomy major waiting for you.
Can you make a career out of it?
While it is absolutely encouraged to follow your passions, tread carefully and make sure there's a place for you in the job market. Depending on the occupation, filling open job slots can be competitive. The same goes for applying into graduate programs if you want to obtain a graduate degree. 
That's why schools like Augustana go above and beyond to make sure their students are more than qualified and have the competitive edge to get noticed. If your passions lie in helping to better the health of your community, you're in good hands. Augustana graduates have had a 100% acceptance rate for master's programs in public health (M.P.H.) since 1997, when our first applicant was accepted. 
You'll also want to make sure that if your major doesn't have a set career path, learn skills that are transferable. This is especially important to those thinking of a major in the humanities or liberal arts. 
Additionally, keep an open mind. There's no saying where a major might take you in terms of career choices. Going with the flow could land you somewhere you never expected, but you're glad you did.
It's also important to do your research and see what majors employers are looking for in your career options. If you're thinking about going into sports medicine, it's likely that a major in kinesiology would look favorable on your résumé. 
Looking toward college, I knew I wanted to work with dinosaurs. Once I started researching what my prospects looked like, I realized I would need a major in geology, and most institutions required at least a master's. By doing my research into career options, I'm better prepared and have already accomplished one of my goals at Augustana by working with Triceratops fossils.
What's a goal you have for your life?
If you're not confident that you have something you're passionate about or that there will be a job opportunity for it, ask yourself what end goal you're trying to achieve.
Do you want peace of mind from financial stress? Do you want to travel the world? Perhaps it's always been a dream of yours to start your own business. A major in business administration could potentially accomplish all three.
Whatever you plan on doing, make sure that it's what you want to do. Outside influences may pressure you to swing one way or the other or discourage you from your tentative plans. It's important that you consider words of wisdom, but never let it dampen your spirits. 
It's your four years of college and your dreams, no one else's. 
And if you change your mind about what you want to do or discover a passion that puts you on a completely different path, that's OK! I'm sure you've heard the statistic that on average, college students change their majors three times before graduation. College is meant for you to explore new possibilities and gain new experiences. 
If you're planning on coming to campus this fall and are currently undecided, you can always find help with vocational exploration through CORE. They'll help you find an answer to any questions you might have about who you are or where you want to go in life.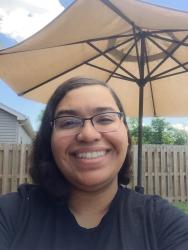 Autumn Peele
Autumn Peele graduated from Augustana College in May 2021. A geology major with a theatre minor, she has had a lifelong passion for paleontology. She plans to attend grad school and specialize in vertebrate paleontology. On campus, Autumn was the vice president of the Udden Geology Club and a student worker for Augustana's web services and new media department.