Why I chose Augie
At the beginning of my college search, I knew exactly what type of school I was looking for: an affordable, far-from-home, academically rigorous liberal arts institution with a small student population, state-of-the-art facilities, plenty of co-curricular activities and invested faculty.
I enthusiastically started my college search, certain that I would find a school that checked all of the boxes. Call me an idealist. 
To my surprise, not a single school met all of my criteria. Colleges that I could afford were too big, and colleges that were the right size didn't have the resources I knew I would need. As I began to prioritize what was most important to me, one school stood out from the rest.
Now through my first college semester, I can say with certainty that Augustana is the best fit for me. Not only has Augie checked my boxes, but it has also checked boxes I didn't even know existed. 
Here are just a few factors that made me choose Augustana:
Academics
High-quality academic programming was at the top of my list. Augustana's academics stuck out to me because in addition to providing students with a well-rounded liberal arts education, Augustana's programs are challenging and led by faculty who know and care about their students. 
Because I was not – and still am not – entirely sure about what I wanted to study in college or even what kind of career I hoped to pursue,  I knew I would need Augustana's academic and career guidance services during my four years.
Although I did not have a particular career path in mind during my college search, I knew that I wanted the flexibility to double or triple major so that I would be well-equipped for whichever career(s) I chose. When I learned that more than 50 percent of Augustana students double or triple major, I felt confident that I, too, would be able to study all my areas of interest.
I am currently pursuing a triple major in Spanish, communication studies and political science on the pre-law track and a minor in ethics. I still don't know what type of career I want to have after college, but I know that whatever it is, I'll be ready for it.
Affordability
As is the case for many students, affordability was the biggest factor to consider when making my college decision, especially because I knew that I would be funding my own education. 
College is expensive! I needed to be sure that I would be able to pay for four years of an undergraduate degree without taking on crippling debt. At the same time, I wasn't willing to sacrifice getting a high-quality education just so I could pay less for my degree.
While Augustana didn't end up being cheaper than the state school I applied to, Augustana was undoubtedly the best value. I know that when I graduate, my diploma will be more than just a piece of paper. My diploma will reflect the quality of education I received. 
Augustana offered the highest quality education for the best price. And because the scholarships in my financial aid package are renewable, I have peace of mind knowing that I will be able to afford all four years.
Balance 
"Do it all and do it well."
I knew that I was a Viking when I heard this on my last visit to Augustana in April.
My co-curricular activities are nearly as important as my coursework, so I didn't want to sacrifice the activities I loved when I went to college. 
I believe education means more than learning in the classroom. Education is the development of the whole person — body, mind and spirit. Augustana develops the whole person. Augie students work, are involved in clubs and organizations on campus, play sports, socialize, make music and feed their individual passions. And they excel at it all.
I knew that balancing all the areas of my life was important for me to be happy and successful, both in my college career and beyond. At Augustana, balance is encouraged and achievable with the support of faculty, mentors and peers. 
Thanks to my support system on campus, I am able to swim on the women's varsity team, sing in the Jenny Lind Vocal Ensemble, knit in the Yarn Club, and work on campus, all while being a full-time student … and I still have a social life!
Alumni
Strange as it may sound, alumni played a major role in my decision to attend Augustana. As the daughter of an Augie alumnus, I was determined from the beginning of my college search that I would choose a different path than that of my father. I thought this meant, in part, attending a different school. 
Even though Augustana was clearly the best option for me, I refused to apply for months until the college counselor at my high school encouraged me to apply, "just in case." My mindset about Augustana didn't change, though, until I started to mention that I had applied to Augustana.
Just about every person I told about my decision to apply to Augie knew someone who had attended, loved their experience and was successful in their career. As it turned out, I myself knew several people who had attended Augustana and had made a significant impact on my life and on our community. The more I learned about the outcomes of Augie alumni, the more I became confident in my choice to apply to Augustana.
Augustana's extensive network of alumni told me two important things: first, that Augustana graduates are highly successful across disciplines, and second, that whether I was looking for internships or jobs, Augie's alumni would be yet another valuable resource to help me be successful and make connections in the real world.
In four short years, I too will be an alumna of Augustana College. The same elements that drew me to Augustana are already helping me grow and evolve. I am incredibly grateful I found my fit at Augie. I hope you, too, can find your fit at Augustana College. Good luck in your college search!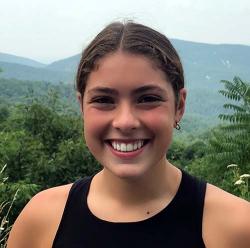 Genevieve Ryan
Genevieve Ryan is a first-year student from Rockford, Ill. She plans to triple major in Spanish, communication studies and political science on the pre-law track, with a minor in ethics.