One last semester: reflecting on my time at Augustana
One term left. 
One final term left to complete my undergraduate degree. 
I've been doing a lot of reflecting, especially when someone says 'Let's do it, this is our last time' or when someone asks me, "Wow! Can you believe it's your last semester?"
In those minutes, it hits me. It really hits me that these are the last times I will celebrate homecoming, eat in a dining hall, or wear Augie Greek letters. 
There have been a lot of ups and downs in these last four years, but each time I've grown, learned, and thrived. 
The best part about my time at Augustana has been the relationships that I have created with my peers and professors. 
I was nervous to go to a college that was the same size as my high school because I thought it would be too small or the same experience. I was wrong. 
The decision to come here was one of the best decisions I've made. 
Attending a small school means small classes, but in every way possible these small classes have benefited me. I retained more information, was more engaged, and created a relationship with each of my professors. 
I consider my professors close mentors. I took advantage of their office hours, and they pushed me to be the best student I could be. 
It has been obvious to me that the faculty and staff respect their students, and this has led to students respecting each other. 
I know that my friendships at Augustana won't end when I graduate. Augie students are genuine people who continuously seek out the best in others. 
At Augustana, you don't find your group of friends and only hang with them for the rest of your time on campus. No, at Augustana you constantly meet new people and create new friendships. 
I think back to the scared eighteen-year-old girl who was terrified she'd never make friends in college, I laugh because I'm now surrounded by the most loving and genuine people.

When I think of what I would've done differently, I think about a lot of different times and moments. But, my thoughts always redirect me because I think if I changed any part of my experience, I would've missed out on something that helped me grow. 
There are always situations I wish I would've handled differently, or nights I should've enjoyed alone with a face mask and Netflix. But, these are minor things, they don't define my time or my experience. 
My roommate asked me recently, "Do you regret your majors?", and this caught me off guard, but  I stopped and thought to myself "Do I?" and my answer was both yes and no. 
I give that answer because I think about the other opportunities I could've had here. 
I think about the unique business plans the students with business majors got to create, the field opportunities the geology students had, or the experience of the clinical work of the communication sciences and disorders students. 
I will never have those experiences of my peers, and I question that. But, then I look at my opportunities that my peers were never able to experience.  
There were so many opportunities that I had, that no other majors experienced. This includes my 'sequence' classes, creating soundbite news clips for NPR, and having an internship at the courthouse.
I also think about the close relationships I developed with the professors in my department, that other people may not have experienced. 
Out of all the professors at Augustana, I had four who taught in the field of my major that will leave a lasting impact on me. They cared the most, challenged me the hardest and fought for my success. 
So if any chance they are reading this, I want to thank them. Thank you Dr. Blommer, Dr. Kunde, Dr. Schwartz, and Dr. Yaschur. My incredible experience at Augustana wouldn't have been possible without all of you. 
 
I learned a lot from my experiences at Augie, I had low points and times where I thrived. I created relationships and everlasting memories. 
All these lessons and accomplishments have created a strong, confident, and driven woman who I am proud to be.
I'm looking forward to life after Augie, but I will never forget my experiences here. 
Thank you, to my professors and my peers.
But, thank you, Augie, for the best four years.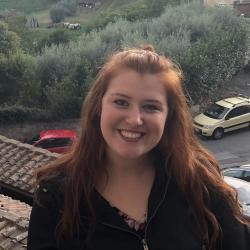 Chelsea Meyer
Chelsea Meyer is a senior from Roscoe, IL. She is double majoring in Communication Studies and Multimedia Journalism & Mass Communication while on the Pre-Law track. 
On campus she's involved with Greek Council as the service chair, a member of the Delta Chi Theta Sorority, and a member of the Women's Golf Team.