What's good to eat at Augie?
The dining hall in the Gerber Center is one of four options on campus where you can get food. The other areas include Gus's Snack Bar in the Brunner Theatre Center, the Westerlin Market in the Westerlin Dorm, and the Brew by the Slough in the Gerber Center.
All of those options allow you to use your meal swipes or pay with cash. If you're unsure of what meal plan to get, check out the dining hall website. You'll find a lot of helpful information for all of your questions including meal plans, hours, calendars, and how to order from catering. Be sure to check it out!
You have endless possibilities and unique options for meals throughout the week. My favorites are Mondays, Fridays, and Sundays in the dining hall and Wednesdays at Gus's Snack Bar. 
On Monday nights, it's breakfast for dinner! Breakfast for dinner is always a good idea in my mind, so pile on the sausage links, scrambled eggs, and hashbrowns. (YUM!)
Fridays are Fresh Fruit Fridays! They are a MUST! The dining hall brings out strawberries, blueberries, bananas, apples, and many more delicious fruits to enjoy with lunch. You'll want to get there early because it's a big hit with the students and staff. 
When the weekend come around, you'll want to stop by the Gerber dining hall for Sunday sundaes! It's the perfect way to end a weekend and indulge before the week ahead. Once you finish your dinner, head over to the ice cream machine where they have a build your own sundae bar.  (My favorite topping is the caramel syrup!)  
If you can't make it to Monday, Friday, or Sunday fun, don't worry. The dining hall always has some kind of delicious food being served like my favorite meal, the mac and cheese bar. 
If you like mac and cheese at all, you will love this. I generally like the dish, but this mac and cheese bar has my whole heart. It's beyond delicious!
On Wednesdays we eat Walking Tacos from the snack bar. Choose from Fritos or Doritos for your base, then top 'em with beans or taco-seasoned beef, lettuce, tomatoes, olives, salsa, etc. There are tons of toppings to choose from, and it's hard to go wrong. Just make sure you get there before they're sold out.
Not only is the food delicious, but the atmosphere in all of the dining areas is just as great. Grab dinner with your friends or go alone, but either way, you'll enjoy whatever you choose to eat. 
Check out this week's menu, here!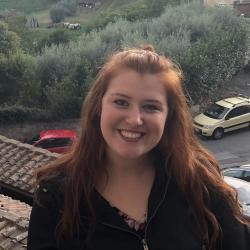 Chelsea Meyer
Chelsea Meyer is a senior from Roscoe, IL. She is double majoring in Communication Studies and Multimedia Journalism & Mass Communication while on the Pre-Law track. 
On campus she's involved with Greek Council as the service chair, a member of the Delta Chi Theta Sorority, and a member of the Women's Golf Team.