5 ways to make friends on campus
For many, college can be a major change. You're going to leave the familiarity of your hometown and high school routines. Classes and assignments are now going to reflect your future career path. And you're  going to experience a whole new level of freedom and independence. 
Above all other things, college is the time to have new experiences and meet new people. I know it may sound scary having to essentially start over and create a completely new friend group. But here are some tips to make the college transition easier!
1. Dorm life
College is one of the only places you'll be able to experience living in a dorm. Use that to your advantage! Your residence hall will be filled with other students who are going through similar experiences. 
Start by getting to know your roommate and people on your floor. Participate in as many hall events as possible, and hang out or do homework in common areas. 
2. Extracurriculars and campus organizations
Augustana offers a multitude of different extracurriculars and campus organizations that meet the interests of many of their students. 
Many current students are involved in club or intramural sports teams, Greek life, performance groups, service groups, and many more. You're  able to participate in something you love with others who also share the same passion. 
This often creates special bonds between students and gives you the chance to develop long-lasting relationships. 
3. On-campus events
One of the best things about Augustana is that there's an event (or several) almost every weekend. Whether it's a Bingo Friday, a comedian, or movie night, these events bring the campus community together. 
You're able to meet people who you might not have a class with or live in the same residence hall. Attending on-campus events gives you an automatic conversation starter and is a great way to interact with other students. 
4. Classes
Your classes will typically be filled with students who already have a similar interest as you. Build connections and relationships with students who you work with in groups or on projects. And even when the class ends, keep in touch with the people you worked with a lot!
5. Be yourself!
Yes, this may sound a bit cliche. But I don't think it is reiterated enough as to how important being yourself is! A key to having and maintaining good relationships with others starts with being true to yourself first. There will be tons of people on campus who share similar interests and personalities as you, so let your personality shine through!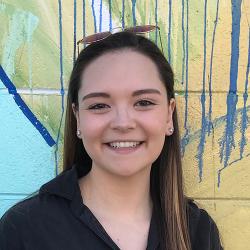 Patti Grod
Patti graduated from Augustana in 2020; she was a double major in communication studies and French, with a minor in entertainment and media studies. She is originally from Northbrook, Ill., but her family relocated to Henderson, Nev. Outside of academics, Patti was a member of the Vikings varsity swim team, director of PR and marketing for HerCampus, and a member of Delta Chi Theta sorority.