Who are the Carver Crazies?
Basketball season has begun and it's not hard to figure out who the Augustana fans are. 
 
On game nights, Carver fills up early with people of all ages sporting blue and gold. There are fans who've been regulars for years and there are young boys and girls rushing excitedly inside for the first time. 
 
The Vikings have had nights of incredible games and buzzer-beating wins, but even on the nights they aren't triumphant, their fans are always there. 
 
No matter what night of the week, Viking fans fill the stands to cheer their team to a victory. 
 
If you find yourself at a Viking basketball game, you may notice that the closer it gets to game time an interesting group of fans in strange outfits starts to trickle in. Don't worry, they aren't lost - it's a theme night for the Carver Crazies!
 
The Carver Crazies' theme nights are all different from the last. Some of the past and most popular themes have been at the beach, Christmas, neon, and jersey. During each theme, students are head to toe in colors, hair crazy, and body paint. 
But, who are these eccentric people? These supportive and enthusiastic fans all have something in common -- they're students!    
The name comes from the name of the gym, Roy J. Carver gymnasium. But, the 'Crazies' comes from the energy they create. Trust me, if you've seen them, you know exactly why they are called the crazies. 
 
These Augie students range in academic years, cultural differences, and diverse backgrounds, but cheering for the Vikings brings them all together. 
The Crazies take up a large section across from the Augie bench and are squished together jumping, screaming, and chanting for their Vikings. They communicate and act as if they're one. 
 
These Carver Crazies bring a professional basketball environment into the small Carver gymnasium. They're the ones who are fighting for Coach G's decisions and calls while critiquing the rulings of the referees. 
 
The atmosphere the Carver Crazies bring is unique because they make this small school in the middle of the Midwest feel like the most important place to be. 
 
The Carver Crazies are lucky to have the Vikings, but the Vikings are luckier to have the Carver Crazies. 
 
Do you want to see the Vikings in action? 
Click here for the Women's schedule.
Click here for the Men's Schedule.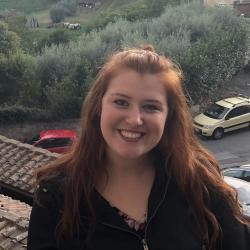 Chelsea Meyer
Chelsea Meyer is a senior from Roscoe, IL. She is double majoring in Communication Studies and Multimedia Journalism & Mass Communication while on the Pre-Law track. 
On campus she's involved with Greek Council as the service chair, a member of the Delta Chi Theta Sorority, and a member of the Women's Golf Team.