How to spend Valentine's Day in the Quad Cities
Valentine's Day as we know it is a holiday created by Hallmark, but it's become a day to celebrate romantic and platonic love of all kinds. 
This year, I'll be celebrating the day with two of my roommates and we plan to explore the fun things to do on campus in the Quad Cities. 
If you do celebrate Valentine's Day, check out the fun things to do in the Quad Cities and at Augie. If you don't usually celebrate, maybe these events will intrigue you to participate. 
Want to stay at Augie?
The Friday around Valentine's Day means one thing at Augustana: BINGO! At BINGO you can win cash, eat food and hang out with other students. 
Everyone is welcome, so put on red and pink and head to the Gavle rooms to win.
Leading up to Valentine's Day, the Phi Mu Alpha fraternity will have sales at the Brew by the Slough, where you can sign up to have your Valentine serenaded by a song of your choice. 
Plus, they'll show up wherever you ask which usually gives a nice break during the class period. This is always a good idea to do.
Make sure to check your email for information. If you have more questions you can email them. 
Don't forget the dining hall also as Augie Treats for sale! This year you can order your Valentine or favorite student a 10-inch, frosted, heart-shaped chocolate chip cookie. Order yours here. 
Exploring life off campus?
If you want to get off campus to celebrate, check out these special events happening in the Quad Cities. 
How does a moonlit walk sound? Venture over to the Black Hawk Historic Site and enjoy a walk outside on the luminary-lit trail.
If you're tired of the cold, enjoy the warm Watch Tower Lodge with fresh donuts, hot chocolate, and live music. Questions? Check out the Black Hawk Historic Site.  
Do you like hockey? The Quad City Storm play the Fayetteville Marksmen at the TaxSlayer Center. They have a special of $2 Hot Dogs and Beers before the first puck drops. The game starts at 7:10 pm.
What about dinner and a show? Dinner options are endless in the QC but don't miss out on the opportunity to see the Wedding Singer Musical at the Spotlight Theatre. 
Valentine's Day can be celebrated by anyone and everyone. You don't have to make it a romantic day with your significant other, but you can enjoy the day of love with your roommates, friends, or family! 
Happy Valentine's Day.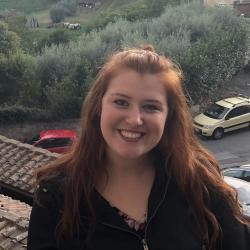 Chelsea Meyer
Chelsea Meyer is a senior from Roscoe, IL. She is double majoring in Communication Studies and Multimedia Journalism & Mass Communication while on the Pre-Law track. 
On campus she's involved with Greek Council as the service chair, a member of the Delta Chi Theta Sorority, and a member of the Women's Golf Team.