Thrilled to see Penguin Project's 'I Am Able'
As a Rock Island local, I've been fortunate to stay involved in my passions even while "away" at college. One of my passions, mentoring in the Penguin Project, is coming to the big screen in "I Am Able" on Nov. 3-13! This project started when I was in high school. Seeing it premiere this week is surreal.
"I Am Able" follows the journey of nine young people with disabilities. Along with their mentors (I'm one of them) and our directors (one of them is an Augie professor), they staged the musical "Seussical." This heartwarming documentary allows the audience to see these performers beyond their disabilities.
As a music performance: voice and French double-major, this type of community service is helpful in my future career goals. But even more importantly, being part of this project has made me a more empathetic and understanding person. It's experiences like working on "I Am Able" that have opened my eyes to the importance of diversity and inclusion in society. Embracing diversity and creating opportunities for inclusion brings people together. We can create a more understanding world when we create more opportunities for the labels to be removed.
Even though I'm super busy as a first-year Augustana College student, I've been able to balance my interests and responsibilities and stay involved with the organizations that mean so much to me. I'm also involved in choir and Augustana's theatre program, and I work part-time. While this year I'm focusing on helping Penguin behind the scenes, I just couldn't stay away. 
The Quad Cities has so many incredible organizations, like the Penguin Project, that students can get involved in. Other organizations like GiGi's Playhouse, The Gray Matters Collective, and The Arc of the Quad Cities are great ways for Augustana students to get involved in the community and explore their passions. 
"I Am Able" cast members are incredible people and performers! It was the experience of a lifetime to be involved with the project. 
"I Am Able" is screening Nov. 3-13 at the Putnam Museum in Davenport, Iowa. Sunday, Nov. 6 is a special Augustana Night; proceeds from ticket sales go directly to the Penguin Project. Tickets are on sale now and at the door.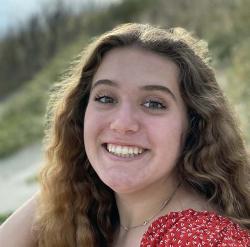 Georgi Feigley
Georgi Feigley is a first-year student from Rock Island, Ill., planning to major in voice music performance and French.