Tips for a high school senior from a college senior
With the looming uncertainty about life after graduation, senior year can be nerve-racking — even terrifying. Once a high school senior myself, I know how stressful it can be, but I'm here to tell you that the future isn't as scary as it may seem.
By now I'm sure you've been asked, "What are you doing after high school?" or "What are you studying in college?" or the famous question "What college are you going to?". I remember all too well those persistent questions and the pressure of having to know my whole life plan right here, right now. 
As a senior in college, I'm here to tell you to breathe. Don't worry about the "what ifs" or those annoying questions; live in the now. Enjoy the little things, especially those nights out with friends and family.
High school is not over 
Now that we're in the second — and last — semester, the so-called "senioritis" is kicking in. High school may seem boring, and you may want to rush and get on to your post-graduation plans (after all, your future is pretty exciting!), but remember that you are only in high school once. 
I remember my mom always telling me I would miss high school one day, and I thought she was crazy. However, to some extent I really do. Now, don't get me wrong — high school was not easy for me in any way, but I miss being a carefree kid. My advice: stay young. Hold on to your childhood. Bake some cookies, go outside, play video games. Whatever enjoyment looks like for you, do it. Spend time with your friends and family. 
Plans for the future
As a senior in high school, I thought about what I wanted to do after I graduated. Did I want to go to college? If so, should I attend a big school or a small school? Did I want to take a year off? And if I didn't go to college, what were my options? I'm sure you've asked — or maybe still are asking — yourself all these questions and more.
Making a big decision can be difficult, especially when it looks completely different from someone else's. Don't follow in your best friend's footsteps or compare yourself to others. Everyone's journey will look different, and that is okay. Focus on yourself and your needs. After all, it is your future.
My biggest piece of advice is to explore. Take those personality tests and figure out what makes you happy. Tour every campus you can. 
One of the best tools in making my college decision was going on campus visits with my mom, and not just the ones organized by the school. While those are important, I found that exploring the campus on my own and talking with students and faculty helped me decide if I belonged at that school.
Apply for scholarships
Got accepted to college and know where you're headed? Congrats! You've worked hard to get where you are, and that's a great feeling. It's time to celebrate.
But there's one more thing: the cost of college. Have you thought of how you can afford four years of tuition? Have you applied for financial aid? Did you get a scholarship? If not, now is the time to act. 
Apply for as many scholarships as you can. There are scholarships for everything. Set a goal, like applying to two scholarships a week. That may seem like a lot, but your hard work pays off in the long run. Remember: scholarships are literally free money, and some of the best scholarships can be found through a simple google search.
What to study
Look, I get it. I was always asked about what I planned to study in college. It's okay to not know. But if you do know, that's great! Even if you think you know, though, still plan on taking classes outside of your desired major. You may just surprise yourself.
When I started college, I was determined to study biology on the pre-veterinary track. During my second semester, I realized that I was more interested in business and communication. I even found myself taking political science classes. I have friends who went into their sophomore year still not knowing what they wanted to focus on, but that's the beauty of college: you have time. You can change your mind 10 times, and that's okay. 
Senior year is full of unknowns, and while it can be stressful, the uncertainty makes life exciting. Just remember to breathe. Enjoy every day and cherish those little moments with friends and family. 
Congratulations on making it this far, and best of luck on your next adventure!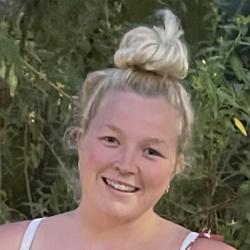 Rachel Forman
Rachel is a senior from Saint Charles, Ill., majoring in communication studies and business administration with a marketing concentration.