Why we think Augustana is the perfect size
Choosing the right college is a significant decision, one that sets the stage for your academic journey and personal growth. Among the many factors to consider, the size of a campus can play a pivotal role in shaping your college experience. Augustana's student body of roughly 2,500 students makes it the perfect size for many reasons. 
Student-professor mentorship
Unlike other institutions where students may feel lost in the crowd, Augustana's smaller classes encourage active participation, open dialogue and individualized attention. Class sizes are capped at 35 students, with a few exceptions. However, even in my larger gen-ed classes where I only had a professor once, they still remember me, and we talk when passing on the Quad. 
This close-knit setting not only allows professors to know their students by name but also facilitates mentorship and personalized guidance. These personal relationships extend far beyond the classroom, as students and professors often engage in enriching discussions and collaborations outside of academics. 
Familiar faces at every turn
At Augustana, you'll always see a friendly or familiar face when you're walking around campus, but still have the opportunity to meet new people every day. This sense of community is woven into the very fabric of the campus, making it feel like a second home for students. 
Whether you're grabbing a coffee at the Brew, heading to class or simply enjoying some downtime by the Quad, there's a comforting assurance that you're never too far from a friendly smile or a quick catch-up with a friend.
Embracing campus life
I'd confidently say that it's impossible to not meet a single student on campus who isn't involved in something besides academics. There's always something happening on campus, and ways to get involved. Augustana has so many clubs, sports teams and Greek groups to try out. And if you don't see something you like, then you can start your own club!
These are just some of the reasons why I love Augustana's size and why I encourage prospective students to think about how big they want their campus to be. Come see for yourself. Schedule a visit today!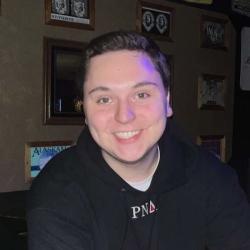 Brett Kuras
Brett is a senior from Batavia, Ill., majoring in political science and multimedia journalism and mass communication.