3 reasons you should get involved with music or theatre
Augustana College provides opportunities for music and theatre majors and minors and students involved in other programs on campus to be involved in music ensembles, lessons and theatre production. But why should you take advantage of these opportunities at Augustana?
1. Opportunities with an outstanding faculty
Augustana's music department is very fortunate to be staffed with 40+ faculty members—including lesson instructors, professors and ensemble directors. Additionally, the department offers more than 12 music ensembles with opportunities in orchestra, band, choir, Oratorio and more. 
These ensembles are led by extremely experienced ensemble directors with various credentials and experiences, such as directing District Festivals, and some have even directed All-State Festivals. Additionally, several of our ensembles tour both domestically and internationally, providing our students with an all-around educational experience in learning about different cultures.
Augustana's theatre department produces roughly four main stage shows a year. These shows are directed by our theatre department faculty, whose former students now work in television, off and on Broadway, national tours, and more. The theatre department also produces three student-directed shows in the Blackbox Theatre. All of these productions provide students opportunities to perform, as well as do backstage work. 
When it comes to backstage, Augustana offers opportunities for people with all sorts of theatre experience in areas including lighting and sound design, hair and makeup, costuming, set construction, directing, dramaturgical work and stage managing. There are many opportunities for those who want to be involved in theatre without being directly on the stage.
Interested in performing, but not in a show? The theatre department also has other performance opportunities! Some examples are HeyWire, Little Happenings, and Outside the Box. 
2. Friendships
As you may be aware, music and theatre kids can be very outgoing. One example of this is actually how I made my very first friend at Augustana. The summer before my first year at Augustana, I visited campus with my family to preview my dorm room and explore the Quad Cities. 
We ate at a local restaurant called Steel Plow for lunch, and the next thing I knew, a member of the Augustana Choir approached me. She asked me about my major, if I was interested in music, and a couple of other things. Fast forward to my first term as a sophomore, and she and I are best friends, work together and spend time together constantly. This is just one story of friendship at Augustana, and you can make yours within our music department, too.
The friendships you'll make in the music department and theatre department can last a lifetime. I often hear from alumni how they met their significant other or friends through the arts at Augustana. These friends will carry you through thick and thin. You'll see them almost every day, and they might even be some of the best people you meet during your time at Augustana.
3. Expression and Identity
The arts serve as an opportunity for self-expression. In the music and theatre departments, you'll often reflect on what you're doing and discuss how to express the emotion or feeling you're trying to convey. 
Music and theatre allow you to express emotions that you might normally keep to yourself. Whether you're sharing your talents for an hour in a choir rehearsal or three hours in a theatre rehearsal, you become something bigger than yourself. This can be extremely rewarding and allow you to form a deeper emotional connection with yourself and others through music.

Music and theatre are an extremely important part of Augustana's history that will last for many more years to come through the friendships and contacts that you make in the arts at Augustana. Music and theatre also provide students with time management and communicative skills that can be beneficial in any career post-college. There are many different opportunities to get involved, and you too could be a part of the long-lasting tradition of music and theatre at Augustana.
Want to learn more about music and theatre at Augustana? Check out the department pages. On the music page, learn about auditioning for an ensemble and taking classes, meet the faculty, scholarship auditions, and music majors and minors.  Additionally, the theatre page offers information about our current season, our majors and minors, scholarship auditions, and information about our Brunner Theatre Center.  
All of our arts departments can be found on Instagram, linked here. We also have a Facebook page for the Department of Music, as well as the Department of Theatre. I strongly encourage you to audition for an ensemble, participate in a production, take a voice lesson or do something in the performing arts because it is truly an amazing experience that Augustana is very proud of.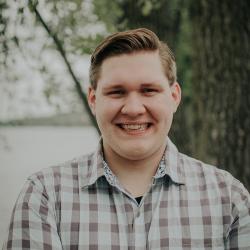 Jon Jaworowski
Jon Jaworowski, Class of 2023, is from Rockford, Ill. He is a vocal music education major and theatre arts minor. Jon is a member of the Augustana Choir, the Augustana Academic Chorus, and the Augustana chapters of NAfME and ACDA.  Jon is also involved in the theatre department at Augustana, and the Spotlight Theatre in Moline, Ill.  Jon also helps manage the Augustana Oratorio Society, works as a social media coordinator for the fine arts department, and is also a music librarian for the choir department.