Augustana offers a major and minor in theatre arts with a choice of emphasis in performance, musical theatre, design and technology, or theatre history and research.
Careers and internships
Besides choosing theatre as a vocation, study in theatre arts — combined with a solid liberal arts foundation — promotes skills that apply to many professions, including public relations, arts administration, broadcast journalism, marketing and advertising, law, government, communications and arts education.
Augustana graduates have completed Ph.D. and M.F.A. programs in theatre history, acting, directing, set design, theatre technology, costume design and lighting design.
Recent Augustana theatre alumni have built successful careers as talent agents, regional theatre performers, television and film actors, independent film producers, lighting designers, sound technicians, directors, stage managers, and teachers at the secondary and college levels.
Augustana theatre students have more opportunity to be involved than at many undergraduate schools: besides actors, designers and technicians, students may be stage managers, directors and playwrights who collaborate on productions with faculty every season.
Theatre arts majors also can be dramaturgs, conducting the
historical and contextual research for mainstage productions.
Some recent graduates:
Ben Webb '10 is teaching English and theatre in the Laboratory Schools of Illinois State University.
Macy Marie Hernandez '13 is head speech and drama coach at United Township High School, East Moline, Ill.
Samantha Bestvina '11 is Drama Director at Riverside Theatre Works in Hyde Park, Mass.
About the program
Augustana offers a major and minor in theatre arts with a choice of emphasis in performance, musical theatre, design and technology, or theatre history and research. Students of all majors, including first-years, may participate onstage or behind the scenes.
In 2016, Augustana opened Brunner Theatre Center, a new performance facility inspired by New York City's Off-Broadway venue New World Stages. The new facility includes three performance spaces, state-of-the-art lighting, sound and projection technology, a scene shop, costume shop, theatre library, dressing rooms, computer lab and snack bar.
Qualified undergraduates often design lighting, scenery or sound for productions and serve as members of the production team, working alongside performance and design faculty. The department's size ensures close mentoring and support. Most classes in theatre arts enroll fewer than 30 students, and upper-division courses often cap at 12. 
The performance season consists of a mainstage season (including an annual musical) and a studio season that is largely student produced, in a season that explores a certain topic or theme. Musicals frequently are done in conjunction with OperX. Theatre majors also produce an annual Festival of Short Plays. Performances span a wide range of genres and historical periods.
In 2015, Augustana's production of "A Green River" was featured in the Kennedy Center American College Theatre Festival. The play went on to receive national awards for actors in lead and supporting roles, and a certificate of commendation for ensemble performance.
Every mainstage production involves one or more student dramaturgs who work under faculty supervision to inform the audience, cast and crew of information pertinent to the production. While resident dramaturgs are common at regional theatres across the country, undergraduate programs in dramaturgical research and writing are rare.
Each year, the department offers workshops and field trips to professional theatres and conferences at an affordable cost. Extended trips to places like New York City, London or Ontario may become an integral part of the student's experience.
Students may apply for and receive funding to support theatre-related travel and research through the Nancy Salen Mueller Theatre Exploration Award.
What students say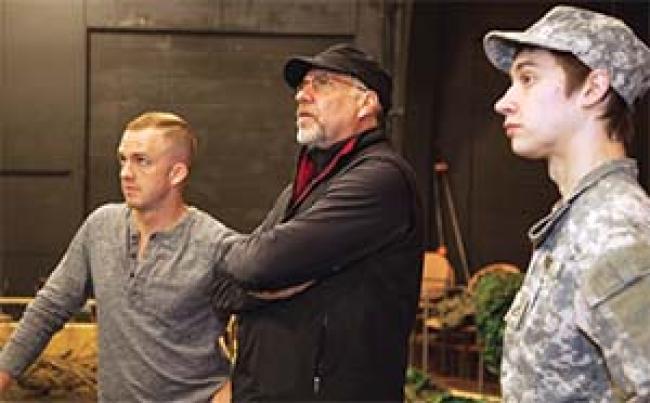 Keenan Odenkirk '18, theatre arts and mathematics
"When it comes to the theatre program, I have had the honor of feeling like a big fish in a little pond while enjoying the excitement of a growing pond. As the department grows in quality and size, which it is doing rapidly, I get to see it flourish while benefiting from a program that truly cherishes and supports the arts." (From "The Good men of Odenkirk enjoy Augustana," Rock Island Dispatch-Argus, 2015)
The nephew of Bob Odenkirk (Saul Goodman in "Breaking Bad" and "Better Call Saul"), Keenan won Distinguished Performance by an Actor in a Supporting Role for "The Green River" at the KCACTF in Milwaukee in 2015. One of his short plays was performed at the annual Quad-Cities Playwrights' Festival.
Jacquelyn Schmidt '12, theatre arts and English-writing, with minor in art; copywriter at Sage Products, Cary, Ill.
"When I first came to Augustana, I only took a theatre class because it was something I had done in high school. I soon learned that theatre was one of my passions and that I needed to continue growing as an artist. I also feared that I wouldn't have a solid plan for after graduation. Through my hard work during the past four years, three departments at Sage Products inquired about continuing my internship after I graduate. Also, when I first came to Augustana, I was incredibly shy. The classes I took and the challenges I faced at Augustana have helped me gain the confidence to articulate my ideas. I am now more comfortable talking to managers at work and am able to express my ideas in a professional manner."
Gary Miller '15, theatre arts and creative writing; pursuing a career in professional comedy in Chicago
"I was able to do some amazing things as a college student. One example of this is that I got to write a play (that was performed), and it was cool seeing my face plastered across Potter Hall with all these famous playwrights I know and respect so much. I am pursuing a career as an actor, writer, comedian and essentially a storyteller... The most surprising thing I learned at Augustana is how much I love what I'm doing with my life. There are times when I forget to eat or sleep because I'm having so much fun. I spin in circles every opportunity I get to create something or tell a story."
Estlin Feigley '93, history, with minor in theatre arts; creative director, Dreaming Tree Films, an independent film company, Chicago
"(Without the liberal arts) you can learn the technical skills in filmmaking, but to tell a story you have to have a broader knowledge base. You have to have something to say and talk about."
Philip McKinley '73, theatre arts, English, education, art and music; Broadway theatre director
"The mentoring and guidance I received from the faculty and the staff while attending Augustana College reinforced my passion to pursue my career aspirations and my life's ambitions. Augustana provided me with a true liberal arts education and background, and there is no value you can put on it. It is priceless."